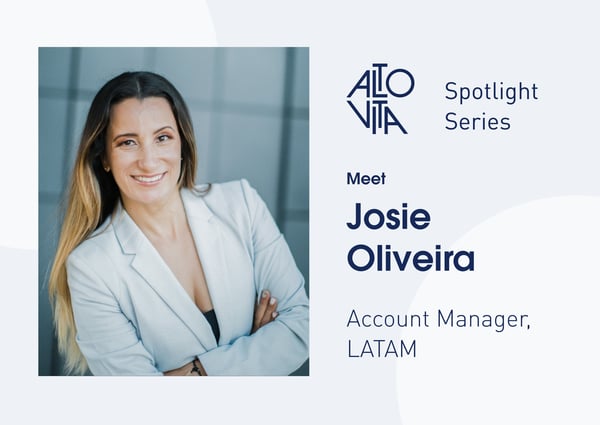 AltoVita's Spotlight Series
AltoVita's Spotlight Series: 5 Minutes with Josie Oliveira
Born in Brazil and living in Belize, Josie is AltoVita's Account Manager for LATAM.
As we continue to grow our presence across the Americas, Josie is an essential part of this journey with her experience in handling international relocations and client management.
Continue reading as we learn more about Josie's background and what she does on a day to day basis…
What excites you the most about approaching corporate housing in LATAM and finding suitable properties for our diverse clientele?
Long ago before I started working at AltoVita I worked in the global mobility industry and found that temporary housing agencies lacked organization in their services. I felt it was so disorganised and the people didn't necessarily give their 100% effort all the time. I also felt they lacked empathy and personality to our corporate guests. In the end, with the exception of a few incredibly hardworking individuals, the providers working with us only did what was enough to get us half of the information we needed to provide suitable temporary housing for our clients.
I really wanted to work at a company that was excited to help their customers, whilst doing everything within their power to help provide a safe, welcoming, and calming temporary housing experience. Ultimately, I believe that when you start a job, you don't finish until it's done to the best of your abilities and always aim to achieve maximum customer satisfaction.
Here at AltoVita, I've now finally achieved that goal. My coworkers always put their best foot forward, strive to enhance our service every day, and learn more in order to become more experienced in this sector. So what excites me is working at a company that is not only good at what they do but are constantly challenging themselves. I feel proud and most of all ecstatic to have really found a team who excels at their services and can't wait to to see how I grow with everyone in time.
What is it about this region which makes relocation management so challenging?
What makes working with relocation in the Americas region challenging would have to be the communication aspect of it all. Many times while trying to find the best possible options we encounter countless problems with trying to get across accurate, reliable information while also having somewhat of a timely response. Often, especially in tertiary and remote locations, they seem to have a different way of approaching customer service.
Sometimes partners lack in the most basic and needed exceptions to provide total satisfactory customer service, but by working with the best and advising using our industry knowledge we're able to always overcome whatever complication may arise.
Overall, I'd say the most challenging aspect is finding your way through the communication barriers, whatever it may be, and navigating your way to finding a creative solution.
From a client relations perspective, what top trends have you seen transform their experience the most in LATAM, in the hospitality landscape at the moment?
One hospitality trend I've seen and is likely to increase in 2022 is the ongoing shift toward a perception that less is more, when it comes to modern luxury.
In this lies other sub-trends like sustainability and minimalism which are likely to also evolve and expand further, particularly for the Millennial generation. For example, modern corporate travellers are requiring a shift from wasteful extras spaces and expecting essentialism created around functional and intelligent apartments.
Another trend that we are seeing is the demand for places to stay with purpose, such as as from business/corporate travellers who are becoming interested in investigating the roots of their destinations.
With ever-evolving tech companies constantly rising across the Americas, who do you think is leading by example in terms of enhancing the guest experience?
There are so many interesting tech companies which have achieved so much in the past few years in LATAM and a few amazing hospitality operator partners. Especially those leading the way using locally sourced designs and smart home technology to help innovate the industry within this region.
We hear you are trilingual – what inspired you to learn English, Portuguese, and Spanish?
All three languages surprisingly came naturally to me. I was born in Brazil and I was raised there so as a result, Portuguese was my first language.
I grew up around Brazil and lived in a relatively small city, so in my early 20s, I decided to try something new. I was young, curious, and was fortunately given an opportunity to go to the United States. At first, I was only planning to stay for three months but ended up staying and I've been in the USA for more than 20 years.
Over the course of these 20 years, I really had no other choice but to learn English. After being here for a couple of years I began working for a company that had me traveling a fair amount in Latin America, where I learned to speak Spanish. I've also had the opportunity to live in Belize for almost 3 years. So all three languages are part of my daily life!