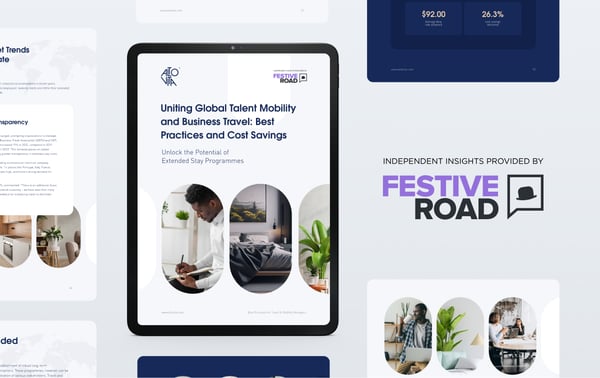 Global Mobility
Travel
Whitepaper: Uniting Global Talent Mobility and Business Travel — Best Practices and Cost Savings
There is a lack of collaboration between company travel managers and global mobility teams, according to research from corporate housing specialist AltoVita.
A new whitepaper found that only 42% of talent mobility and business travel functions currently collaborate to deliver their corporate accommodation programmes.
As a result the report, titled "Uniting Global Talent Mobility and Business Travel: Best Practices and Cost Savings", reveals businesses are failing to realise significant cost savings in their extended stay programmes.

Companies are under pressure to contain costs, and consolidate the number of suppliers they work with to further drive down expenses. Synergies can lead to up to 30% savings, and equip organisations to navigate the dynamic business travel and talent mobility field.
The whitepaper includes independent insights from travel and meetings management consultancy Festive Road, and it was based on a survey of 84 travel and mobility managers globally, including input from experts at companies such as Barclays, UPS, BCD Travel and Baker McKenzie.
The whitepaper also shares best practices for travel and mobility managers. While a successful extended stay programme requires strong collaboration between these two sides, it also hinges on better data utilisation, prioritising employee experience, clear policy implementation, and building external alliances.
Some of the issues in the whitepaper were also discussed at the AltoVita Smart, Safe, Sustainable Summit in London on June 8.
Key Topics Include
The latest trends in extended stay accommodation: The trend towards inclusion of non-hotel accommodations in corporate policies is significant, making extended stays a strategic cost-saving alternative. Significant shifts in demand dynamics for corporate accommodation followed the pandemic, with eight out of ten people now working remotely, either permanently or partially.
Cost saving priorities for corporate housing: AltoVita's research has found that typical Fortune 500 companies have a temporary housing spend of $8 million annually, representing up to 40% of their relocation management expenses. Today, 98% of talent mobility/travel managers say that cost saving is a much bigger priority now than in the past three years.
An evolving accommodation landscape: Organisations now underscore their need to operate more sustainability, and are increasingly influenced by Environmental, Social, and Corporate Governance (ESG) considerations. Businesses now look to align with partners that uphold their values on sustainability, diversity, equity, and inclusion. Our surveys revealed 38% of travellers actively look for information about a property's sustainability efforts before booking.
Employee experience matters: Prioritising employee needs and preferences, and even going the extra mile with personalised touches, can enhance the accommodation experience. Catering to unique needs, offering home-like amenities, and gathering feedback from employees help ensure a positive and effective experience, results in more satisfied and productive travellers.
The complete whitepaper can be downloaded here:

Register here to keep updated on an upcoming Webinar from AltoVita and Festive Road.