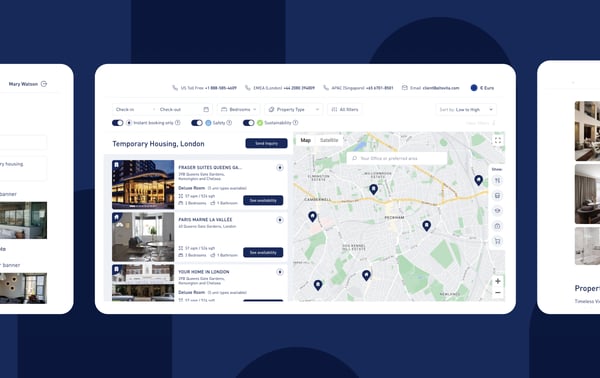 Product Updates
AltoVita Expands Its Accommodation Network to 7 Million Units
AltoVita's new curated accommodation platform is a groundbreaking initiative in corporate accommodations that combines extended stay properties with hotels, revolutionising the way travellers search and book accommodation. This innovative offering, made possible through multiple integrations, including one with a leading travel technology company, sets AltoVita apart as an industry leader, delivering unparalleled service and convenience to our customers.
Ensuring Safety and Quality: Our Commitment to Duty of Care
We prioritise duty of care for our customers, and the curated accommodation platform ensures the highest standards of safety and quality for the 7 million keys we offer. We have developed a robust filter system that meticulously checks property reviews, amenities, descriptions and more.

In addition, with over 90% of our keys being instantly bookable, our curated accommodation platform offers convenience and flexibility, making travel planning a breeze for our customers; thanks to our technology, combined with our human centric service delivery through Guest Experience (24/7 Support) & centralised points of contact.
Seamless Integration of Extended Stays and Hotels: A Unique Offering
What distinguishes our curated accommodation platform is the seamless integration of extended stay accommodation such as serviced apartments, apartments and private vacation homes with hotels and aparthotels, on a single platform.

This unique offering caters to the demand from our clients including corporate clients and relocation management companies, who require flexible solutions in various scenarios. Whether it's an emergency situation where temporary or permanent housing is unavailable, a missed flight or other unforeseen circumstances, our curated accommodation platform provides the perfect solution. Additionally, for domestic moves where individuals typically have a 14-day temporary housing budget until they find a permanent home, hotels become an ideal option within their company policy.
AltoVita's focus has always been on employee choice and the highest level of personalisation of corporate accommodation solutions. We are proud to pioneer unique hospitality asset class diversity at an incredible scale, supporting the latest trends of asset convergence and instantly accessible inventory.

The Curated Accommodation Platform is a perfect fit for enterprise clients, as it offers a dedicated customer success team and meets the needs of corporate quality standards and industry best practices." - Karolina Saviova, COO & Co-founder at AltoVita
Cost Savings and Convenience: Blending Travel and Business Requirements
Blending travel and business requirements, AltoVita uses negotiated discounted rates with our supply chain, providing substantial savings for our customers. This added benefit allows travellers to enjoy both the comfort of hotel stays and the cost savings associated with extended stays.
Groundbreaking Approval Flow: Prioritising Cost Control for Enterprises
We understand the importance of cost control for enterprises, so we've built in a groundbreaking approval flow specifically designed to provide this. Your employees have the option to self-book accommodation, which can then be approved by Relocation Management Companies (RMCs), Travel Management Companies (TMCs) or by the customer's internal Global Mobility and Business Travel teams through our seamless approval flow. This extra layer of control ensures cost management remains at the forefront while providing a premium booking experience for all parties involved.
Most importantly, AltoVita continues to be in charge of guest experience, delivering high-quality service and maintaining consistency throughout the booking process.
Here's how the booking process works:
1. Accommodation booking page
Your employees can self-book properties using the AltoVita platform and find the best suited accommodation for their needs!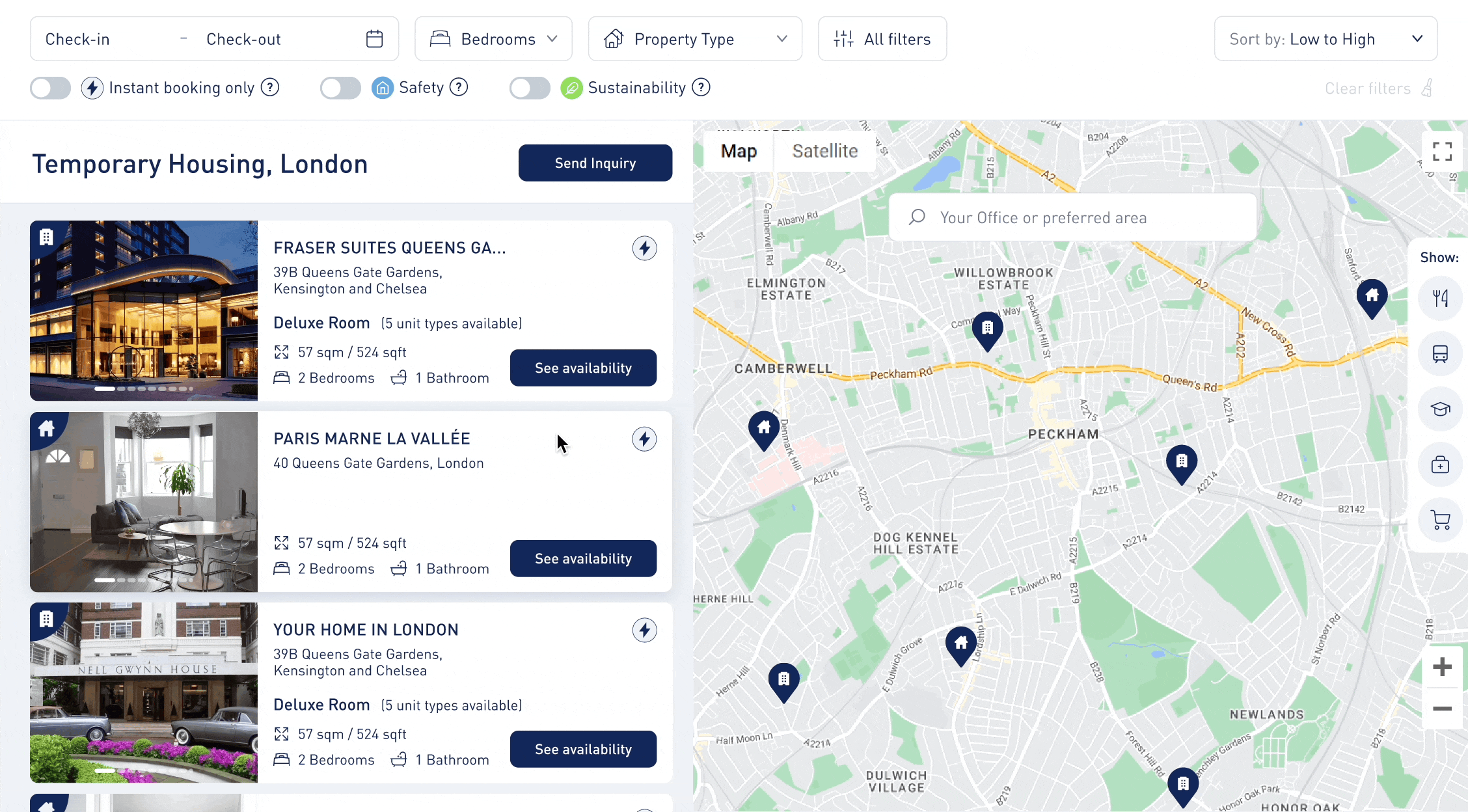 2. Accommodation information page
Employees can see all the details of each property, such as pictures, room types, availability, amenities, cancellation fees and more!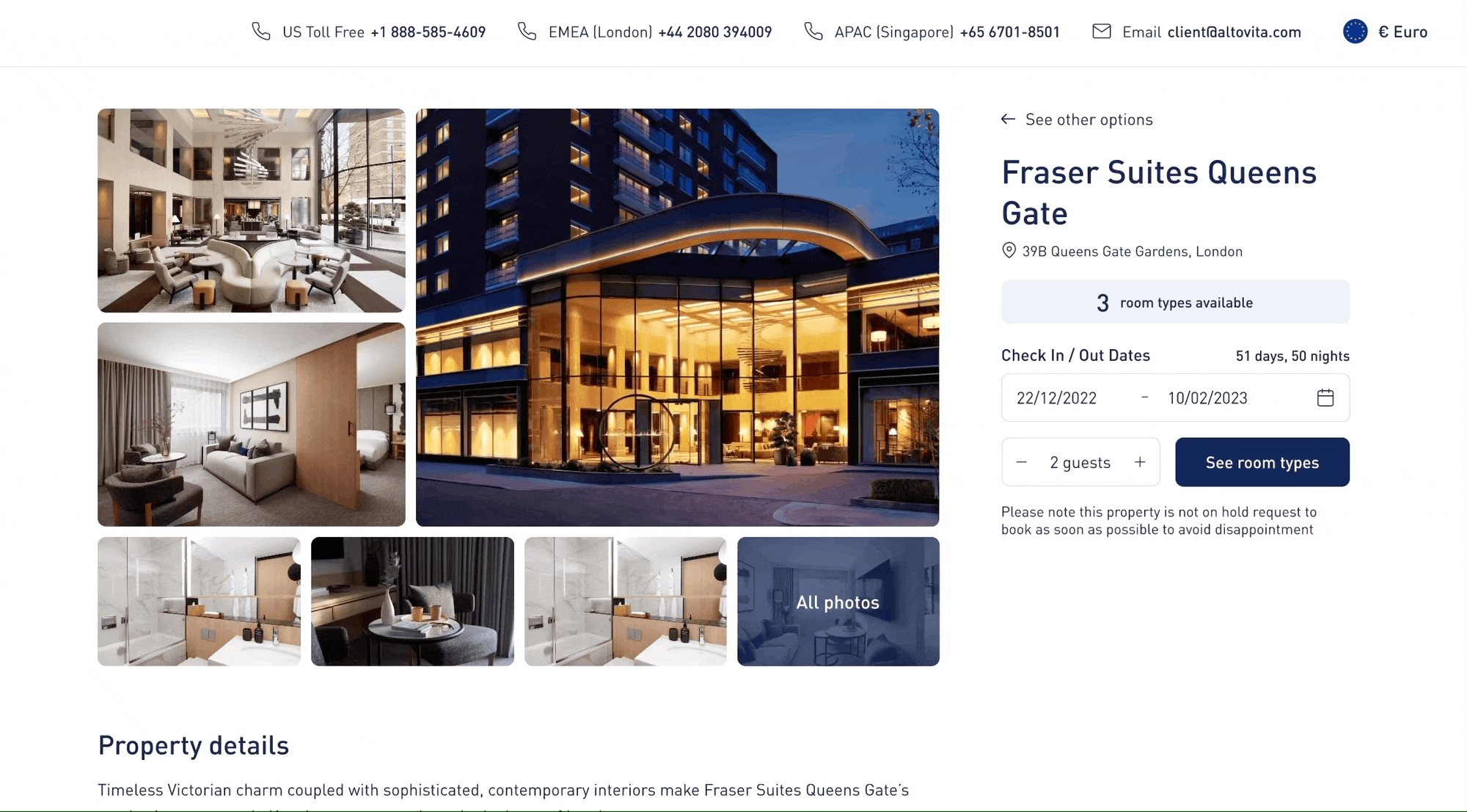 3. Accommodation selection and streamlined approval flow
Once the employees choose their preferred accommodation, they can click on the "Request to book" button, which triggers an automated email to everyone that was listed in your approval flow when setting up the booking page (RMC, TMC and internal teams).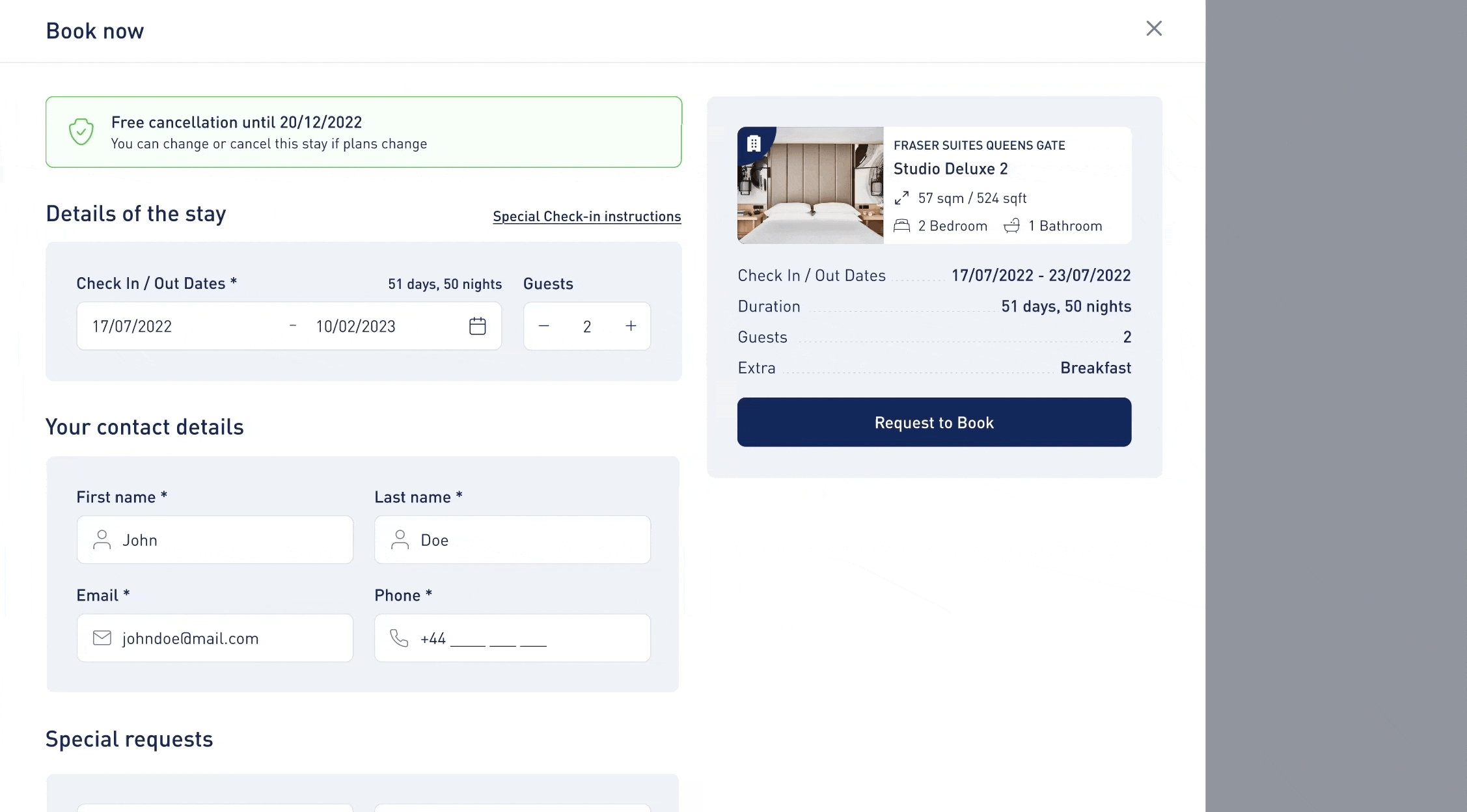 An email is then sent to the approvers, who are able to see all the booking details, add in their preferred billing details/method and approve the booking with just a few clicks! AltoVita offers a variety of payment solutions, including centralised billing and remaining the merchant of record.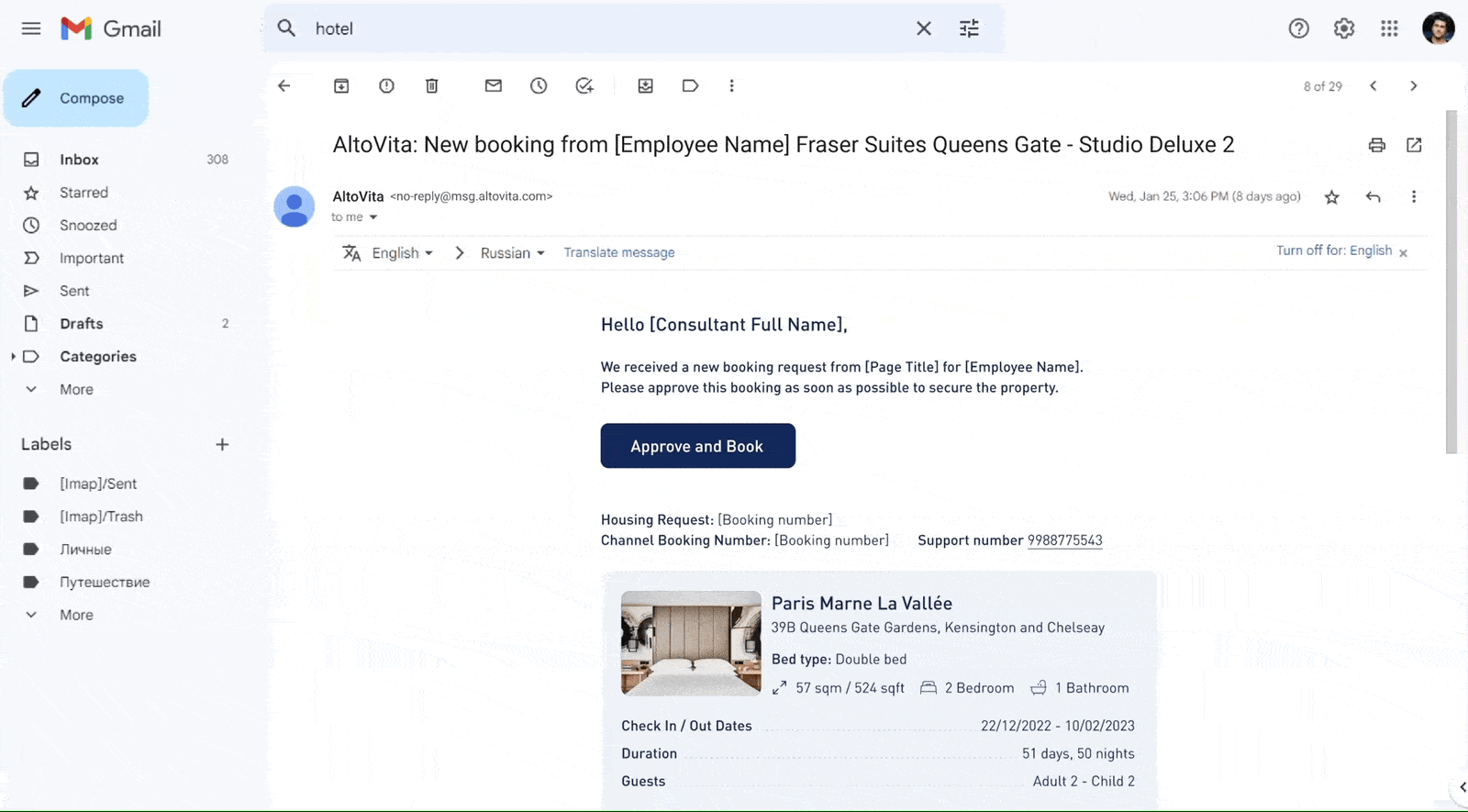 Vast Inventory and Global Reach: Leveraging Leading Travel Technology Integration
On top of a diverse range of accommodation options, the new curated accommodation platform leverages the expertise and industry-leading technology of our integration with a prominent travel technology company. This integration has significantly expanded our inventory, with 180,000 instant bookable multi-unit properties across 35,000 destinations, totalling a remarkable 7 million keys globally. This vast selection ensures customers find accommodation that suits their preferences and needs, providing a delightful and stress-free travel experience.
"Driven by a remarkable surge in demand for employee choice and a heightened emphasis on cost savings, we have strategically been deploying capital from our $9.5 million Series A fund to revamp the AltoVita self-search platform and a proprietary approval flow system that ensures utmost duty of care for our valued clients.

We are delighted to see the successful completion of multiple integrations that have truly transformed our diversified asset-class offering. Our corporate clients now enjoy unparalleled access to a meticulously curated selection of 7 million keys, multiplying our global footprint by an astonishing factor of 10x to 35,000 locations worldwide. This remarkable achievement signifies a momentous milestone and reinforces our unwavering commitment to revolutionising the corporate accommodation landscape." - Vivi Cahyadi Himmel, CEO & Co-founder at AltoVita
At AltoVita, we remain committed to pushing boundaries and delivering innovative solutions to meet the evolving needs of our customers. The launch of our curated accommodation platform is a testament to this commitment, merging extended stays and hotels seamlessly, and setting a new standard in the industry.
Join us in experiencing the convenience, quality and exceptional service of AltoVita's curated accommodation platform, and unlock a world of possibilities for your corporate accommodation.