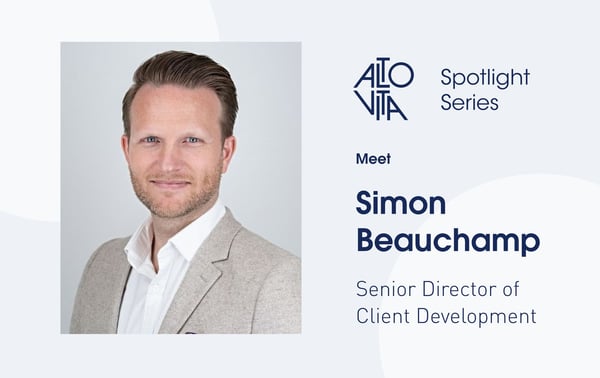 AltoVita's Spotlight Series
AltoVita's Spotlight Series: 5 minutes with Simon Beauchamp
As we continue growing our team and our accommodation database, our Client Success team is of paramount importance when it comes to helping manage all our client relationships to handling reservations and ensuring every assignees / transfer have everything they need throughout their stay.
Based in Glasgow, Simon recently joined this amazing department earlier this year as our Senior Director of Client Development. He has been instrumental in leading our account management and development strategy so we are always delivering powerful and data-driven consultative strategies for our clients.
Continue reading to get to know Simon and find out how he will be helping take us to the next level…
Welcome to the team! How have you found the first few months and how did you originally discover AltoVita?
I've known AltoVita for a while and have been in temporary housing for about 8-9 years. I have had the privilege of working with some of the biggest companies in this sector, including; National Corporate Housing, BridgeStreet and Oakwood Worldwide.
However the time came for a new chapter and I had the pleasure of already knowing Jessica Dunderdale and Danielle Prior who connected me with Vivi and Karolina. I was truly impressed and inspired with everything they said and the excitement that they had when talking about our company goals. I was really happy to get knuckled down and join this tremendous journey.
What has most inspired you about AltoVita's technology?
The multitude of options which are tailored for client bespoke solutions. In the past, I have spent hours creating manual reports for clients, however with our advanced tools we are able to provide real data in real time which is reflective of each client's needs. I also love how we are constantly adapting and investing in our technology so this is constantly improving to reflect our learnings as we listen and respond to each and every client.
What has been an interesting takeaway you have learned since joining AltoVita?
The remote locations we have available in our property network are really draw-dropping. From local small villages in Sweden or Germany to bespoke services we are able to offer throughout your stay, it's fantastic being able to easily respond to each client request with the best solutions. Our ability to help assignees in every corner of the world is really revolutionary. Our Duty of Care and dedication to ensuring our clients with any unforeseen travel issues and 24/7 support is always incredible, as you can truly see the difference our solutions make for each assignee's experience.
We hear you love traveling, what is one destination that has always been on your bucket list?
Tokyo! My brother lives in Australia and for many years we have met halfway and traveled around various parts of Asia, however I have never been to Tokyo and heard such wonderful things. It was booked in for April 2020 but sadly covid put a stop to that trip happening.
The fascinating culture, the language, the people, everything sounds amazing so I hope to reschedule this visit in the near future.
If we are visiting Glasgow for the first time, what should we experience?
The classics, fried Mars bars, haggis and Irn-Bru. Only joking of course. I would highly recommend checking out the West End of Glasgow, there are some breathtaking botanic gardens in particular and so many nice places to eat and grab a drink. I also love how Glasgow has an incredible amount of open green spaces with my two favorite parks being Rouken Glen Park and Pollock Park. There are 50 ft waterfalls, highland cows, herons and museums…..some real hidden gems that you wouldn't expect when just driving past them. Perfect for a family day out with the kids or even a solo stomp to get some fresh air and your steps in.