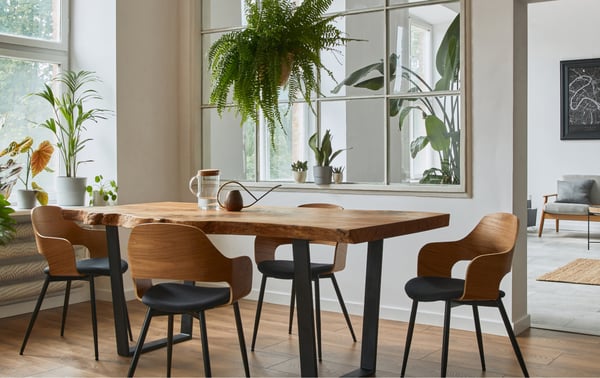 Global Mobility
How Corporate Housing Works & Benefits for Relocation Plans
Corporate housing has ascended from luxury to necessity as the business world expands its borders faster than a jet setter's passport. The seismic shift towards remote work and a more interconnected world has given corporate housing a new significance.
For those orchestrating the symphony of logistics that is corporate relocation - the travel managers and relocation maestros - understanding the nuances of how does corporate housing work is the key to a harmonious transition.
The corporate housing landscape has undergone a dramatic evolution in recent years. The year 2018 was a pivotal one, witnessing a 21.5% surge in demand for project work housing demand and an 18% increase in relocation housing through travel management companies and travel agents.
Fast forward to 2021, and the remote work revolution opened the doors to unprecedented corporate housing opportunities. Organizations began to rethink their physical office spaces, spurring employees to seek short-term accommodations for project work or proximity to company headquarters.
Technology is evolving today to make corporate housing more accessible and equitable. Innovators like AltoVita are turning a week-long process into a transaction that takes minutes with on-demand inventory and real-time booking.
What is Corporate Housing?
Corporate housing refers to temporarily renting a furnished apartment, condominium, or house to business professionals, military personnel, interns, or corporations as a more home-like alternative to traditional vacation rentals or extended hotel stays. It encapsulates a blend of comfort and convenience tailored to meet the specific needs of temporary residents.
Modern corporate housing goes beyond offering a larger space than a hotel room; it's about superior service, high-design furnishings, and fully equipped areas. Offerings might include 24/7 customer service or a property manager available via text, high-speed internet, modern appliances, and access to recreational amenities like gyms, pools, and outdoor spaces included at one inclusive cost.
But it's not just about the physical environment. Corporate housing providers often offer additional services such as cleaning, maintenance, and utility management to reduce the burden on the occupants and their companies. The lease terms with professional providers are also more flexible, typically ranging from a month to a year, much shorter than conventional rental agreements.
Who Uses Corporate Housing?
In the contemporary business landscape, mobility is more than just a buzzword; it's a critical part of organizational growth and individual career development. With this heightened need for flexible, temporary accommodations, corporate housing is a versatile solution tailored to the modern mobile workforce.
Who exactly can benefit from corporate housing? Corporate housing tenants are as multifaceted as the global business ecosystem itself. The clientele includes:
Business Professionals on Temporary Assignments: Whether it's a short-term project or an extended collaboration, corporate housing offers the comfort and amenities necessary for optimal productivity.
Employees Relocating to New Cities: When transitioning to a new location, corporate housing provides a smooth, stress-free experience, with flexible lease terms suitable for intermediate housing needs.
Participants in Corporate Training Programs: Trainees or interns can immerse themselves in a conducive learning environment without the hassle of traditional accommodations.
Displaced Families due to Insurance Cases: In unexpected situations such as home damages, corporate housing extends a helping hand with fully furnished homes that ease the transition during challenging times.
Global Mobility Managers

: Corporate housing offers streamlined solutions for those tasked with managing employee relocations. They can work with providers like AltoVita to ensure customized, tech-enabled accommodation arrangements that meet company goals and individual preferences.

How Does Corporate Housing Differ From Other Accommodations?
Corporate housing offers a living space between a temporary place and a permanent home, Airbnb, and a hotel. Fully furnished temporary housing and a corporate housing stay are designed for this specific kind of guest in mind, with all furniture and household items provided. It's like walking into someone else's home with everything prepared for you. If there's a question of corporate housing vs hotels, the answer depends on the situation.
Fully Furnished and Equipped Units
One of the most significant distinctions between corporate housing and other accommodations is the degree of comfort and convenience it provides. Unlike a hotel room or furnished apartment on an Airbnb, which might be thoroughly furnished temporary housing but not fully equipped, corporate housing units are set up to replicate a home-like environment fully. These residences come with everything one would need for daily living, from furniture and appliances to kitchen utensils, linens, and home entertainment systems.
Examples are serviced apartments and executive suites within apartment communities where business travelers live for extended periods alongside long-term residents. These ready-to-live spaces eliminate the need for employees to arrange or carry essential items, making their move smoother and more comfortable.
Flexibility in Lease Terms
Corporate housing options win over short-term rentals when it comes to lease terms. A rental agreement in a traditional apartment setting requires a commitment of six months to a year, and this rigidity can be challenging for businesses whose accommodation needs may fluctuate based on project durations, employee assignments, or unexpected business events.
In contrast to short-term rental, however, corporate housing offers leases that typically start from one month, giving businesses the flexibility to accommodate changing needs without being tied down by long-term commitments.
Cost-Effectiveness
The debate of corporate housing vs hotels often pivots on the cost factor. The corporate housing option is far more economical for extended stays than hotels. Since corporate housing units are leased monthly rather than daily, the overall costs are substantially lower than daily hotel rates. Businesses stand to save considerably, especially for long-term assignments or projects. Moreover, due to its home-like facilities, many hidden costs associated with hotel stays, such as eating out for every meal, are mitigated with corporate housing.
Personalized Services
Corporate housing combines the comforts of a home with all the amenities and luxuries of a hotel, providing services such as regular housekeeping, fitness centers, pool access, and concierge services, which ensure a comfortable and hassle-free stay. These personalized services and the convenience of 24/7 customer service make corporate housing an attractive option for businesses and their employees.
Space and Privacy
Privacy and space are two areas where corporate housing outshines hotels and Airbnb. These units often include separate living, dining, and sleeping areas, providing plenty of space for employees to relax, work, or entertain. Additionally, a corporate housing unit's privacy and physical space are much more significant than a standard hotel room, which is especially beneficial for employees relocating with their families.
Business-Friendly Features
Corporate housing begins with the needs of business travelers front and center. High-speed internet, dedicated workspaces, and access to a business center ensure that work continues uninterrupted. Some corporate housing also offers meeting and conference rooms, allowing employees to host meetings or brainstorming sessions without leaving their residences. These many business traveler-friendly features differentiate corporate housing from other accommodations, making it the preferred choice for businesses.
The Benefits of Corporate Housing for Global Mobility Managers
For global mobility managers tasked with facilitating employee relocations, finding suitable, comfortable, and cost-effective housing temporarily can pose significant challenges. Numerous factors, including lease terms, location, furnishings, amenities, dining area, budget, and even apartment community integration, come into play. Corporate housing offers various benefits to alleviate these concerns and streamline the process.
Address Temporary Accommodation Challenges
Corporate housing offers a readily available solution. It provides a home-like environment that can significantly improve the relocation experience for employees, helping them settle in more quickly and maintain productivity. There is a range of accommodation types available, including single-family homes, extended-stay hotels, and standard apartments, all with utilities included, which means that global mobility managers can find the best new house for each employee in a new location whether it's minimum stays, a few months, or the jumping board into a new life in a different city.
Cost-Effective and Comfortable Solutions
Unlike hotels, which charge daily rates, corporate short-term housing is usually priced monthly, offering considerable savings for extended stays. These units also include fully equipped kitchens, allowing residents to prepare meals rather than relying on expensive dining out or room service - another major cost benefit short-term corporate housing provides.
Corporate housing also provides a high level of comfort, with spacious living areas, separate bedrooms, and often additional amenities like laundry facilities, gyms, and swimming pools. This makes it ideal for employees relocating with their families, providing enough space for everyone to live comfortably.
Full Flexibility and 360-Degree Convenience
Lease terms are typically more flexible than traditional vacation rentals, starting from as little as one month. And corporate housing units are usually move-in ready. Global mobility project managers can avoid the hassle of furnishing the place or setting up utilities, as these are typically included in the package. Professional providers coordinate all the details, so the employee must walk in.
The focus on convenience also extends to the locations of these units, which are often strategically situated near business districts, reducing commute times for contract workers and improving work-life balance for employees, whether in large cities or spread out rural areas.
Corporate housing alleviates many of the logistical challenges that global mobility managers face. Providing a comfortable, flexible, and cost-effective corporate housing cost solution supports successful employee relocations and contributes to higher satisfaction and productivity.
Finding and Booking Corporate Housing
The realm of corporate housing is ever-evolving, just like the organization's unique needs. Partnering with a modern, global corporate housing solution can completely shift what's possible for a growing team—and change the lives of a company's global mobility and corporate travel manager.
When it comes to selecting a corporate housing platform, keep a few critical factors in mind:
Tech-Forward: Technology today provides insights into data and analysis that was previously inaccessible. Make sure any platform you consider employs cutting-edge technology that makes real-time booking, research, and even policy controls possible.
Flexible lease agreements: One of the benefits of partnering with a reputable solution is the knowledge that lease agreements are as good as taken care of. Whereas negotiating flexible lease terms on a one-by-one basis would be near impossible, intelligent solutions will make it possible to rent for the exact amount of time your employee needs.
Inventory: Ensure that any solution you consider has a breadth of inventory in locations around the world and around a specific city. While a senior executive might want to be next to the business district, a marketing creative might get more out of an extended stay in a more local neighborhood. Optionality is a good thing here.
Amenities: The more amenities, the better. Make it easy for employees to search the amenities that mean the most to them, whether a modern gym, pet-friendly housing, or locations closest to nature.
Budget: Even the most aligned housing options become meaningless when they're out of budget. Striking a balance means finding the best place within a specific budget, which will likely change depending on who is traveling and the nature of the trip. It's better to have options in every budget, from basic to luxurious, to ensure the inventory also meets the finance team's needs.
Finding and booking corporate housing is a multifaceted task that requires a blend of strategic thinking, detailed analysis, and an intuitive understanding of the human experience. By considering location, amenities, size, and budget and leveraging technology, travel managers can cultivate housing solutions that resonate with the business's ethos and the employees' lifestyles.
Ultimately, it's not just about putting a roof over someone's head; it's about creating a space where professionals can thrive, grow, and connect. Through careful selection, thoughtful negotiation, and a keen eye on the ever-changing landscape of corporate housing, travel managers translate logistical challenges into opportunities for meaningful engagement and success.

Find, Book, and Manage Corporate Housing with AltoVita
Navigating the complexities of corporate housing can be a daunting task. From identifying reputable providers to negotiating lease terms that align with your corporate needs, the process can be time-consuming and challenging. That's where AltoVita comes in.
AltoVita offers a streamlined, user-friendly platform designed to simplify finding, booking, and managing corporate housing for businesses of all sizes. The team behind AltoVita understands the unique needs of each corporate traveler and relocating employees. It delivers on those needs with the power of technology: AltoVita's award-winning solution creates a cloud-based bridge between the highly-fragmented property distribution system and global companies, SMEs, and business travelers. It reduces the legacy 48- to 72-hour corporate housing bidding process to a few minutes.
With a focus on flexibility, AltoVita's inventory spans 7+ million properties around the globe.
Through the AltoVita platform, all stakeholders, from corporate travelers to individual business travelers to the global mobility manager, can filter and compare properties based on location, amenities, and budget–and then instantly book. Here are more of its top features:
A comprehensive vetting process for all accommodation partners.
Instant booking and consumer-first booking experience.
24/7 personalized concierge service for each resident.
Safety and well-being promised at every property.
Live stats dashboard and reporting
FAQs
1. What is the minimum lease period for corporate housing?
The lease period for a corporate housing provider can be as short as one month, making it a flexible option for businesses. However, the lease period can vary based on the corporate housing provider's policies and the company's needs.
2. Is corporate housing more expensive than a hotel?
While the upfront cost of corporate housing may seem higher, it often proves more cost-effective for extended or short-term vacation rental stays. Unlike hotels that charge daily rates, corporate housing is usually priced monthly and includes utilities, housekeeping services, and amenities, offering substantial savings over time.
3. Can families stay in corporate housing during employee relocations?
Absolutely. Corporate housing typically offers more space than a hotel room, making it suitable for employees relocating with their families. Relocation assistance companies can find the right accommodations with multiple bedrooms, living areas, a kitchen, and amenities like in-unit laundry and community facilities.
4. Are corporate housing units furnished apartments?
Yes, corporate housing units are fully furnished, including appliances, linens, cookware, and other essentials that help create a homelike environment and eliminate the need for employees to transport or buy furniture for temporary stays in corporate apartments.
5. How does AltoVita assist in the corporate housing booking process?
AltoVita simplifies the process of finding, booking, and managing corporate housing through its user-friendly platform. Users can filter and compare properties based on location, amenities, and budget, with full transparency on pricing. AltoVita's dedicated customer support team can assist with any queries or special requirements.
Let AltoVita help you turn the daunting task of managing corporate housing into a simple, seamless experience. Start today.