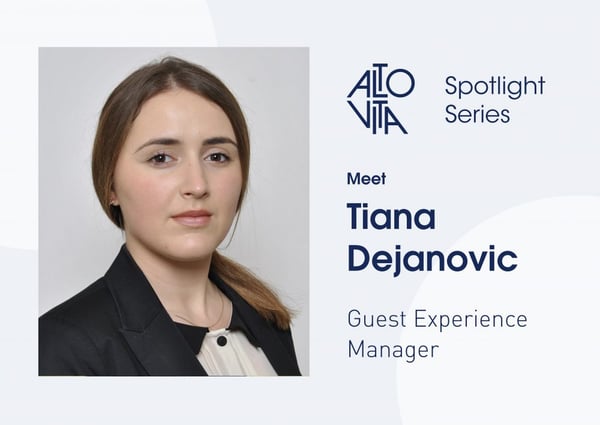 Symposium
AltoVita's Spotlight Series
Spotlight Series
AltoVita's Spotlight Series: 5 Minutes with Tiana Dejanovic
Tiana is AltoVita's Guest Experience Manager, supporting our amazing clients by offering them the best, most relevant housing options and developing business relations around the world to ensure we always provide each employee with a seamless stay, every time.
Since she started with us nearly one year ago, Tiana has been able to not only manage our client expectations at scale but also deliver consistent satisfaction which has helped encourage repeat business. By using our proprietary technology to source the best accommodation for these extended stays, Tiana's an essential part of the AltoVita family, especially when it comes to providing a flawless guest experience.
Continue reading to learn more about this Serbian-born, London-based AltoVitian as part of our team Spotlight Series.
What trends have you seen grow in demand since the pandemic, from either hospitality operators or guests for long-term stays?
Tiana Says: The past months have been more intense than any other period of time I can remember. COVID-19 remains an unresolved and unpredictable public-health challenge — causing tragic loss of life and serious threats to the physical and mental well-being of people everywhere.
AltoVita's hospitality partners have gone the extra mile as a result, to really help ensure the safety of our client's transferees in so many ways, such as:
More frequent and longer cleaning sessions of apartments and sanitation equipment provided to our guests
As guests have been compelled to quarantine in certain cities, our local teams are able to organise grocery delivery service prior to the stay
Local COVID-19 regulation stated in the property building (such as who to call in case of symptoms of COVID-19 and rules and regulations of the local country the guest is staying within)
COVID-19 packages provided upon arrival pending client request (including disinfection liquids, masks, gloves, disinfectant tissues)
COVID-19 registration forms
We've also seen a spark for self-check in options and the preference to not share a kitchen or bathroom with other tenants. So these conditions are all things we keep in mind when communicating with property managers as we do our best to adapt to the corporate traveller needs to help them feel more confident when away from home.
Over the past few months, have you seen any interesting changes in booking patterns?
Tiana Says: Most definitely! With travel habits changing every day since the pandemic, two thirds of AltoVita's partners have adapted their cancellation policies to be more flexible. In fact, customers' booking frame is shorter now and for this reason we are able to support them with adjustable arrival dates. Finally, our experienced supply team managed to quickly and safely onboard local government-certified quarantine hotels which is a major shift from what assignees are used to.
During AltoVita's 2020 Symposium, we hosted a session on female leadership in the corporate travel industry. What was your favourite takeaway from the discussion?
Tiana Says: It was inspiring to be a part of AltoVita's 2020 Symposium as the female leadership within the corporate travel industry topic had a lot of takeaways for guest experience and supply managers. The number one concern of most female travellers is their physical safety in the property.
Security features of the accommodation process help reassure them (CCTV, 24-hour reception/security, peephole, one access point, no ground floor apartments, etc). Ultimately it helped really shine a focus on how extremely important it is to educate ourselves on female solo travellers and how we can all do our part to meet their needs in order to ensure their safety to the best of our abilities at all time.
Why would you recommend AltoVita's platform to help enhance the overall guest experience?
Tiana Says: Thanks to AltoVita's Business to Employee interface and proprietary technology, corporate clients and consumers gain instant access to a network of 1 million+ diversified properties across 165 counties and 956 cities. All properties – inclusive of serviced apartments, single-family homes, villas, co-living, and hotels – are verified and vetted, and backed by a three-tier quality control process to ensure the safety and security of all guests, giving peace of mind when they stay with us.
We find our corporate clients love the bespoke user interface which is seamlessly configured to their mobility policies, and employees enjoy a greater sense of choice and support in their relocation journey as the platform can automatically tell you where local shops, schools, restaurants, and transportation is. Everything a traveller needs is right there seamlessly within the platform.
We hear you have an interest in music. Do you play any instruments?
Tiana Says: Since childhood, I showed interest in playing piano so I was fortunate enough to enroll into primary music school and finish it with success. Music also brought me into the ballroom dancing world in which I competed for 12 years and travelled through Europe!