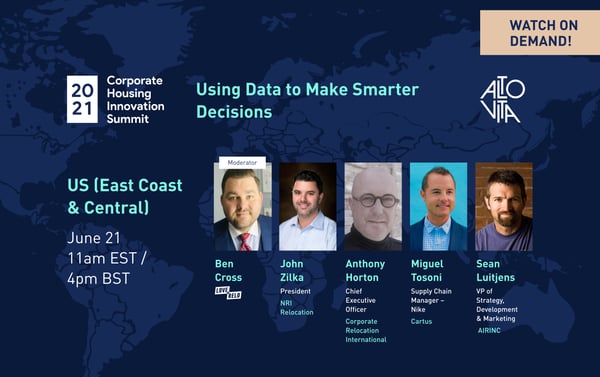 Smart, Safe, Sustainable Summit
Product Launch Day 1: US East Coast & Central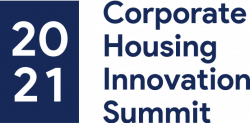 On Monday, June 21 our three-month Corporate Housing Innovation Summit reached its epic finale as we began our Final Phase: Product Launch.
US Ambassador and host of Love + Relo, Ben Cross, led the kickoff event with a panel discussion around a hot topic from throughout the Summit: Using Data to Make Smarter Decisions. He was joined by four industry and data experts:
Watch the Recording
Introducing AltoVita's Data Analytics Tool
Over the past four months, AltoVita has received feedback from more than 400 industry participants. A key theme was the lack of data tools in corporate housing. Participants consistently expressed a desire to have large, usable data sets around pricing and capacity. The most common request was for a data analytics tool which would provide insights around pricing and availability by market and property type, across different times of year.
Vivi Himmel, AltoVita CEO & Co-Founder, conducted a live product demo of one of the five new features built as a result of the Innovation Summit: the Data Analytics Tool.
This easy-to-use tool allows clients to see the average room night price in any city sorted by the number of bedrooms. The volume of the data is represented, and also allows clients to see price changes for seasonality. Data can be represented in both graphical and tabular formats. The tool is currently available to clients in Beta as our development team continues to refine and enhance the features – for instance, soon clients will be able to download reports to PDF for easy sharing and forecasting.
This grants Corporates, Relocation Management Companies (RMCs) and Destination Service Providers (DSPs) the ability to benchmark, budget for accuracy, educate and manage client expectations, and be a helpful parity feature.
"What [the Data Analytics tool] shows is the data opportunity is more in this consultative, client education area. Being able to have data to back up comments to clients about, like, 'Why is pricing going up right now?' One, because they want to be educated, because they rely on you as that outsource expert. And #2, for your own survivability, so you can explain why things are happening and a client doesn't question you and what you're doing because this doesn't make sense to [them]. … So from any supplier – RMC or any vertical supplier – having this consultative data that can explain why a marketplace is going a certain way or why you're making these suggestions, I think is very important and in the grand scheme probably much more important than any kind of data we may be giving the transferee." – John Zilka, President of NRI Relocation
"There was a recurring theme here in the conversation about sharing information for the greater good. Being part of this [Corporate Housing Innovation Summit] process for the last couple months has been really inspiring to see the AltoVita team really trying to, many times, voice that this will be something that will be helpful just not for them and for their client but really for the industry. So I think coming in and having some mechanism that me as the client can make measurements across different providers, that gives me some level of what's truly the quality level from all of these things (pricing, adaptability, etc), I think that's been pretty interesting to see behind the scenes." – Miguel Tosoni, Supply Chain Manager – Nike at Cartus
Key Takeaways from the Panel
Anthony Horton, Chief Executive Officer at Corporate Relocation International, kicked off the discussion with a statement: "Data is ever-increasingly critical to the decision-making process." He also shared a powerful statistic: 2.5 quintillion bytes of data were created each day in 2020. We have more data than ever – but how do we access it and use it for impactful decision-making, and not just reporting?
Overall, the panelists identified three areas where data is needed:
Capacity
Pricing
Transparency
Capacity
Miguel represented the voice of the client on our panel. His client Nike, like so many other companies, are currently working through the logistics of how to bring employees back to the office – but this raises capacity issues with everything from household goods to office staffing to temporary housing in a certain area. There is also a need to understand the current market. For instance, increasingly people want more space coming out of the pandemic and being in Work From Anywhere and Hybrid environments, but there is a shortage of two- and three-bedroom units in temporary housing.
Capacity issues are also exponential. Sean Luitjens, VP of Strategy, Development & Marketing at AIRINC, provided an example: "There's housing, but if you can't get the stuff shipped there, are people then going to purchase on-site because you can't ship and we're one Suez Canal away from allowing a furniture allowance rather than shipping? All that cascades and makes it ridiculously hard." Miguel added that this gets even more compounded when suppliers do not share their data.
The ideal, as John said, would be to have insight into a supplier's current capacity. For instance, What percentage of a supplier's drivers are fully booked through which date? For now, Ben notes: "I don't think we've ever been as curious or fearful over the capacity as an industry as we are today."
Pricing
Jamie Maslar in the audience asked, "How do you educate your clients on budgets, as I am seeing very high expectations but unrealistic budgets in a lot of markets."
John said that this is where data can help us in the cost consultation. "We need to see rolling average costs," he said. "We need this by large metro, and there could be differences by urban city and outside of it. [For example], a 30-day stay in NYC for June 2021 – what was June 2020 and June 2019? We need long-term trends. Was the pandemic a blip, but we expect it to come back down later? I don't see a lot of that [kind of data] from temporary housing providers. That would be very intriguing, to help our team provide that level of consultation and price predictability – ie, 'we expect a 30-day stay in Austin to be X because we've seen the trend go that way.'"
The entire panel agreed that we're in a strange time right now coming out of the pandemic, and the rules and predictive analysis of the past isn't apples to apples in today's environment. Sean said, "We haven't been here, so you can't look at the averages. … It's a really tough time to provide forward budgets. It's going to trend up over last year, because nobody was moving, but is it going to be a wave and then settle back down into calm waters like it was before or is it going to be a series of waves and toughs that are coming? Nobody knows from a data side. I don't know how you would predict that right now."
Anthony added that expectations are high across the board. "We're coming out of the pandemic and there's this sense that things are going to snap back to the way that they were pretty quickly. What we're certainly seeing in the early stages is there are all of these other macroeconomic factors playing into it – whether it's the labor markets or just supply and demand, things that happened in the pandemic are making it difficult to get back to that normalcy. Right now when we talk about this summer, I think we have some very unique, not very common issues. … Is it going to look like it did before or are we dealing with a brand new set of circumstances, and if so is that an opportunity to course correct on things that were challenging before?"
Ben added, "The pricing question is a question that persists [since before the pandemic]. It seems to be about pricing and budgets and predictable pricing, and letting our clients know what something is going to cost on a reasonably predictive basis."
Transparency
The other side of data is transparency – the sharing of data across ecosystems and trusting in data integrity. Coming out of the pandemic and the struggles of the past 15 months, for business reasons a company would be included to make up for the last year. As John said, one might wonder, are you getting truthful data based on the circumstances?
The group discussed the benefits and disadvantages of data exchange between suppliers. John broke it down: First, everyone would need to operate under the same terms – for instance, "lease start date" versus "move in date." Then, there is the issue of competition behind the scenes.
Sean said that service would be the hardest piece, since it's not a hard data point but objective. He asked, "How do you talk about a provider's service in the marketplace? If you're a high-end provider, that's something you want to make sure is taken care of. And if you're a lower end provider, you don't want that put in there." John added that some companies would't have the IT or data infrastructure to support this anyhow. "Are you not going to use this provider because they can't provide this information? That's where the service part comes in. Say I know [a company is] the best in San Diego and I don't trust anybody else, so I'm not going to use this data point. So there's always going to be a certain percentage who can't participate in this ideal anyways."
Anthony urged the sector to embrace some "coopetition," or the collaboration between business competitors in the hope of mutually beneficial results.
He said, "There's a competitive advantage to being hesitant to share data. Maybe service needs to be the great equalizer. … The data that we're all seeking, and the answers we're seeking – we're all sharing the same frustrations in trying to forecast and predict for our clients – and is it the data that will be the competitive differentiator, or will it be the service and what you do for your clients with that data?"
So, who is data for? From the employee/transferee experience, less is more
The panel agree that the growth opportunity for data is on the back end, and Chris Roberts, Director of Innovation at Aires who moderated Phase 1: Design Thinking, in the comments echoed this by saying, "innovation on the backend will eventually drive improved experience on the frontend."
John said, "It's between suppliers making decisions on behalf of our corporate clients. Helping predict things – whether it's estimates, etc – that's where I think data can help, versus what a transferee wants to see on the front line."
"The minute I'm getting into a world where I'm awash in data and decision making," Anthony said, "we haven't done our job by taking that away by making it simple and easy and as stress-free as possible for the employee."