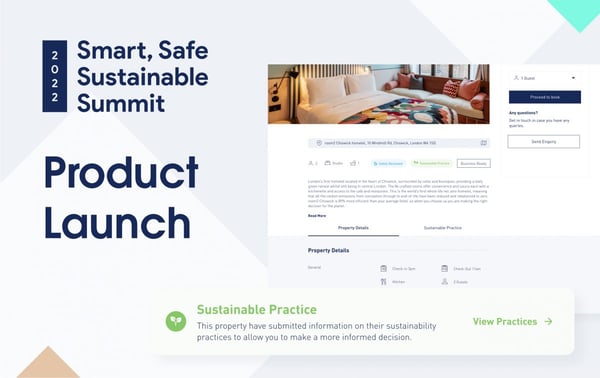 Smart, Safe, Sustainable Summit
Product Launch: The Smart, Safe, Sustainable Summit
On Thursday, May 12th, we proudly unveiled the new features created for the AltoVita platform as a result of the Smart, Safe, Sustainable Summit, built to help prioritise Environmental Social Governance (ESG) in the travel sector.
During the Design Thinking stage on March 10th, more than 120 business leaders representing 29 countries from across the global mobility and business travel sectors identified more than 50 sustainability, guest safety, and smart technology issues that the sector faced. AltoVita's talented Tech and Product teams, led by CEO and co-founder Vivi Cahyadi Himmel, used these insights to create features which address these real, impactful issues. Read on to learn more about each new development.
Sustainable Practice
AltoVita is working to create a blueprint for the travel industry based on geotagging, which aggregates data on sustainable practices from hospitality partners. From the AltoVita platform, users can walk through any property in 15 minutes on a smart device, providing peace of mind that sustainability initiatives – such as energy, water, and waste management – are in place through dedicated sustainability content. For instance, all images of sustainable initiatives will be geotagged so the user can be certain that the images were actually taken at the property. This sets precedent for incentivising travellers to pick more carbon-neutral housing options.
The user can identify such properties through the Sustainability Practice filter and badges on the AltoVita platform. In this way, a hospitality operators' sustainable initiatives to offset the accommodation's carbon emissions are highlighted, which then enables AltoVita's multinational corporate clients to relocate their employees whilst keeping in line with their ambitious net zero by 2030 targets.
RFP Builder
A big pain point for relocation management companies (RMCs), travel management companies (TMCs), and global mobility and business travel managers is the time-consuming Request For Pricing (RFP) process. AltoVita's new RFP Builder streamlines this historically tedious process. Users will be able to send an RFP in a few easy steps, reducing the incumbent 50-human-hour process down to just a few minutes. Lengthy RFP systems meant that the business travel and corporate relocation process was clunky, stressful, and full of consolidation and reformatting data. Through AltoVita, clients can enter the global office addresses for a new move program, set the distance radius, and receive instant average rates from AltoVita's database of live inventory. The slick UI also connects companies directly to bidders that fit their requirements to allow volume negotiation and competitive analysis. Whitelabelled example property links for each location can easily be included in the presentation.
Safety Verification
This new feature enables users to review the range of safety and security measures in each property. AltoVita has partnered with Breezeway, the leading property operations and services platform for short-term rentals, which reviews the property in collaboration with the property partner to verify that the required safety features are in place. Users on the AltoVita platforms can select their property with confidence that their accommodation will be safe and secure.