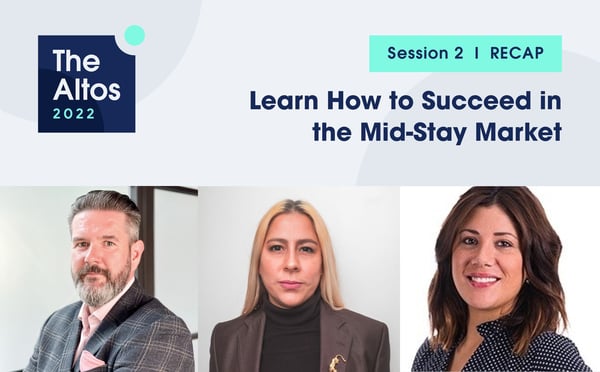 Events
The Altos
The Altos 2022: Learn How to Succeed in the Mid-Stay Market
After kicking off the 2022 Altos with discussions on sustainable travel, the second panel explored how to succeed in the mid-stay market. Moderated by AltoVita's Hospitality Partnerships Manager EMEA, Laura Marchand, the panellists shared insights on how the industry has adjusted to the new habits of corporate travellers – from remote working to extended stays.
The panel saw the participation of two important personalities from the UK hospitality sector: Kearon McCarthy, Global Sales Director for Corporate Agents and Groups at Staycity Group, and Melania Tovar, Regional Manager at ALTIDO.
How did you adapt to corporate travellers' new habits?
As a hospitality operator, Maleania shared her experience during the pandemic and how ALTIDO reacted and adapted to the situation to support their corporate clients and their employees. She listed three examples that demonstrate ALTIDO's efforts to adapt their properties to the new way of living and working:
In Scotland, for example, we adapted many multi-unit buildings with amenities that would allow corporate guests to have a pleasant stay, and make them feel more at home, but also allow them to work: this included ensuring they had access to high speed internet, a proper desk and space to work from as well as a kitchen they could cook in and relax".
We developed and launched a guest portal where guests could book on-demand services ahead of and during their stay, such as cleaning, grocery shopping, etc.".
Finally, ALTIDO recently launched its first coworking space in Milan which not only became the company's headquarters in Europe, but it also welcomes international travellers to stay and work from there".
For Kearon, the move from leisure to corporate stay was "already part of Staycity's plans as it was looking to expand into a new market". He explained how the company opened ten new properties during the pandemic, and although designed for the corporate market, the properties had been built with new business travellers' needs in mind. With people spending more time in the apartments and working from these spaces it was no longer acceptable having a dining table as a desk.
For those corporate travellers who travelled less frequently but stayed longer, Kearon said StayCity had to "create additional communal space". The company had to make changes to the public areas, making them more coworking-friendly, adding sockets, and changing the tables. And finally, said Kearon, "fulfilling the social and well-being needs of corporate travellers is as important as providing a bed". Many of StayCity's new properties now have a gym, running clubs, or yoga classes, which brings the community together – it's about the whole guest experience!
What have been the biggest challenges of these last two years?
As expected, staffing has been a challenge said Kearon, which is why StayCity had been looking at building out its core values. A year ago, the company appointed a Head of Operational Effectiveness with the task to go through all the departments – reception, housekeeping, etc. – and its key people and see how they can make their jobs as easy as possible. "It's all about people – making our teams happy and our guests happy", said Kearon.
Similarly, short staffing was also a challenge Melania saw during the pandemic and even this year as a result of the Ukrainian crisis. In Dublin, for example, ALDITO opened a pop-up hotel that accommodated a large number of refugees in over 300 bedrooms. This meant they needed to recruit extra staff to take care of these properties and their guests.
The panel closed with a look at 2023. On Melania's wishlist was the hope that the positive trend ALTIDO has seen in 2022 will continue, that it will keep up with high ADR, and that the company will continue to work on making their spaces more sustainable.
On Kearon's wishlist is a cautiously optimistic look at the year ahead, a hope that the demand StayCity has seen in the 2022 corporate market will continue.
The market is strong but currently fragile, so it has to be ready for change.If you want to discover more about the 3rd annual Altos Awards and information on the sessions, speakers, and categories, click here.
You can watch this session on demand here.