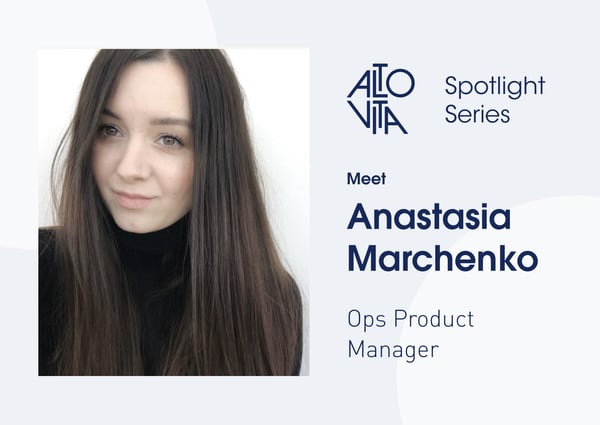 AltoVita's Spotlight Series
Spotlight Series
AltoVita's Spotlight Series: 5 Minutes with Anastasia Marchenko
Since 2019, Anastasia has been a key member of the AltoVita tech team as our Quality Assurance Software Testing engineer. Her experience in responsive web development testing and providing quality control has helped enhance the robustness of AltoVita's technology and the overall tech-enabled vetting process.
As a leading global corporate housing platform, combining a cloud-based portfolio with a 3-tier quality compliance process, AltoVita has taken quality extended stay accommodation options one step further – and Anastasia's attention to detail, experience in software models, and problem-solving skills has ultimately helped us continue to build on this mission. Her talents and proven ability to motivate, influence, and inspire fellow team members has also led to her recent promotion as our Ops Product Manager.
Anastasia loves travelling, which she does often from her home base in Russia, and has a side interest in UI/UX design. Join our congratulations and read on as we learn more from Anastasia as part of our Spotlight Series…
What inspired you to join the AltoVita tech team?
Anastasia says: I travelled a lot across Europe and absolutely fell in love with the culture and people. Also being a perfectionist I've always had a few ideas how to make it easier and safer to travel. So when there was a chance to join such an innovative fast-growing company that related to the travel sector like AltoVita, as a quality control engineer – it was a perfect match!
The people of course are also just amazing! They are all such hardworking, professional, experienced people, united in one common cause, whilst working remotely all over the world, isn't it inspiring?
Everyone knows that Quality Assurance is important, but what's one thing about this role which our readers may not know?
Anastasia says: No one loves QA engineers because they always have something to improve😜 Just kidding!
On a serious note, Quality Assurance includes lots of other professional aspects. To deliver a great-working product means you have to think like a user – to know what's relevant, like a designer – to understand if the product provides a user-friendly interface, like a developer – to know vulnerabilities and finally be sure it all works together.
What do you find is the best approach when starting quality assurance in a new project or test?
Anastasia says: It's important to try to put yourself in the client's shoes to best understand how to deliver high-quality products and always be open to changes, so we can constantly adapt.
Once we have that vision, I then create a plan, test cases, and check all the developed features so we can keep everything moving but also be on the lookout for innovative ideas.
As our newly minted Ops Product Manager, what are you most excited about and is there a particular challenge you can't wait to help us overcome?
Anastasia says: It's so invigorating, especially as we are developing and permanently improving the platform specifically for the temporary housing sector, to promote a solution to clients that really needs to help make their travelling or relocating much easier and safer.
We are also constantly integrating new services to increase the number of locations and properties for our customers, so there's always something we have to test, which is a great opportunity!
We hear you are a keen squash fan, were you disappointed that the sport wasn't featured in the 2021 Tokyo Olympics?
Anastasia says: Yes that was so sad to find out! I play squash a few times a week and am really obsessed with this sport. It's like playing chess on the court, you always have to keep in mind your next move! Also it helps to keep physical and mental health in balance. Would be great if squash became more popular in the world…