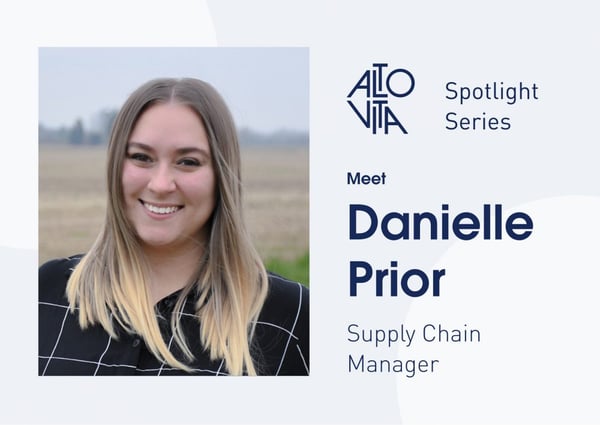 AltoVita's Spotlight Series
Spotlight Series
AltoVita's Spotlight Series: 5 Minutes with Danielle Prior
Our Spotlight Series, dedicated to learning more about the fantastic team here at AltoVita, continues as we catch up with Danielle Prior – but please, call her Danni! 😃
Danni recently joined our team as AltoVita's Supply Chain Manager. Danni helps us source, vet, onboard, and maintain relationships with our Hospitality Partners, making sure they provide the best service to our corporate clients. Danni has been working in the corporate hospitality sector for four years and has developed her knowledge of client requirements, ensuring they receive quality service and in turn, that they can provide their colleagues with duty of care assurance.
Continue reading as we find out more about our London-based superstar Danni ….
From your perspective as a supply chain manager, how do you think AltoVita's hospitality partners have shown resilience and adaptability through the global pandemic?
Danni Says: AltoVita's hospitality partners have made significant changes in operations due to the global pandemic. A few of which include contactless check in, enhanced housekeeping, and flexible cancellation policies – with some now even offering clients the ability to completely move their stay free of charge to alternative dates if they can no longer travel due to reasons like testing positive for the virus or their flight is cancelled.
The overwhelming sense of togetherness that our industry has shown to get through this tough time together has really proven the resilience of our sector and created such a "can do" attitude. That is corporate hospitality for you – we will do whatever it takes to make global mobility possible. 🙂
Pitch us! Why should a Serviced Apartment Operator or Property Manager join AltoVita?
Danni Says: Growth growth growth! 📈 AltoVita is absolutely championing the sector right now. Not only has our team more than doubled but we are also onboarding new direct clients faster than ever.
Our unique technology has meant that our hospitality partners do not have to go through the mammoth task of onboarding themselves onto our platform, and the options that are presented to our clients showcase their apartments beautifully all from our website!
Additionally we offer extremely competitive rates and so we are confident we can increase your conversion rate.
Danni Says: AltoVita is a global corporate housing company therefore we work with hospitality partners around the world, and in my experience there are definitely changes in how hospitality partners operate in different corners of the globe!
This is another reason why our Corporate Housing Innovation Summit was so informative, because we were able to dive deeper into the local perspective to better understand what currently works and what needs to improve – and Safety & Security is a topic that keeps coming up time and time again.
My main takeaway was how important Safety & Security is to the entire operation, and that Safety & Security can look different depending on where in the world the partner is based. Clients requirements when it comes to Safety & Security can vary depending on location.
We encourage all of our hospitality partners to really think about their current operations and to see if there is anything else they can do to enhance their Safety & Security.
Do you think the demand for smart home technology will increase with the work from anywhere model? How could this benefit suppliers?
Danni Says: Smart home technology is continuously evolving! We have gone from only offering Wi-Fi in serviced apartments to smart TVs, smart phones/tablets guests can use – some of which are now voice-operated and are even able to control the apartment's temperature, download the appliance manuals, order takeaways from local restaurants, and get local information. As mentioned before, self check-ins have also become more popular during the global pandemic and this has extended to self check-in pods and keyless entry systems.
I truly think the demand for smart home technology will increase as assignees working from anywhere will benefit from smart home technology as it will make things more accessible for them, make them feel safer, and also allow them to personalise their home away from home.
For hospitality partners, I think installing smart home technologies will enable them to enhance guest convenience and satisfaction all the while improving their energy efficiency and reducing their operational costs. Some products can now even detect when the apartment is vacant and therefore adjust thermostats and lighting resulting in an energy cost saving, which I think is seriously cool. 😎
However, we and our clients also love the option of a meet and greet so I wouldn't want for things to become completely digitised and not have the option of in-person service.
Tell us something you've learned since working at AltoVita.
Danni Says: I have definitely learnt that people love it when you're on a video call and your puppy jumps up to come say hi! 😂
On a serious note, I have learnt so much since joining Team AltoVita. We have a fantastic, driven, dedicated team and I have learnt that working with a startup company is very different from working for a big corporation – in the most positive way possible! The overwhelming passion to grow our company creates such positive morale and is truly inspiring to me.