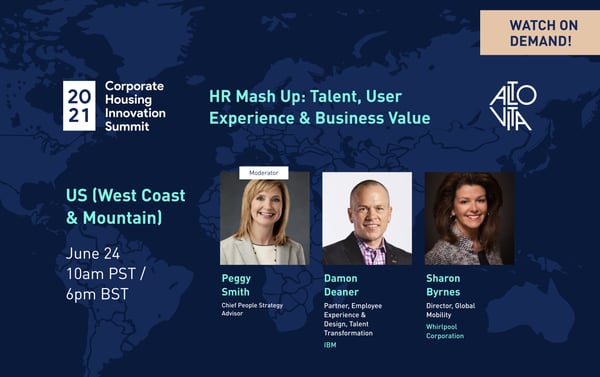 Smart, Safe, Sustainable Summit
Product Launch Day 4: US West Coast & Mountain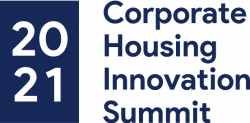 The Corporate Housing Innovation Summit was back in the United States for Product Launch Day 4 on Thursday, June 24, this time (virtually) in the West Coast & Mountain regions. US Ambassador & Moderator Peggy Smith, Chief People Strategy Officer, led a panel discussion with the topic, HR Mash Up: Talent, User Experience, and Business Value. She was joined by a distinguished panel:
Watch the Recording
Key Takeaways from the Panel
One thing is certain: The role of Human Resources is evolving. Some changes (like a focus on employee wellness) were already trending and COVID simply accelerated it, and others are born out of a need for resiliency coming out of the global lockdown. From outside the box thinking on talent acquisition to hiring from non-traditional backgrounds (case in point: Damon Deaner, Partner, Employee Experience & Design, Talent Transformation at IBM was a design leader before joining the HR function), exciting things are happening.
"We talk about recruiting and talent acquisition, and it's shifting now from a more traditional role moreso to, How do we get the best candidate for the role? That actually gives recruiters an opportunity to think more globally," said Sharon Byrnes, Director, Global Mobility at Whirlpool Corporation
Design Thinking: Not Just for Software Solutions
IBM was on a multi-year journey to bring design thinking across their product teams, and then thought that perhaps they could see the same results and outcomes if they applied design thinking at scale to other parts of the organization – like IT and HR. Damon said the results have been incredible.
Design thinking and agile, as Damon said, "is all about taking those principals and tools and techniques and measurements and frameworks from the customer experience world and bringing them backstage … to the employee experience world."
Design thinking brings together all players involved in a journey, across teams, to conduct research and ideate together. In order to apply design thinking in global mobility, Damon says, we must stay hyper-focused on who our users are and what their needs are, in order to achieve a business outcome. "Not only are we creating a much better experience for future employees who will be taking that journey, but a business metric should also improve because of the work – achieving both is the magic of bringing design thinking into HR."
Better Understanding Voice of the Customer
Ben Cross, Innovation Summit US Ambassador and host of Love + Relo, asked a question from the audience, "Speaking of design thinking and employee experience, can you give an example of how design thinking shows up in HR, talent experience, and especially mobility?"
Sharon provided an example. Last year she conducted voice of the customer interviews at Whirlpool in order to transform the global mobility program. This process led to "introducing more of a structure of flexibility, more standardization, and it's really helping to drive that overall employee consistency and employee experience," Sharon said. "We wouldn't have been successful without first starting with understanding what the needs were, and getting that voice of the costumer. It's another way of demonstrating that collaboration that's really critical."
Learning and Development Enhancements
Introducing design thinking can feel overwhelming. At IBM, they started with some basic enablement around the vocabulary and principles. Then, they taught through showing by bringing together a group to co-create on a design thinking project. Over time, IBM was able to build awareness and enablement as people saw the value in the approach. They also put all of this into the context of HR. "We did a little bit of translation and massaging to help it resonate in the HR context. It doesn't change the principals or the tactics, but doing that translation to help it feel more approachable to a traditional HR organization was tremendously helpful," Damon said.
At Whirlpool, Sharon said they have introduced an online WeLearn platform powered by Degreed for employees to learn and upskill at their own pace and on their own schedule. For the mobility space, after doing journey mapping to understand the user experience they can develop a learning or training session that may help that user experience.
At IBM, they've transformed their original in-person boot camps that started in the summer of 2013 to a sophisticated, gamified online platform that was made publicly available during the pandemic so that anyone in the world can learn from it – IBM.com/design/thinking. Damon explained another benefit of the digital platform: "It allows us to measure the breadth of coverage of the design thinking skill across the organization and also the depth."
The Value of Journey Mapping
Sharon explained: "We need to recognize that our employees are sitting right next to each other, whether they're on an international assignment or colleagues in the same office, but their needs are different." Journey mapping helps to understand the different needs of different employees, wherever they are on their career path, while still achieving business goals. Sharon said this ties back to employees and the user experience.
Peggy added, "So much of our policies for HR for mobility were around renter or homeowner, and they didn't really tie at all to business value, and they didn't speak to what that individual was – are they Returning Renee or Career Cary? – and identifying them along a persona that adds business value." How to approach journey mapping is another way HR is evolving.
Reaching for Those Balloon Moments: Measuring Success
Has something ever happened at work that was so great, you went home and told your family and friends about it? That's a balloon moment, and it's one way to measure success of a program.
Figuring out how to evaluate a program first begins with looking at the business metric and outcomes you're trying to achieve, Damon explained. Then, use design thinking to understand the needs of the users involved in those journeys and solve for that to create a better experience. Each one of these journeys, Damon said, "is driving a specific set of business outcomes, and each one of those outcomes is something that you can track." For instance, he said, "when you're trying to make [something ] as simple and intuitive and friction-free as possible, that has a way of reducing cost… reducing HR function costs or technology costs, and increasing adoption of those tools because they're so easy to use. All of that has a way of decreasing operating costs at the macro level."
Partnering with talent management teams and incorporating talent initiatives within the mobility function can also lead to positive business outcomes. Sharon explained, "Not only from a selection perspective, ask, Have we selected the right person? What is the succession plan? Have we optimised to actually achieve that succession plan? But also on the backend of the assignment, Have we retained the employee after one or two years, and has the employee achieved the goals and objectives of the assignment? Then, report that to senior leadership so we can see if something needs to be adjusted."
Mental Health from an HR Perspective
Another positive outcome from the past 15 months is a greater focus on employee mental health and wellness – and preventing burnout in remote work and hybrid environments (which was touched on during our Day 3 panel as well). As Damon said, "This idea of work-life balance is gone now. It's all about, How do we do effective work-life integration? Because it's here to stay, the lines are blurred forever I think. What I love is it's brought to the mainstream conversation, and within an HR context, the experience and the benefits associated with it."
Thinking about employee health is in service of high performance, Damon said, and we have to take care of ourselves in order to perform well. Tying it back to the beginning, he said, "We have these tools now – design thinking and employee listening channels – to be able to build more empathy and understanding in this space."
Sharon added, "I think we all have an ownership to that, but certainly HR can help drive that and be leaders to help ensure that we have a positive experience for employees, and we're also recognizing that work-life balance may come with a new definition in the future as we continue to evolve. I don't think the topic will go away anytime soon and it shouldn't."
The AltoVita Answer
AltoVita CEO & Co-Founder Vivi Himmel concluded the event by showcasing how AltoVita is helping to improve the employee journey and creating better experiences for both clients and assignees.
Vivi demonstrated how AltoVita's platform with two-way API connections to thousands of property management systems around the world quickly serves up live rates and availability to compliant housing accommodations within just 3 minutes – saving valuable time and money compared to the legacy, highly manual 24-72 hour process.
A recent AltoVita case study of an RMC who does 20,000 moves/year demonstrated cost savings of $4 million/year. With the legacy 3.5 manpower hours reduced to 3 minutes, what could cost $115/file is now reduced to $20/file across the supply chain. We then did a further analysis on the integration, which reduced the $20/file cost down to just $1.50/file.
"One of the things I love is how you did this open source approach to this," Peggy said. "It's that uniqueness and that design thinking approach, and that user experience, and that open sourcing – great idea, great approach."