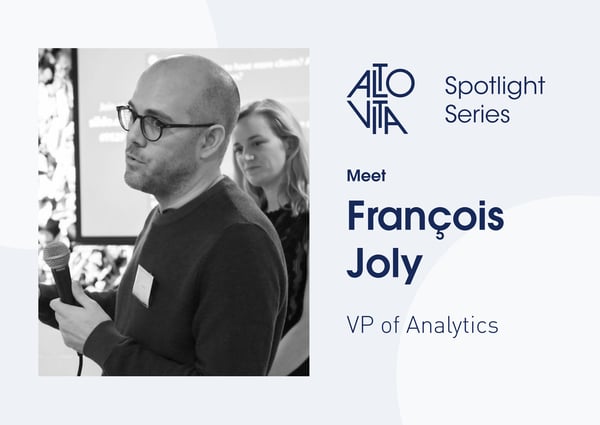 AltoVita's Spotlight Series
Spotlight Series
AltoVita's Spotlight Series: 5 Minutes with François Joly
Over the past two years, AltoVita's VP of Analytics François Joly has been a key member of the team, helping build effective SEO audits, onsite and offsite optimisation, log analysis, editorial strategy, and analysing various market segments related to the global mobility industry – all to enhance the client and employee relocation experience through advanced technology.
François has helped bring our content decisions and ideas to life by identifying audience habits and performing targeted campaigns to provide actionable insights which has led to amazing achievements.
Continue reading our latest Spotlight Series feature to learn more about our data guru – and find out what inspired his journey as a digital nomad.
What's something you discovered about digital marketing since working with AltoVita?
François says: It will sound silly, but before hearing about AltoVita, I had the misconception that B2B digital marketing was boring. What I learned is: it all comes down to the market, the team, and how ready you are to run things differently and with AltoVita I can say that I am not disappointed!
Tell us something about digital marketing most people may not know.
François Says: Now that digital marketing relies more and more on data, if you don't build yourself a background in analytics, you'll soon be driving without proper visibility.
During AltoVita's Corporate Housing Innovation Summit, we heard a need for data sharing for budgeting, forecasting, and client education. So you built a new Data Analytics Tool – very quickly! – now launched in Beta. What was your process for creating the tool?
François Says: There are plenty of amazing tools to do dashboards. Tableau, Google Data Studio, Power BI, Looker … to name a few. For AltoVita, we needed something highly customisable and yet quick to iterate. Showing a prototype early can make all the difference. That's why I've decided to use Shiny. It's an R Framework perfect for designing advanced dashboards.
The first step was to have a visual prototype early with dummy data so we could discuss internally with something before our eyes. While it was shown around, our great tech team and I could work on making the graphs dynamic. In less than 3-4 weeks we had a working product.
The Work from Anywhere trend may feel new, but you've actually been doing it for some time. As someone from Paris working in London, how do you settle into a new location and make it feel like home?
François Says: I found that having friends over for dinner and baking, makes every home feel like your home. 🙂
We hear you have a sweet tooth. What's your go-to dessert order?
François Says: You can't really go wrong with a tiramisu, light yet satisfying. I'm also passionate about ice cream. I make my own, too. Friends are usually mortified to find out that I'm using Excel to balance my ice cream mix ingredients.
A sweet bonus: François has a recipe published in Marie Claire! Try making Les financiers de François at home.