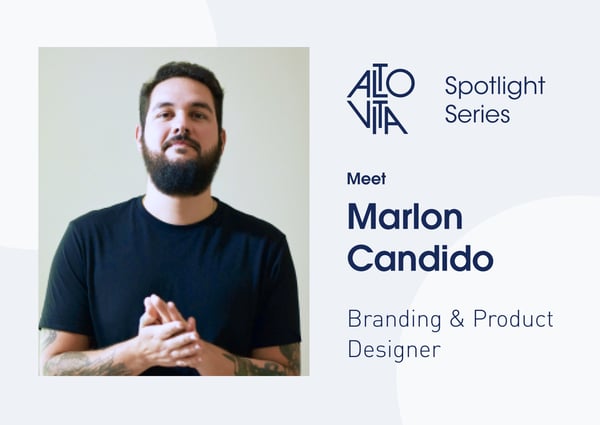 AltoVita's Spotlight Series
Spotlight Series
AltoVita's Spotlight Series: 5 Minutes with Marlon Candido
As a graphic designer, Marlon is focused on all things digital and has been working with brands and products alike for the past eight years. Since joining Team AltoVita in 2018, his creative eye has been essential when building upon our brand identity as the company grows globally.
During this time, Marlon has first and foremost been an inspired colleague who has helped bring to life beautiful, bespoke assets whilst enhancing our overall online experience, amplifying ideas for new projects, and building the AltoVita brand through specific colour tones, design techniques, and unique vision.
Continue reading our latest Spotlight Series feature and find out how Marlon manages his creative process and successfully oversees multiple projects from start to finish whilst based in Manchester…
What or who inspired you to get into the creative industry?
I've been a creative person ever since I can remember. From being very small I've always loved drawing and painting so that stuck with me in my professional life.
I'm originally from Brazil and I like to believe that all Brazilians are creatives by nature! We are always trying to find an easier or better way to do something, always focusing on creating the best and most memorable experience ever, and that's what design is all about for me.
How does product design for AltoVita differ from the work you did in the past?
AltoVita's founders and the team actually care about human-centered design. Most companies love to talk about design but don't care so much about applying it to their day-to-day decisions. At AltoVita, everyone always takes into consideration the final user of a new feature or design asset. Everyone always tries to put themselves in the user's shoes and try to best understand how to help our users.
That level of care not only helps me push for better designs but also encourages me to think out of the box and always try to find better ways to solve our user needs.
AltoVita's workforce is globally dispersed and fully remote. What tips would you give for those looking into the work from anywhere model?
Working with a remote team is amazing but also very challenging. Having to deal with different time zones and waiting for feedback can cause quite a lot of frustration and slow down your productivity if you're not prepared for it.
So I would say that being proactive and independent at work is the best way to approach this model. It's important to understand your role very well and get used to asking for forgiveness rather than asking for permission. That means taking ownership of your work and making decisions by yourself without having to wait for 12 hours for someone's feedback.
In your opinion, how does a successful design process start and how can this lead toward the development of new products?
Definitely by listening to your users. Primarily, product design is all about making lives easier. That means understanding user needs, understanding the environment these users are in, and what is the best way your product can help them.

Designing beautiful screens is amazing but good design is all about understanding your user and their needs.
What's been your craziest travel experience? We hear you love Brazil…
Oh my! Brazil is without a doubt my favourite place on the planet! It's a great country with an extremely rich culture and will forever be home for me!!
I went to China back in 2013 for work. It was my very first international trip and I only realised I wouldn't be able to read any directions or signs when I got there! I was in a very industrial city in the south of China, couldn't find anyone who spoke English, and could not figure out how to get to the hotel I was supposed to be at.
Fortunately, I found a couple of Brazilians in a train station – yes, we are everywhere. They wrote down the hotel address in Mandarin and recorded themselves saying: 'Please help me get to this address' (or I hope so). After a ferry ride and multiple trains, I finally got to my hotel!!!