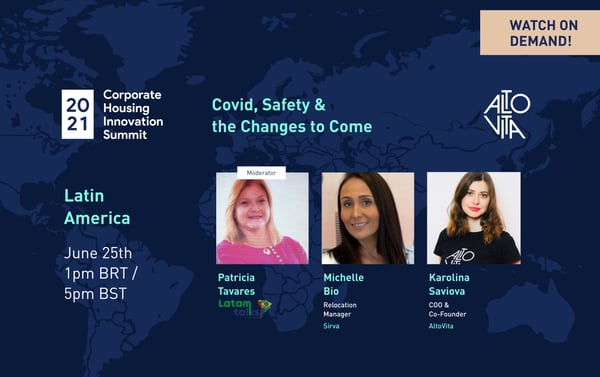 Smart, Safe, Sustainable Summit
Product Launch Day 5: Latin America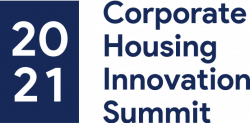 Alas, all good things must come to an end. We concluded Phase 4: Product Launch for the first-ever Corporate Housing Innovation Summit by (virtually) travelling to Latin America on Friday, June 25. Patricia Tavares, LATAM Ambassador and co-founder of LatamTalks, led a panel discussion themed around Covid, Safety & the Changes to Come. She was joined by:
Watch the Recording
Introducing AltoVita's Data Analytics Tool
"It's really good. It helps a lot our clients and us in relocation to work in partnership." – Michelle Bio, Relocation Manager at Sirva
Vivi Himmel, AltoVita CEO & Co-Founder, first showcased how AltoVita's platform seamless fetches complaint housing options within minutes – and even includes a built-in multi-currency feature.
Then, Vivi demonstrated a new feature built during the Innovation Summit: the Data Analytics Tool.
This easy-to-use tool allows clients to see the average room night price in any city sorted by the number of bedrooms. The volume of the data is represented, and also allows clients to see price changes for seasonality. Data can be represented in both graphical and tabular formats. The tool is currently available to clients in Beta as our development team continues to refine and enhance the features – for instance, soon clients will be able to download reports to PDF for easy sharing and forecasting.
This grants Corporates, Relocation Management Companies (RMCs) and Destination Service Providers (DSPs) the ability to benchmark, budget for accuracy, educate and manage client expectations, and be a helpful parity feature.
"Culture awareness and the open innovation concept are so deeply rooted in the AltoVita DNA. I hope that we were able to really materialize that and showcase to the industry that we want to really invest in technology in order to augment the abilities of the sector, while not losing sight of the human touch, which is really key to the relocation lifecycle." – Karolina Saviova, COO & Co-Founder at AltoVita
Key Takeaways from the Panel
Patricia started the discussion by sharing a story of a recent trip to São Paulo, where she hadn't been in a year. "I stayed in a hotel because I was only there for one night. The bed linen and the covers were in separate plastic bags with a COVID security sticker on top. Amenities in the bathroom were also all closed in a little plastic bag. I wanted water at night, so I went to the little refrigerator and there was no water – you have to call down and ask somebody to bring you water. All of this are security issues and measures they took because of COVID and the pandemic."
This illustrates a common scene from the last 15 months, and the dilemma that operators face on a daily basis: How to enhance safety and security measures without impacting quality and continuity of the guest experience. How policies were adjusted could look different from operator to operator, but overall the panel found that underlying it all was a commitment to guest safety and security.
"Adapting, Adapting, Adapting"
Across the region, public areas like restaurants, gyms, and pools closed in an effort to slow the spread of the virus. But as Karolina said, just because there was a closure doesn't necessarily mean that the assignee or employees were left without any service at all. From live workout classes streamed to guestroom TVs to using video calling to do a check-in walkthrough when the doorman doesn't speak the assignee's language, the panelists shared a number of creative adaptions seen during the pandemic in order to maintain a positive guest experience.
"How do you amend and ensure safety and security, without compromising the guest experience? There is a really thin balance during this time," Karolina said. "We've actually seen a lot of digitalization in the area of additional services. So there was no breakfast in extended stay hotels, but the operators were able to set up breakfast delivery to the room. Or perhaps there wasn't 24/7 manned reception, but they started to use apps which enabled seamless communication between the guest and reception, so the guest could … ask where to get groceries or even order yoga mats so they could do sports, especially when they had to go through quarantine."
How the Vendor Experience Changed
The pandemic brought new challenges for the vendor side as well. "Even with the reduced volume of moves [due to border closures]," Michelle said, "what happened was that it increased the short-term assignee population … and extensions." When an essential employee was relocating – say, someone working on machinery – they could run into roadblocks getting an appointment to obtain the necessary local legal documents, open a local bank account, etc. due to office closures.
Patricia added that immigration was also a barrier. "Sometimes we had to extend the assignment, and you couldn't because the visa was about to expire, and the immigration offices are closed."
What We Need: Collaboration & Communication
The pandemic highlighted a need for flexibility and understanding in the relocation experience – a flight is cancelled, an arrival date changes one day before, a booking needs to be extended – and that is accomplished through collaboration with the temporary accommodation company.
Tied to this is communication. And not just about each step happening, but also sharing data. As discussed during our Day 1 panel, corporate housing companies are not proactively offering data on cost, availability, or market conditions. "I think that's an important switch that we should be doing along the lines of a consultative approach and offering the data in order to help the corporations or the clients to make a more informed decision," Karolina said.
"I always mention the import of the human touch," Patricia said. "As technological as we go, as much as we do everything virtually, we can never forget that we're dealing with people with lives, with families – with families that even during the pandemic are going through a bigger trauma than they normally would do because it's even stranger and weirder to move, or families that have to be split up, so I think human touch really is basic for us."
Will Virtual Continue Post-Pandemic?
For the most part, virtual works. But should it continue? The panel overwhelmingly agreed that there is a benefit to in-person interactions we don't want to lose, but now we're in a place to offer greater flexibility to the client. As Caroline Boyle, AltoVita VP of Global Customer Success, said in the comments, "personal meet and greets are a much nicer welcome! But self-check-ins allow complete flexibility so there is room for both!"
Karolina added, "COVID has been a catalyst of a lot of technological adoption [like] sharing personal identification… I think a lot of providers have moved to virtual, for example DocuSign or various GDPR-compliant tools to communicate. So that's actually removed a lot of the hassle and time consuming, manual workloads so we can focus more on the guest experience and perhaps the concierge services. I think part of that is here to stay, because it's simpler."
The Evolving Supply Chain in LATAM
It wasn't just COVID that accelerated adoption of certain technologies: A whole crop of new tech-enabled companies is springing up in Latin America. "I really do believe that the region is going through a real change in the hospitality landscape at the moment," said Karolina. She estimates that at least 40 new tech-focused, design-led, fully furnished startups are operated between São Paulo, Buenos Aires, Lima, Bogotá, Mexico City, and other top-tier cities in the region.
"These companies understand the needs of the assignee," Karolina said, "and can actually be quite suitable to the Work from Anywhere model." Spacious apartments allow room for families and pets, with access to beautiful communal pools and gyms. Being tech-enabled, the guest benefits from a virtual concierge, contactless check-in, and even the ability to receive a notification when housekeeping is on the way.
In addition, these startups tend to also consider sustainability in their approach, using eco-friendly products in their amenities or design. Patricia added, "When you talk to companies today, you have to show what you're doing that's sustainable. And we know we're doing it not just because the companies are asking, but because the world needs it. Whatever global mobility can do, we should keep an eye on it and be aware."