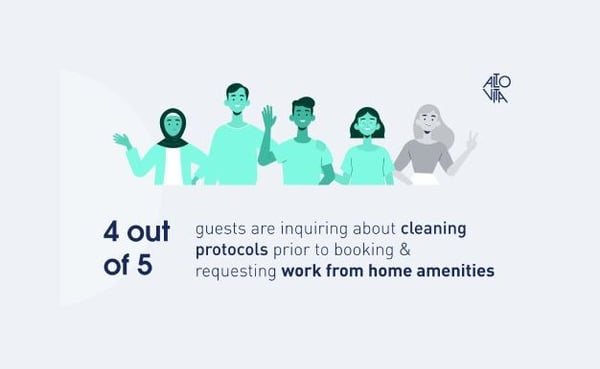 Enhancing Safety & Security in the Rental Industry
The corporate housing sector is gearing up for its busiest summer ever. Facebook and Twitter are leading the charge as a wave of companies adopt Work from Anywhere (WFA) policies after seeing the success of remote working throughout the pandemic. Coupled with pent-up demand for travel outside of one's immediate neighborhood, this is opening the door for verified alternative housing options to come into the spotlight. Now is the time for corporate housing providers to ensure health and safety compliance in order to appeal to these new corporate travellers.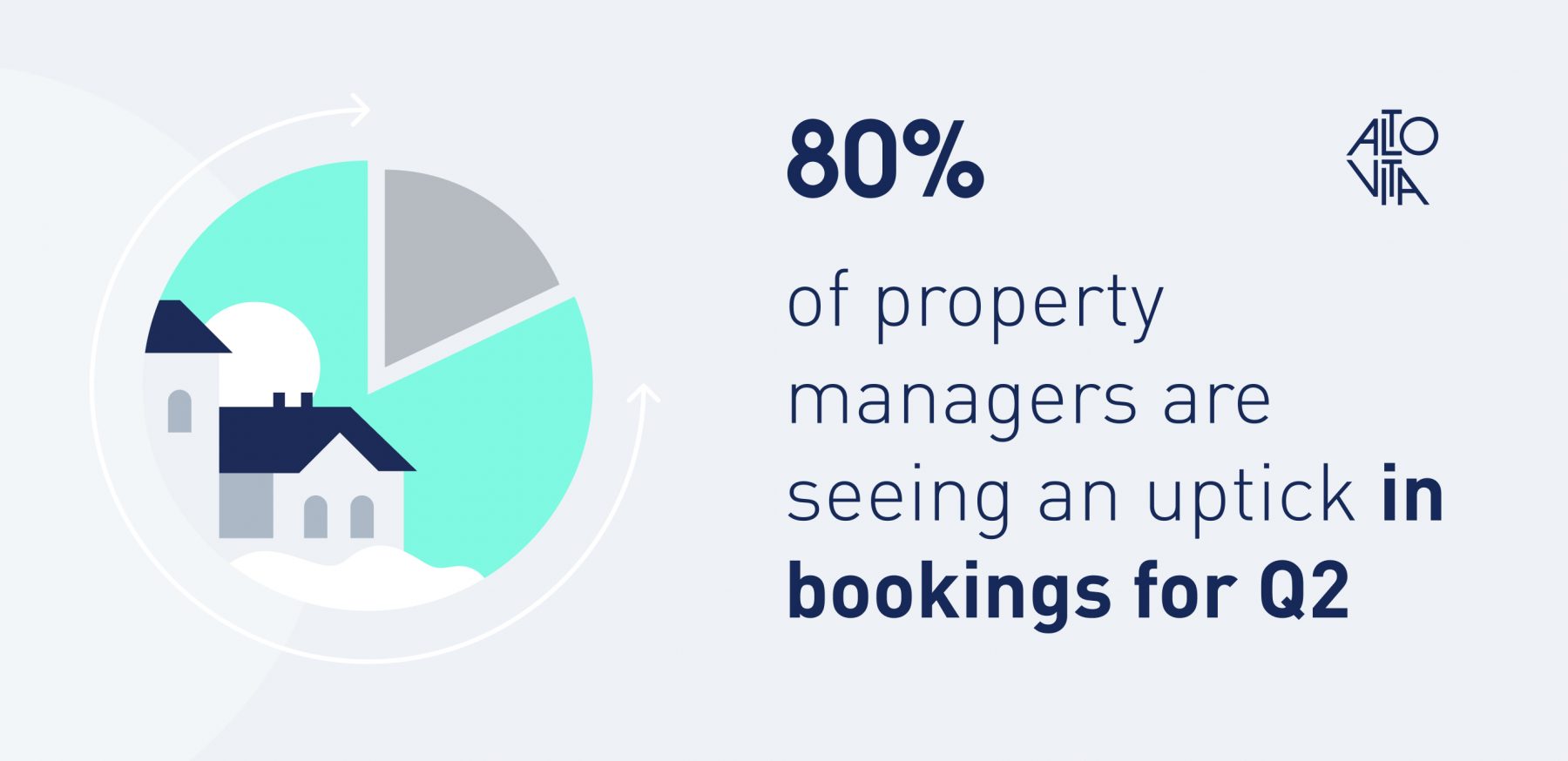 "We're introducing a lot of people to our industry, and we've got to all be on our A game. … We have to make sure we're meeting the expectations [corporate travellers, conditioned to hotels] have for a high-quality, safe experience when they stay with us."

– Justin Ford, Breezeway
On April 21st, we hosted a virtual panel of hospitality, technology, and data protection experts to discuss tips and tricks to enhance safety and security in the rental industry. Our co-founder and COO Karolina Saviova moderated the discussion, joined by Justin Ford, Director of Safety & Certification Programs at Breezeway; Alon Eitan, Director of Strategy at Guesty; Ibraheem Khan, Chief Information Security Officer at AltoVita; and Danielle Prior, Supply Chain Manager at AltoVita.

Not just a COVID fad: Enhanced safety & security requirements are here to stay
Everyone on the panel resoundingly agreed that while meeting certain safety and security requirements, like working fire extinguishers and smoke detectors, was of course present pre-pandemic, the focus on enhanced safety measures is here to stay. Alon Eitan elaborated, "The top trends we're expecting to hold over from the pandemic are enhanced cleaning, self-check in, and [focus on the] guest experience. Overall while these changes started from Covid, they make business sense."
To cater to corporate travellers, operators must be compliant
Safety and security requirements create a barrier to entry for corporate travellers. Moreover, guests are also now paying close attention to features they may have overlooked before to ensure their rental property is safe. If operators want to cater to this market, they need to be compliant across various aspects, including:
24/7 customer line and support
Room-experience and safety amenities
High cleaning standards
Hotel-like furnishings
Data protection
Physical safety
Operational excellence to monitor safety and security
Property management software company Guesty recently published a report of insights from hospitality professionals around how the pandemic has impacted operations. Alon Eitan shared how these insights underscore the importance of increased time between guest stays to allow for enhanced cleaning, an always-live customer service number, contactless check-in, and more.
AltoVita supply chain manager Danielle Prior added that lockboxes and key codes are a great way to ensure guest safety – and also help with time management. She shared, "Say you have a guest arriving at 11pm – the property manager doesn't have to go out and meet the guest. But then, you have to make sure the codes are changed regularly to maintain the security of the guest, and that there's a 24-hour number if there's any issue."
Booking patterns prove guest desire for safety & security amenities
Eitan shared that the number of booking inquiries has grown more than 20% since COVID, indicating that travellers are looking for as much background information as they can before booking a stay, such as what cleaning protocols are implemented pre-stay and what cleaning products are being used. We're also seeing an increased demand for longer stays, as guests aren't as eager to switch apartments.
What safety mistakes do property managers make the most often?
Close your eyes and think about what you think the top insurance claim is for related to incidents in a rental property. Many would say fire – but Ford shares that fires are only 3% of insurance claims. Just a few dollars investment to fix existing hazards could save a property manager thousands from claims.
83% of rental property insurance claims are from slips, trips, and falls
Data protection and physical safety: How can property managers ensure guest security?
Ibraheem Khan, Chief Information Security Officer at AltoVita, shared a few key tips to keep in mind when it comes to data protection:
Data should only be provided to those who need it. This helps reduce the chances of data loss. Today, most data breaches and hacks come from staff unknowingly acting with negligence.
Transfer data securely. Try the corporate enterprise version of DropBox or encrypted email.
Remember to delete your inbox after you've sent a data-sensitive email.
If you have your corporate email on your mobile, make sure the device is secured with the right level of passcodes and face ID.
When working with contracts, DocuSign is a great tool to use to protect data.
Ford adds that, "Many property managers are complacent when it comes to safety." Pre-pandemic, Breezeway reps would go property to property to conduct onsite safety and security training. The pandemic drove them online, and they took the opportunity to create the Short Term Rental Safety Inspector Program (STRSIP). By passing this comprehensive online course, which takes about five hours to complete, property managers anywhere in the world are certified for a year.
AltoVita conducts training sessions when onboarding new suppliers, covering everything from in-room amenities and physical safety features to how to manage insurance and data protection. Services like this and the STRSIP enable property managers to meet safety and security compliance.
Plus, safety and security compliance does not have to be expensive. Take advantage of WiFi passwords, get staff involved, and consider incentive programs with cleaners and even guests to check for and identify safety concerns.
Checklist, checklist, checklist
When it comes to duty of care, as Ford states, "complacency is devastating." The most sure-fire way to ensure nothing is missed is to stick to the trusty checklist – but that doesn't mean there isn't room for innovation. Breezeway's software, for instance, provides smart checklists that are clean and user-friendly, while also digging deeper into prevention. By learning from insurance companies and government entities, you can create a list of safety risks to look out for, such as:
Tip-over hazards
TVs not mounted to the wall
Baby gear like pack-and-plays and highchairs
Bicycles that haven't had a maintenance check
Poorly assembled furniture
Prior added that property managers can feel stress to complete a checklist before guest check-in, especially if there is only a few hours between one guest departing and another arriving. The key is to prioritize the checklist – if you don't check, then you are opening yourself up for the guest to hurt themselves, which opens the property manager up to insurance claims. In addition, when AltoVita shares a completed checklist we can provide that confidence to our clients that we are making sure on their behalf that we are keeping their employees as safe as we can.
What can guests do to protect their data once they're in a rental property?
So a property manager has invested in enhanced safety and security measures, ensured data protection of the client's information, monitored the unit for safety hazards, completed a pre-arrival checklist, and now at last the guest has arrived. What can the guest do to ensure their data is protected while staying in a rental property? Khan has a few tips, relevant to all types of stay occasions:
Do not place your computer in front of a mirror or glass window – you don't know who may be walking behind you
Be careful where you put the WiFi router – it shouldn't be in an accessible place where someone may be able to see it, say through a window, which could compromise the WiFi
Change the WiFi password on a regular basis
Plus, two bonus tips for property managers:
Anything you share for public use that is easy to make a copy of – keys, WiFi – make a list of and change often, otherwise you're not just compromising current guests but former ones as well
Don't be afraid to withhold information; for instance, if a guest is asking for the password to the WiFi hub, ask why – granting this access allows them into the full settings of the WiFi, and you don't know what they may compromise or change
Any questions? Email us at privacy@altovita.com!