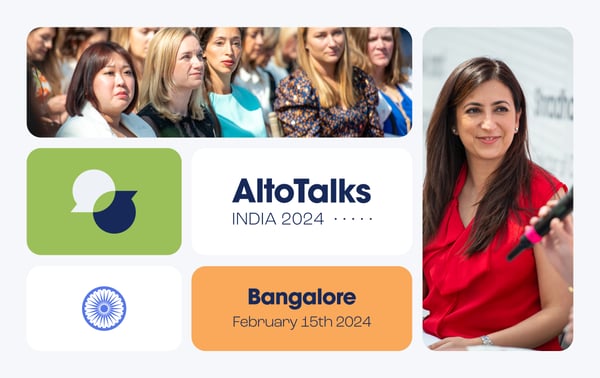 News 
AltoTalks
Introducing AltoTalks India: Join Us in Bangalore on February 15
AltoVita has launched a new series of in-person events called AltoTalks, with the inaugural edition taking place in Bangalore, India, on February 15, 2024.
The event is set to introduce AltoVita's vision to the vibrant Indian market, now one of the world's most dynamic and fastest-growing.
Currently positioned as the third-largest economy in the Asia-Pacific region and the fifth globally, India's GDP trajectory is climbing fast, with projections estimating a growth to USD 7.3 trillion by 2030, overtaking Japan to become the Asia-Pacific's second-largest economy, based on S&P Global Market Intelligence.
This burgeoning economic landscape is fertile ground for a diverse array of industries, from manufacturing sectors like automotive, electronics and chemicals to service sectors including banking, insurance, asset management, healthcare and IT.
"This marks a significant milestone in our journey, aligning with our mission to create a global community of industry forerunners," said Shradha Mithal. Director Client Partnerships India, AltoVita. "India's robust economic growth and its ascent as a global powerhouse make it an exemplary stage for these discussions. At AltoVita, we're excited to bring our innovative approach to corporate accommodation to India, tapping into its rich tapestry of industries and services. This event is more than a summit; it's a celebration of potential, innovation, and the future of global mobility in a country that's at the forefront of economic transformation."
For AltoTalks India we are partnering with xpath.global, a leading mobility marketplace ecosystem.
Its comprehensive solutions include a SaaS-based Global Mobility Management System that centralises data and automates workflows, a global marketplace connecting mobility suppliers, and the xpath.one app, which provides employees with critical tools for relocation on the go. This collaboration is set to enrich the AltoTalks experience, offering attendees a holistic view of cutting-edge global mobility solutions.
Bridging Global Expertise with Local Insights
AltoVita recognises the potential and the dynamic business environment of India, making it the ideal locale for fostering discussions on global mobility and corporate accommodation solutions that cater to the needs of a rapidly advancing economy.
Designed to connect cultures and spark collaborations, this exclusive gathering in India will bring together a handpicked ensemble of global mobility experts, business travel innovators, and corporate accommodation specialists. Our aim is to create a melting pot of ideas, where local knowledge meets international best practices.
"As xpath.global marks a new Talent Mobility Summit event in India, we embrace the opportunity to contribute to one of the most diverse and dynamic employee pools globally," said Elena Antoneac, Founder & CEO at xpath.global.
"Inspired by India's eagerness for change and technology, we're excited to be a part of its evolving landscape. Our core at xpath.global is innovation and integrating our technology for compliance in every facet of the global mobility process.
"This collaboration with Alto Vita is more than a celebration; it's a partnership to deliver comprehensive relocation services, encompassing immigration, visa support, tax guidance, employee onboarding and moving solutions across 183 countries, along with exceptional corporate accommodation worldwide.
"Our presence in India signifies our dedication to understanding and aligning with the dynamic Indian market, known for its significant tech growth. In an era where business travel, STAs, LTAs are increasingly prevalent, we recognize the critical role of global mobility and corporate housing. Our goal with our event is to provide expert insights and effective solutions to navigate global compliance, ensuring a smooth and penalty-free experience for our clients. This event is just a step towards a more connected, compliant, and efficient global workforce."
How to Attend
To register to attend, click here and simply fill out the registration form.
Stay tuned for more details on the venue, and speaker line-up.
Join us as we explore innovative solutions, navigate the complexities of global mobility, and set new benchmarks for excellence.
AltoTalks builds on the legacy of our previous events, which have seen an illustrious roster of speakers and thought leaders. These luminaries have shared their insights, experiences, and foresight, shaping the discourse around the future of corporate accommodation and global mobility. Their contributions have been instrumental in driving the industry forward, and we anticipate a similar calibre of conversations in Bangalore on February 15.