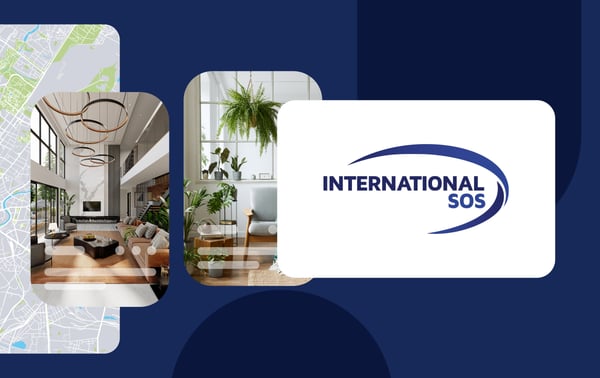 Product Updates
Travel Safe: Elevating Corporate Stays with International SOS Integration
In an age where global connectivity and employee well-being are key to business success, AltoVita's integration with International SOS marks a significant advancement in corporate travel. This collaboration is designed to offer a comprehensive solution that combines the convenience and comfort of AltoVita's accommodation services with the robust safety nets provided by International SOS.
Empowering Travellers with Real-Time Intelligence and Support
Understanding and mitigating travel risks is crucial in today's global business environment. This integration brings together the power of real-time travel alerts from International SOS with AltoVita's extensive accommodation network. Travelers can now access up-to-the-minute information about potential risks in their destination, ensuring they're always informed and prepared.

The 24/7 access to International SOS's vast network of medical and security professionals adds another layer of security. Whether it's for emergency assistance or general guidance, help is just a call away, providing peace of mind for both the travelers and their employers.
Educating and Equipping Employees for Safer Travels
Before embarking on their journeys, employees can now benefit from comprehensive pre-travel advice and training modules provided by International SOS. These resources empower travelers with essential knowledge and strategies for safe and secure travel, addressing everything from health precautions to cultural awareness. This proactive approach to travel education is a critical step in ensuring employees are well-prepared for their trips.
Enhanced Safety and Rapid Response: A Proactive Approach
At the core of this integration is the commitment to enhanced employee safety. The real-time location tracking capabilities of the International SOS Tracker, combined with AltoVita's booking system, ensure that employees are always within reach. This integration allows for immediate action in the event of an incident, ensuring rapid emergency responses when needed.
Global Reach, Local Support: A World of Safety at Your Fingertips
One of the standout benefits of this partnership is its global coverage. No matter where your employees are traveling, they have the support of International SOS's expansive network. This global presence ensures that help is always available, regardless of time zone or geography, making it an ideal solution for companies with a diverse and widespread workforce.
Fulfilling Duty of Care with Confidence and Compliance
For organisations, fulfilling the duty of care towards traveling employees is a significant responsibility. This integration simplifies compliance, blending AltoVita's accommodation expertise with International SOS's safety protocols. Companies can rest assured that they are meeting their legal and moral obligations towards their employees, fostering a culture of care and responsibility.
Setting a New Standard in Business Travel
The AltoVita and International SOS integration sets a new benchmark in corporate travel. It's not just about adding features; it's about providing a holistic solution that prioritizes the safety, comfort, and well-being of employees. In an era where business travel is indispensable, having a robust and responsive safety network is no longer a luxury – it's a necessity.

This integration offers more than just peace of mind; it represents a forward-thinking approach to corporate travel, where safety and convenience coexist seamlessly. For businesses looking to support their global workforce, this collaboration offers a comprehensive, informed, and caring travel experience. Join us now and be part of a community that's redefining safety and security for global mobility and business travel managers.