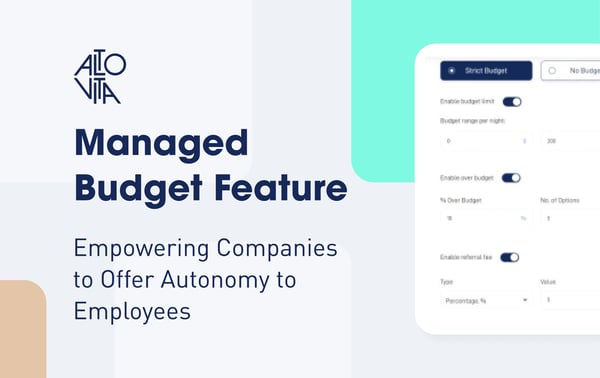 Product Updates
Managed Budget: Empowering Companies to Offer Autonomy to Employees
AltoVita offers an all-around enterprise solution for temporary housing, designed specifically for the global mobility industry. Our 'Managed Budget' feature was developed to provide a temporary housing solution specifically for lump-sum and core-flex mobility policies, allowing the assignee to search and book accommodation autonomously.
Our whitelabel platform provides a global inventory of verified temporary housing which can be budget-controlled through customised landing pages. Global mobility managers or relocation managers can quickly and easily create links to share with their employees/ assignees, giving them autonomy to search and book accommodation within the specified parameters pre-set within their unique landing page. Managers can input the budget constraints, their referral fee (if they are a relocation or business travel company), and preferred currency to display or whether to hide prices from the employee entirely. The link is created with only a few clicks and can be used for all the employees under that budget.
Customisation & Branding Capabilities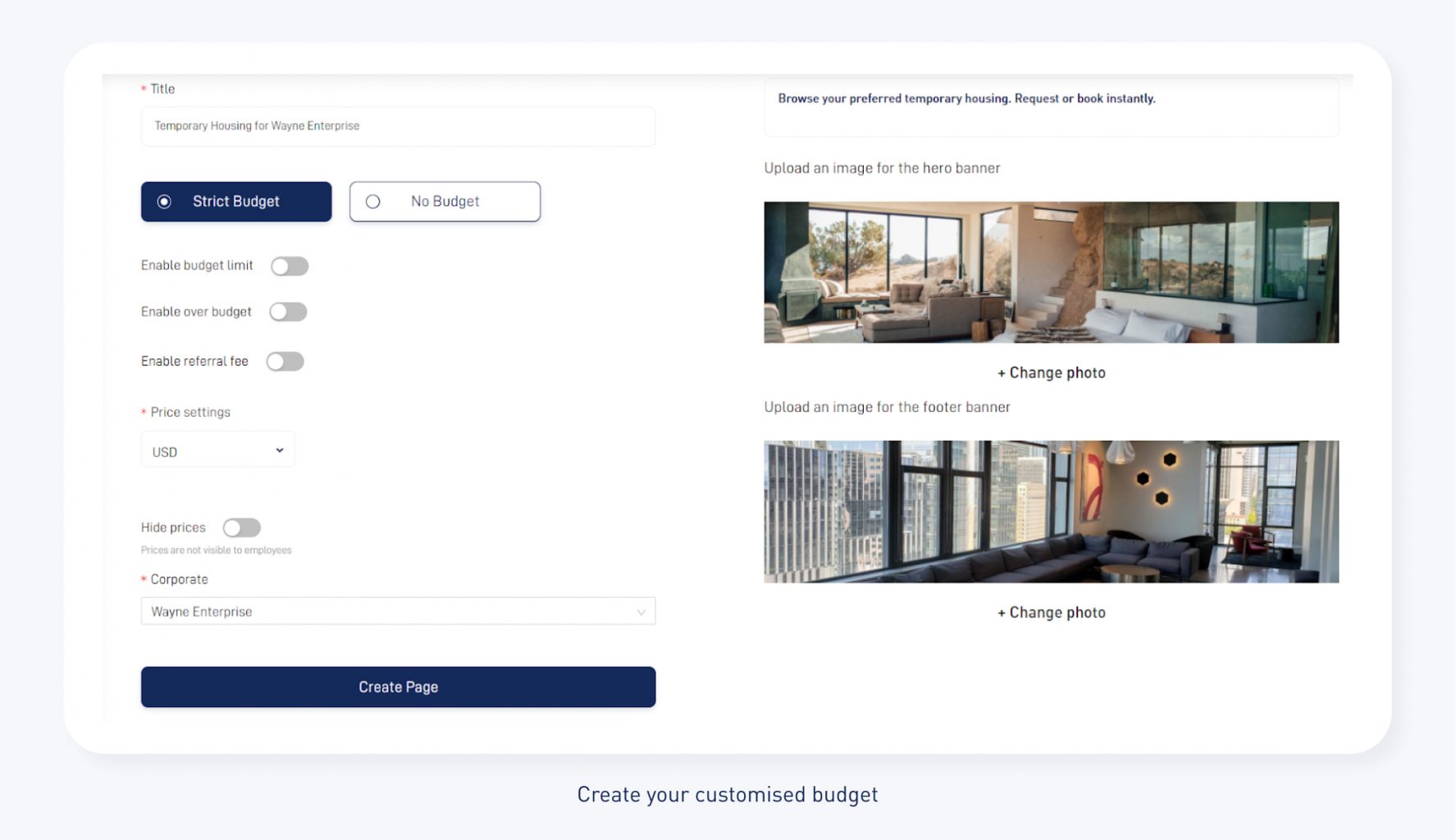 Our platform is a whitelabel solution, meaning the client's company logo will be the only branding present on the page. Our clients use our platform as an extension of their own website or platform, and can access our fully vetted global inventory while still keeping guest communication and assistance in-house if required. Our Managed Budget pages allow customised messaging and welcome images to maintain the client's brand and provide a smooth transition. We can also customise all text and CTAs (buttons) in brand colours, which can be easily controlled from the profile settings.
Setting Your Budget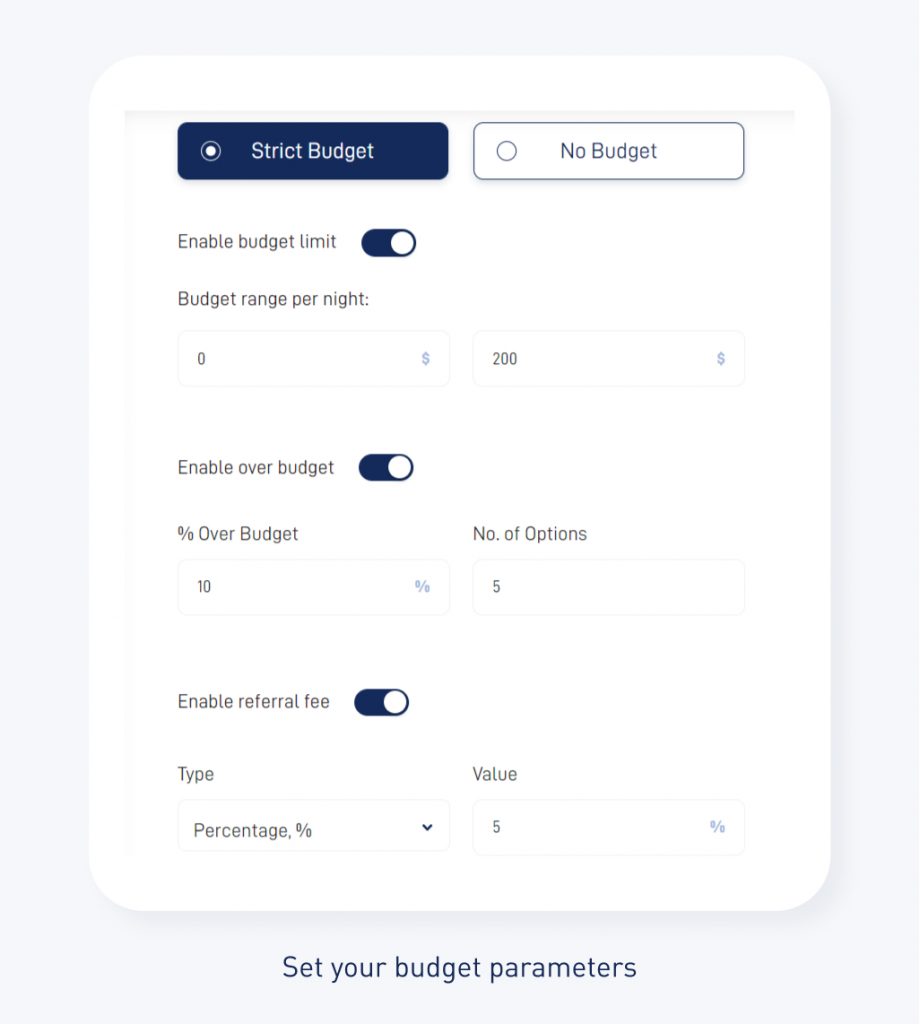 For employees who are on an expense-based system, our temporary housing links can be offered without budget caps. In this way the employee or assignee can search through our entire inventory of duty of care-compliant homes and book and pay directly. However, if there is an approved budget and invoicing must go directly to the company, then a strict budget cap can be easily applied to the links.
Set minimum and maximum budget
Specify currency
Set an over-allowance amount if required, either as a number of properties or percentage
Set a referral fee if required. If set, all prices will then include a flat amount per night or a percentage commission fee.
Choose to show or hide the prices. If a strict budget has been applied you may wish to remove all prices from the property search. All the properties shown will be under the approved amount and prices will be available for the manager to see only.
An Enhanced Employee Experience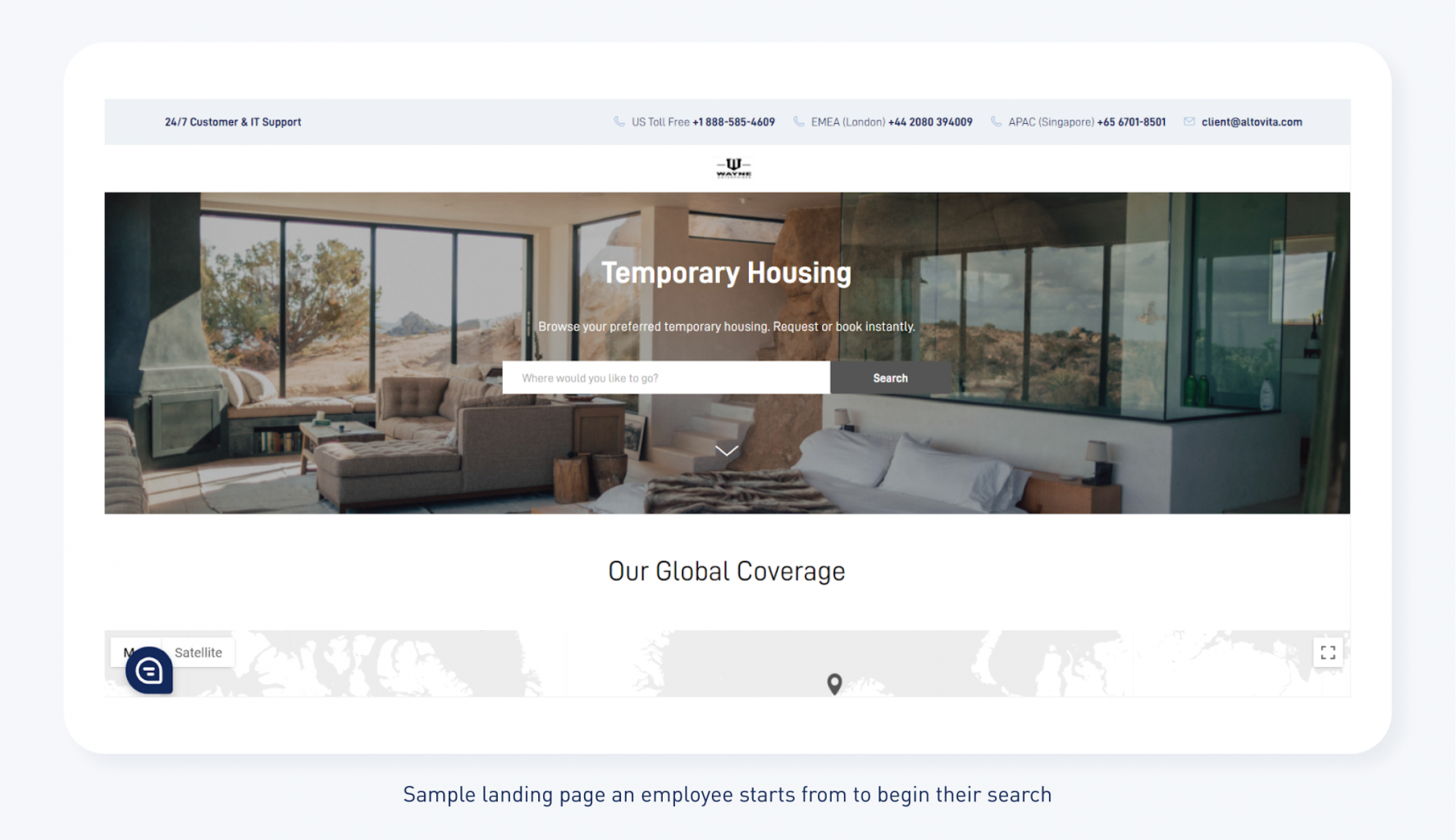 Managed Budget links allow employees to search and book accommodation globally as they would on an OTA for their leisure travel. There are detailed filters for stay dates, number of bedrooms, property type, property size, and amenities to narrow down the right options. Assignees can look on the interactive map to choose their desired area, as well as use the search bar on the map to set a pin to their office location, which will then enable commute time to show for each property. These features have been designed specifically with business travel and extended stays in mind, so the amenities filter can pinpoint which properties have the work-from-home features guests need and commute time by car, walking, and public transport.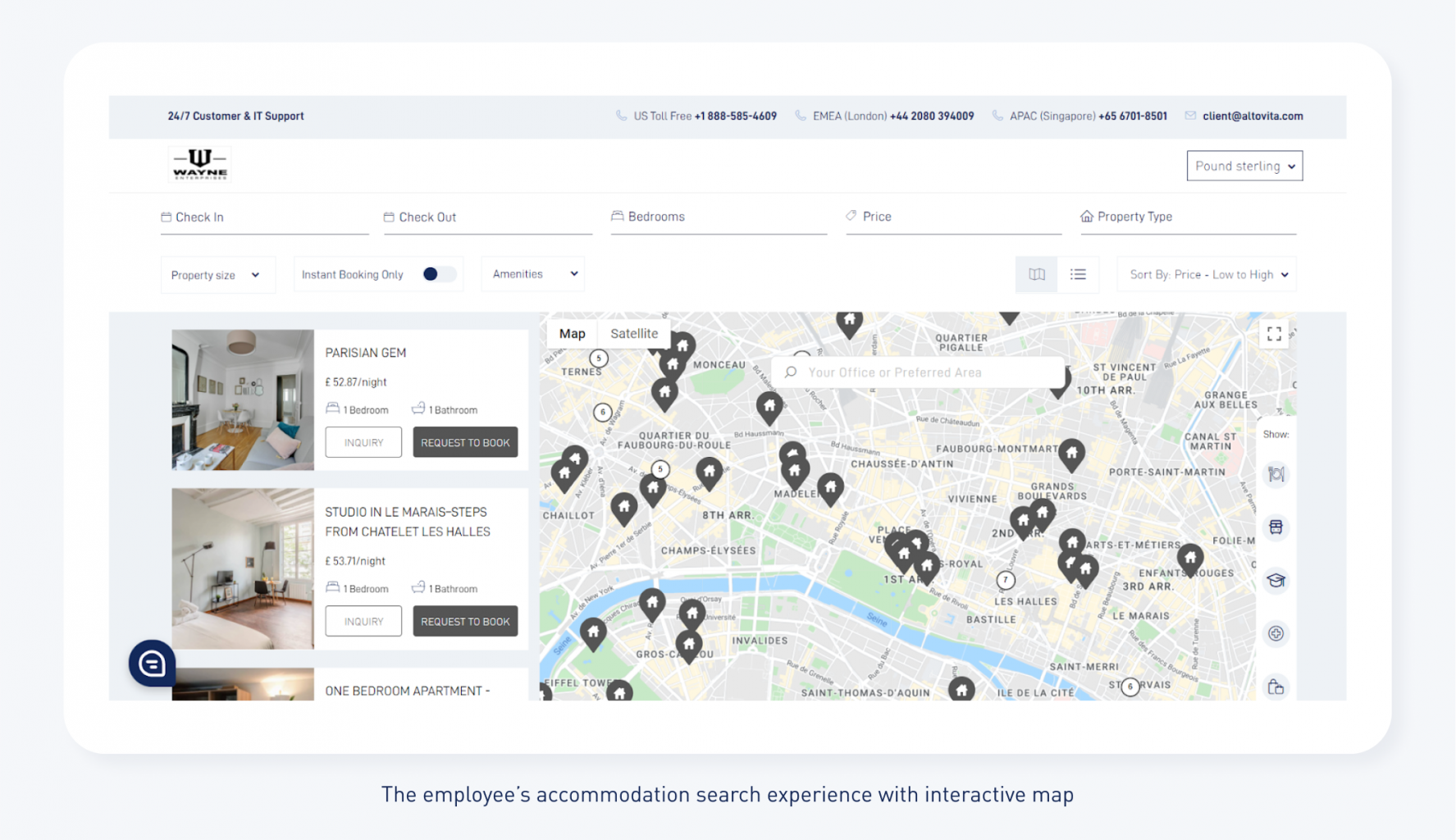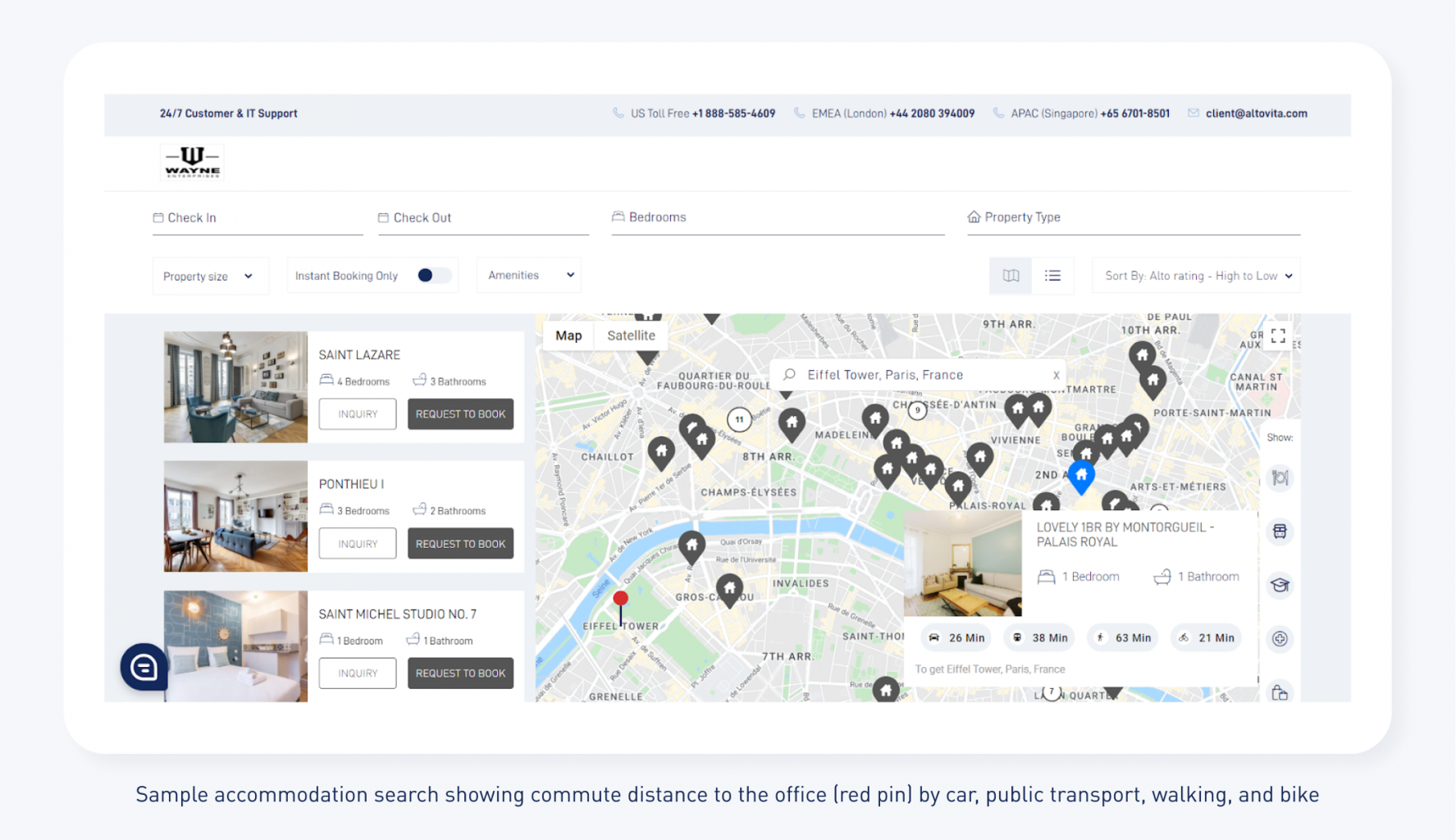 We aim to provide the best possible search and book experience for corporate accommodations. Each property page includes detailed information, including multiple images, description, full address, amenities, and map location to provide everything one needs to know before booking. Once a property has been selected, AltoVita's dedicated Reservations and Guest Experience team provide full support to make sure the arrival and stay goes smoothly.