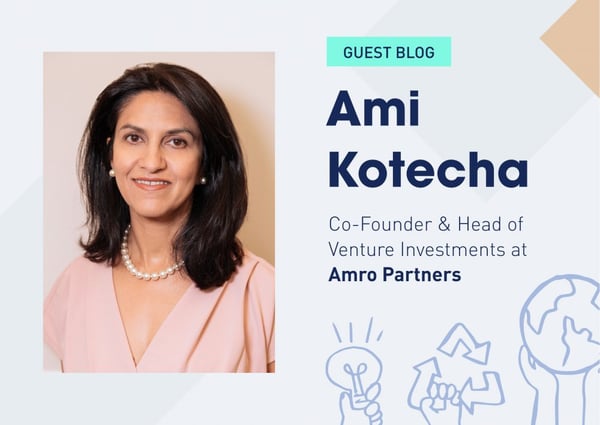 Global Mobility
Observations on ESG for the Corporate Hospitality Sector
By Ami Kotecha, Co-Founder and Head of Venture Investments at Amro Partners
A note from Vivi Cahyadi Himmel, AltoVita co-founder and CEO: At The Altos, our 2nd annual Corporate Home Awards event in early December, we welcomed Ami Kotecha who has a background in real estate, sustainability, and proptech entrepreneurship. In light of the pandemic and the many changes it has brought, Ami shared her insights on the role of Environmental Social Governance (ESG) in the corporate travel sector.
As sustainability becomes more influential on how we live and work, it's important to consider the driving forces behind these changes. We also need to recognise the opportunities that the early adoption of ESG policies can bring to both the corporate travel sector and the corporate housing sector alike. So, we invited Ami to elaborate on these areas in this guest blog.
Demystifying the myths behind global warming
We can no longer turn a blind eye to the fact that far more needs to be done in terms of tackling global warming on a cross-sector basis. While individual efforts are important to build momentum, it is crucial for corporate housing specialists to address this problem head-on. It's obvious the corporate travel sector can no longer ignore the adoption of greener protocols, as the discussions at COP26 in Glasgow last month presented some stark realities. For one, the climate envoy from the Maldives stated that delays to the Paris Agreement would be a death knell for their country, with 80% of its landmass becoming uninhabitable by 2050.
High emitters and emerging players highlight a candid issue; climate catastrophe is a universal responsibility. It's clear that holistic approaches are ideal for tackling the climate as many parts of the world, including the UK, are now experiencing exposure to floods, fire, and other unsustainable, unprecedented natural and man-made disasters.
As the corporate travel sector is the single largest emitter of carbon emissions in many service industries, corporations need to be pushed to act quickly and collaborate with government efforts to curb emissions. The size of the problem is huge – a survey carried out in 2019/20 by Global Business Travel Association revealed that a large and well-known tech company's annual travel emissions were equivalent to a full year's electricity supply for 17,000 US homes! This has become a pressing issue for corporate housing specialists as we move into a post-pandemic world. The new reality of corporate travel will look distinctly different, and rightly so. According to GBA & American Express TS, business travel has changed: 64% of corporate customers surveyed said they will be more cost-conscious and 48% said there will be a general focus on the environmental and sustainability impact of travel.
These figures stand as a clear representation that companies are starting to become conscious of their footprint, and the tax corporate travel can have on the environment without efforts to offset emissions. All this has not only fundamentally altered our working norms and practices but has transformed what we expect from our employers and their relationship with sustainability.
Transforming working models
The pandemic has proved that the world of work is in flux and is not the concrete entity it once was. Out of the many trends that the pandemic has ushered in, it's safe to say that remote and hybrid working is one that's here to stay. The rapid rise of digital nomads is also contributing to the way we view working models and is helping to carve a more defined path to a greener future by promoting more sustainable working habits.
With that, businesses are now rethinking their travel policies and how to work more sustainably in hand with efficiency. The dip in business travel and conferences in light of virtual working, especially Zoom adoption, has led overall to fewer but more important business trips. In the US alone, we've seen a 40% growth in the number of digital nomads from 7.4 million to 10.4 million, showcasing how the transition into virtual working can work hand in hand in promoting company sustainability goals as the digital nomad community continues to grow and more responsibilities can be placed into developing smaller sustainability hubs with individual targets.
Greece is one country advocating for longer stays by offering digital nomad visas for up to 70 million workers. The workforce is clearly diversifying and this opens up a new opportunity to dismantle unsustainable mass working habits. Embracing ESG can help ensure sustainability is central to your product and solution.
ESG is the key to unlocking the future of corporate travel
The adoption of ESG initiatives will help drive and curate at-home working experiences within the corporate housing sector. Consequently, this will impact occupier behaviour as research shows that people who stay longer than a week show a greater degree of environmental responsibility, with better recycling and waste management habits as well as energy consumption. These practices work to serve the digital nomad community more closely and prioritise the well-being and mental health of workers whilst also ensuring that sustainability stays at the top of the business agenda.