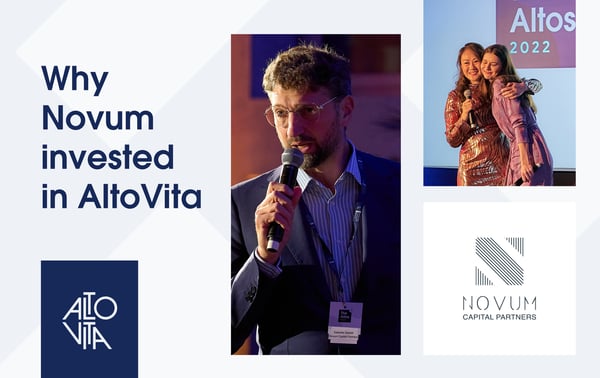 News 
Q&A: Why Novum invested in AltoVita
In case you missed it, last week we announced our Series A funding round – led by Novum Capital Partners and Fifth Wall.
In this Q&A, we talk to Gabriele Gallotti, Founder and CEO at Novum Capital Partners, about why Novum invested in this round, and how the relationship between AltoVita and Novum has developed since its first investment back in 2019.
Tell us about Novum Capital Partners. What do you look for in companies from an investment perspective?
Novum Capital Partners is a Geneva-HQ'd multifamily office that was founded in 2018 to serve a select number of UHNW European families. Over the course of four years, we have gone from zero to over two and a half billion in assets under management across 20 families.
As we are not a fund, we are not under the same pressure or time constraints to raise funds and meet investment targets. Instead, we only invest in companies that really tick every single box, and that the families are convinced by.
Novum Capital Partners is not a passive investor, and is sector agnostic. We invest in companies that we understand, that have great potential, and that have brilliant founders or leaders who can inspire their industries. We also need to be able to estimate the downside, the upside, and everything in between.
How did you discover AltoVita? And how has that relationship evolved since?
As Novum is not a fund, we're not necessarily always looking for opportunities. However, the opportunity arrived through my network, whereby a peer was looking to join an exciting startup that was expanding into the US. She called me to ask my opinion and view on the company. She knew they were looking to raise their Superseed round, so it was also an opportunity for me to look at the company from that perspective.
After seeing AltoVita's pitch deck, I was completely sold. I asked our mutual connection to organise a call with the founders, and I was fascinated immediately. I was particularly interested in Vivi and her energy, alongside the way she could explain the business so clearly in just seconds.
From day one AltoVita has proven that their business model was working and they already had an incredible name – Google – as a client.
The relationship has grown since then. We speak weekly to soundboard ideas, and I have been involved in interviewing newer members of the senior leadership team. Because of this, I really feel part of AltoVita, and with this Series A round, I am now a board member.
What market opportunities do you see for AltoVita moving forward?
There are huge opportunities for AltoVita.
That has been clear since day one. There was an empty space in this sector, and Vivi and Karolina found a sweetspot. It was something that nobody thought about. So the potential is incredible.
The main challenge now will be for Vivi and Karolina to hire the right people – to find the future leaders of AltoVita as they enter into the next growth phase. But I am absolutely confident that Vivi and Karolina have the grit and determination to lead this growth and capitalise on global potential.