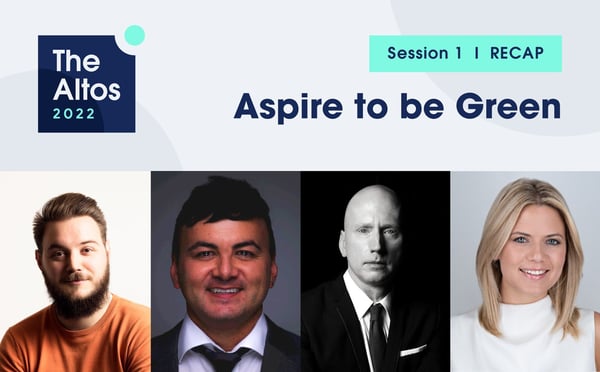 Events
The Altos
The Altos 2022: Aspire to be Green
Taking place in the heart of London at the iconic Tate Modern, the Altos 2022 kicked off by exploring one of the industry's biggest challenges: sustainability within corporate accommodation.

Moderated by Jess Dunderdale, Head of Client Partnerships at AltoVita, the 'Aspire to be Green' panel explored whether sustainability initiatives and accreditations should be standardised across all accommodation asset classes. It also asked how such policies could be implemented effectively and universally within both global mobility and business travel.

Panellists Glenn Thorsen, Global Sustainability Lead at FCM Consulting, Ryan Taylor, Travel Category Manager at SMBC, and Michael Piker, Global DE&I & Reward Director at Flutter Entertainment, each took centre stage to share their thoughts on the topic.

Why current infrastructures can't support sustainability objectives
Jess opened the discussion by asking the panellists for their views on how the industry can ensure continuity and parity while also accounting for the differences between regions and locations with a lack of tech infrastructure. Additionally, while there are many accreditations referenced within the accommodation industry, there are still no concrete industry standards or regulations that are universally used or governed.

Glenn Thorsen shared his thoughts on the issue by stating that the "heavy reliance on the outdated Global Distribution System (GDS) makes it difficult for travellers to make informed sustainable decisions due to limited access to sustainability data." Glenn went on to point out that because the system was designed in the 1960s, it is not geared towards leveraging sustainability standards within the industry, as the business agenda did not prioritise ESG at the time of its inception.

Ryan Taylor echoed this view by highlighting the importance of 'data consolidators' when it comes to standardising sustainable policies within the booking process. Although SMBC is at the beginning of its journey surrounding internal sustainable regulations, it is "planning on disrupting a lot of its business program" to raise green standards within the company.
Sustainability conversations start with transparency
Ryan also noted that SMBC is encouraging longer stays and the "transition to serviced apartments" to meet the environmental needs of the "mobility population". In light of this, Ryan emphasised the need for greater transparency across the industry, especially when it comes to starting the sustainability conversation for the first time.

Mike Piker added to this, saying that, from a company perspective, Flutter always looks for "certain sustainability metrics as part of its positive impact plan" when onboarding clients. These policies are "very disciplined in execution" across the mobility landscape. These specific standards showcase Flutter's internal efforts to create a bespoke set of policies that keep clients accountable for their actions.
The 'S' in ESG
Through a show of hands as to whether members of the audience are making sustainable choices in day to day their lives, the discussion then shifted to ESG in practice. Specifically, Jess turned to Mike to ask where corporates should be focusing commitment and resources when it comes to sustainability and DE&I.

At Flutter, Mike explained that there is a greater focus on the 'S' within ESG. He wears two hats in his role, where he focuses on both DE&I and reward and explained that there's a direct correlation between bonuses and commitment to – and support of – ESG metrics.

As well as this, he shared candidly how women in leadership roles and LGBTQ+ representation all contribute to this pillar – and are something that investors are looking out for. However, these initiatives and standards for inclusivity are also closely monitored by the MSCI rating agency, which is put into place to determine whether promises are being acted upon.

A final word
After the panellists voiced their positions, Jess offered up a final question for debate: what's the likelihood that these views can be translated into ubiquitous standards across the whole corporate accommodation space?

The panellists concluded that there is a clear appetite for comprehensive regulations. However, in order to deliver wholescale sustainable action, the industry needs to incentivise behavioural change from the ground up to create a global metric.

If you want to discover more about the 3rd annual Altos Awards and information on the sessions, speakers and categories, click here.
You can watch this session on demand here.