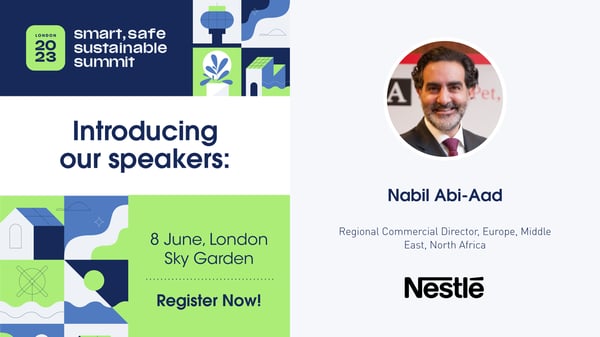 Innovation Summit
Global Mobility
'With Expatriations, the House Becomes the Anchor' — Speaker Preview with Nestlé's Nabil Abi-Aad
Among the many technical logistics and challenges involved with relocating employees, it's important to never lose sight of the value that expatriation can bring.
That's according to Nabil Abi-Aad, one of the key speakers at the AltoVita Smart, Safe, Sustainable Summit on June 8.
Nabil is Regional Commercial Director, Europe, Middle East and North Africa, at Nestlé, and he will share his own experiences, both positive and negative, of relocating six times.
Nabil says moving so often has "deeply impacted" both his family and himself.
"For expatriates and their families, the main benefits lie in the opportunity to immerse themselves in different cultures, acquire new knowledge and skills, and, most importantly, broaden their mindset," he says. "Personally, my most profound lesson has been replacing judgement with compassion and understanding, acknowledging and addressing biases, and embracing inclusivity, as I have witnessed the positive impact on both business and society at large."
Nestlé is a global organisation, and Nabil feels the ability to relocate staff is also a key factor in recruiting the best talent.
"Expatriation plays a vital role in disseminating knowledge and expertise to markets where talent development is still evolving," he adds. "In my view, it is crucial for expatriates to add value to the business while also supporting the growth and development of local teams. The ultimate goal is to nurture local talent, reducing the reliance on expatriate roles and creating a win-win situation for the business and the local workforce."
During his fireside chat, "The Nestlé Expat Experience", Nabil says he wants to focus on addressing the emotional and mental aspects of expatriation, and the need to incorporate them into the transactional process.
"I believe there is a gap in this area that requires attention and innovation," he says. "While I appreciate the genuine intentions and support from global mobility professionals, there are instances where the transactional processes do not adequately address the emotional well-being of individuals and families going through the stressful transition. I believe it is essential to design processes that are 'fit for purpose' and consider the unique needs of expatriates in managing uncertainty and emotional challenges."
He also says it is important to recognise that relocating to a new country is an incredibly stressful experience, as it often ranks closely to the loss of a loved one in terms of emotional impact.
"The uncertainty surrounding such a transition is a significant source of stress. With that in mind, my top priority is emphasising the importance of housing as a crucial support system during this period. The house becomes the anchor and the place where expatriates establish their new sense of home, filling the void left by their previous support systems."
Nabil is speaking at the AltoVita Smart, Safe, Sustainable Summit on June 8 at London's Sky Garden. Reserve you place today.