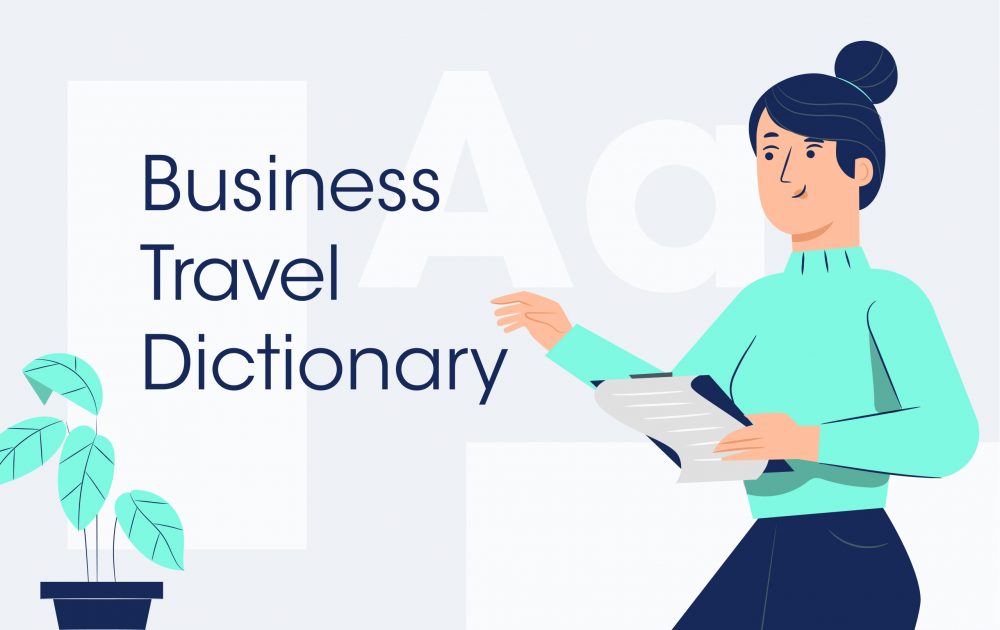 Travel
The Ultimate Business Travel Dictionary
When it comes to booking business travel, navigating the accommodation booking process and getting the ball rolling can feel like working in a foreign language. So, if you want to make your staff travel easy and keep your international relations sweet, our ultimate business travel dictionary for corporate accommodations has your back.
In it, we'll demystify the jargon-filled business travel world and help you sort the corporate travel management companies from the global distribution systems, leaving you with the time to get on with what you do best, like winning clients, making sales, and delivering top-notch customer service.
Used to measure revenues generated by an occupied hotel room per day. Hotels calculate ADR by dividing the total revenue earned per night by the number of rooms sold. It's an indicator of business success and a tool for forecasting what a hotel or other accommodation provider can expect to bring in per night at a given time. And where opportunities to increase revenues might lie.
How low can you go? The best available rate (BAR) is the lowest price available to a customer for accommodation or service on a given date. As the BAR is set depending on a number of ever-fluctuating variables – season, demand, group size – it will change regularly.
The art of extending your business trip to include some holiday time before you fly home, or combining your business travel with leisure time. Get it? Business plus leisure. Bleisure. Two weeks of client meetings interspersed with a subsidised beach break, for example.
This one is what it says on the tin. The booker is the person paying the money and signing on the dotted line. For corporate travel, this is usually a dedicated business travel booker within your organisation who has access to corporate travel agents or specialist software (like AltoVita!) to manage business travel bookings.
The guidelines set out by a company defining how, when, and in what manner business travel opportunities should happen. A corporate travel policy will let employees know if they can fly business class, how far in advance they need to book a trip, any safety precautions they should take if traveling solo, behavioral expectations, and what expenses the company will and will not cover.
Longer trips that combine several client meetings or business opportunities are on the rise as companies increasingly need to justify the costs and environmental impacts of business travel. So, think business travel that lasts a week or more, even up to a month, using apartment-style accommodation with included kitchen facilities rather than hotel rooms.
A computerised global database built in the 1960s where you can search for flight fares and book airline seats, hotel rooms, car hire and any other travel-related services. Usually managed by your TMC (see below) or business travel agent, the big ones you'll come across as a business travel booker include Amadeus, Galileo, and Sabre.
When someone books part or all of their business travel outside your approved channels or your usual travel programme (see below). Leakage can lead to increased costs, more complicated expense reconciliation, and potential safety issues in emergencies when you cannot track all your travelling employees' whereabouts through your travel programme.
Rather than a booking free-for-all, managed travel creates a travel framework to keep costs down, keep employees safe, and allow companies to keep tabs on which of their staff is where at any time. Managed travel is exactly that – managed, usually by a specialist travel management company (TMC).
How booked up a hotel, serviced apartment building, or any type of hospitality accommodation is at any given time and perhaps one of the best indicators of business success there is in business travel accommodation. For example, a 75% occupancy rate over a given period assumes reservations exist for three-quarters of your rooms at that time. Monitoring occupancy rates can also help you plan staffing, daily rates, and other resource allocation efficiently during expected high and low seasons.
No, you don't need to make a trip out to a specialist agent or spend hours on a premium rate phone line. An online booking tool – just like we offer at AltoVita – helps you make all the travel reservations you need instantly, easily, and securely online. You set the budgets and parameters, and your staff can book accommodation independently, safe in the knowledge they're using a vetted, trusted system in line with company policy.
In essence, this refers to how you make your business travel bookings: either via an online booking tool or a more traditional offline business travel agent. Generally, the latter has more flexibility to deal with tricky itineraries or special requests and can be a godsend if you need to navigate complex post-pandemic entry requirements for international travel.
The traveller is the member of staff or person taking the business trip. Their name will be on all travel documentation, hotel reservations, and flight bookings.
Business travel specialists who help organisations like yours manage their corporate travel programmes. TMCs are your single point of contact for all your travel bookings. They will manage emergency responses and communications in case of disruptions and fulfill the duty of care your business has to its corporate travellers. A TMC will also have the contacts and corporate weight to negotiate prices and secure discounted rates with corporate accommodation partners.
Corporate travel programmes set out preferred hospitality operators for your business travellers – airlines, car hire, hotel chains, etc. – and are usually vetted and managed for you by a dedicated team, meaning your staff get on with their jobs instead of spending time phoning up agents or chasing down accommodation changes.
Otherwise known as self-service travel management systems, these allow your staff to book and manage their own business travel but still within your preferred channel and with your preferred suppliers. Self-serve systems (like the option AltoVita offers) work well for businesses with a high percentage of remote workers. And with most business travel service platforms being free to use, they can offer substantial cost savings for businesses, too.
In Summary
At AltoVita, we know that corporate travel management can be complicated. That's why it's our mission to keep things simple. So whether we're straightening out business travel jargon or sorting out high-quality accommodation for your team, we're here to make your business travel accommodations bookings as smooth as possible.