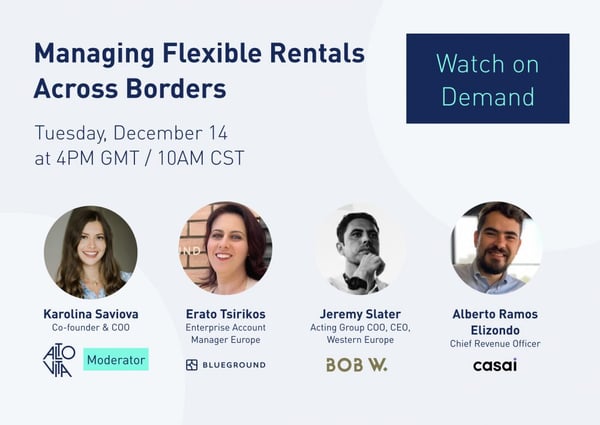 Watch Now: Managing Flexible Rentals Across Borders
On Tuesday, December 14, AltoVita COO and Co-Founder Karolina Saviova hosted a virtual session for hospitality operators on how to manage flexible rentals across borders. She was joined by a distinguished panel representing companies in the hospitality sector which have thrived during the pandemic:
Erato Tsirikos, Enterprise Account Manager Europe at Blueground, which manages 5,000 properties across 15 cities and raised $180K in Series C funding in September
Jeremy Slater, Acting Group COO, CEO, Western Europe at Bob W., which secured a €10M seed investment in April and is fueling its growth in new destinations
Alberto Ramos Elizondo, Chief Revenue Officer at Casai, which has made two strategic acquisitions in just the past six months
Key Takeaways
Factors that Fueled Growth During the Pandemic
Our panelists agreed that growing interest in alternative accommodations was felt pre-pandemic (and as Alberto reminded us, why Casai was founded in 2019), but COVID brought a massive acceleration of the trend. Jeremy said, "There's huge demand for branded apartments offering the amenities of hotels but with the facilities of an apartment or a house. … What we're seeing now is a really good comeback in tourism, and a mixture of B2B guests coming for business travel and then staying for leisure for a portion as well." He cited their newest location in Madrid which has already seen great demand not only from the domestic market, but internationally – especially from the US and UK – as well.
Erato cited another reason: After lockdown, people simply wanted change. This is seen in the form of where people want to travel to and stay, and also how and where people want to work. "All of this has made a shift," she said, "and this has been shown from the business model and what we have seen from enquiries from partners."
For the LATAM market, a startup boom is aiding tech-driven companies like Casai. Mexico saw its first unicorn in October 2020, and now has three. "Younger people, newer companies are more likely to try this model," Alberto said, "and as they grow, we grow."
In addition, Alberto saw two ways in which the flexible rentals sector has pulled guests away from hotels:
The pandemic, Alberto said, "increased the need for flexibility on all fronts from all types of guests, including corporates. Things like price flexibility, to cancellations, to check-in policies. At least in LATAM, hotels were slow to react, which pushed a lot of very traditional corporate clients to try out models they weren't willing to try out before."
Events are coming back, particularly in Mexico City, and more event guests are choosing flexible rentals. "That was the last battleground of hotels, because of course we don't have conference rooms in our properties, but once you see those move out it's really increasing our hopes for the future of the industry."
"After trying out [flexible rentals], we've seen in our corporate accounts over 90% quarter over quarter retention, which shows that once you try out the model you don't want to go back to the traditional way of doing things."

– Alberto Ramos Elizondo, Chief Revenue Officer at Casai
Building Your Brand & Consumer Trust
The resounding answer from our panelists on how to build a strong brand is consistency: Consistency of your branding, consistency of your quality standards, and consistency of your guest experience.
"To know you're staying in a Blueground apartment, even if it's in Athens or London or Seattle, you would know you're actually in the same consistent feeling operations-wise and process-wise. The security of the same company operates the same way, and also the furniture and feeling of the apartment, plus standardization of amenities."

– Erato Tsirikos, Enterprise Account Manager Europe at Blueground
Once your brand standards are in place, the next step is to nail communication. For example, early in the pandemic the Bob W. team created a marketing campaign around their cleaning standards. The cleaning standards were already high, but what was missing – at a time when cleaning expectations were high – was communication. Jeremy said, "When I first saw The Bob W. Ridiculously Clean Standard I thought, it's a little bit gimmicky, but actually it's highly effective. We put a yellow seal on all of the doors, so when you arrive at your Bob W. property you're not only greeted by all of the Bob W. standards – the neon sign, all of the furniture – but also a seal on the door, and that's the seal of quality."
Another way to build consumer trust is through property photography, 3D tours, and partnering with local influencers to do property tours to their audiences. As Jeremy put it, "obviously there's a big issue in some elements of the short-stay sector of apartments not really reflecting reality. The photos can look great, and you can make a gray sky look blue with the right Photoshop skills." Accurately advertising your product goes a long way to building consumer trust.
Plus, don't forget the importance of a personal connection. Casai conducted research to compare using "Casai" or, for example, "Alberto at Casai" for online guest communication, and the latter visibly changed scores and the quality of conversation.
Technology & the Guest Experience
"What everyone can appreciate is a seamless guest experience," Alberto aptly said. To help achieve this, Casai has invested in early detection systems and controls for smart lock batteries, smoke alarms, heaters, WiFi, and even noise so that as soon as something goes offline or a problem is detected, service teams are alerted and can fix it – as Alberto said, ideally even before the guest knows there is an issue.
Bob W. is a technology hospitality company, and that means that everything – from operations to booking to loyalty – is driven by their hospitality engine. From a single point, the self-service Bob W. app, Jeremy said, "guests can see the local gym they can use for free, book a breakfast, order a fridge filled, see their entry codes for the building, see the WiFi codes, even access Spotify playlists created by local producers." The app also offers upsells – like the 100% margin products like early check-in – and multi-channel 24/7 guest communication.
Erato echoed the importance of support lines and making guest communication as seamless and easy as possible – something which can be accomplished through a user-friendly app. She said, "24/7 support is vital, and obviously you need to have a point of contact that is more personalized as Alberto mentioned and, as Jeremy said, to be fast."
Standardization, Localization & Adapting to Cultural Differences Across Borders
Standards across design style and furnishings are one way for a company to build consistency and strong branding. When staying at Blueground, as Erato said, "a sofa in LA will also be the sofa in Vienna." This is managed by the supply chain. But what is harder to control are the buildings themselves and what each city can offer. "Vienna does not have air conditioning, but for Dubai we need to have air conditioning and it's a standard to have amenities like a gym and a pool," Erato explained. Other regional differences include availability of parking (think: London versus the US), and what the cultural norm is for check-in (if there is a meet-and-greet or if it's contactless, like much of the US).
While standardization is important, many companies have found success through a mix of brand standards with local flare. Casai is known to have "design with a wow factor," and that comes from their localization. Alberto explained: "We have a series of design themes related to a series of guest personas, and we define who travels here and why they travel here, and from there what is the character of the neighborhood. From that combination, instead of creating 50 completely different designs, we say this is a design type B with a certain local flare, and that allows us to appear very localized because we never put an apartment in place that doesn't fit with the environment."
Similarly, every Bob W. building's design concept is based on the local area, and within each unit is a local touch – say, a set of antique glassware from a local flea market – which is highlighted by a plaque in the unit explaining the importance. "So it's a sort of local, authentic experience, but the really key things are standardized to make sure the quality is there," Jeremy said.
Plus, flexibility in design is paramount when operating units across nations. Jeremy shared a recent example: "One of our Bob W. standards that we have across multiple locations is that we have Nordic-style beds. It's a normal bed but with two separate duvets, so you're not fighting over the duvet, and you have these different style pillows as well. So we implemented this in Madrid, and our local manager Claudio was a little bit skeptical at first. We waited for the feedback, and the guests told us it's not what they want, so we had to change and go back to the Spanish standards there."
Setting Sights on 2022
With their successful funding round complete, Blueground is in "scale-up mode." The vision? Grow massively, to 50 cities and 30,000 apartments by 2025. Erato said Blueground is already making strides, with three new European cities launching at the end of this year (Madrid, Zurich, Berlin), and more German-speaking cities to come in Q1. She added, "But also of course there is huge potential in LATAM and APAC, so those [regions] are also points of discussion and strategy moving forward."
Casai will also continue rapid growth. "We will very much concentrate on dominating the markets we're in right now," Alberto said, "and also expanding to more cities in Mexico and Brazil, and also potentially more countries in Latin America." In addition, Alberto calls 2022 "the year of experience," where guest experience takes center stage and is improved through technology. "Our North Star is recurrence. And the idea is, if anyone has experienced Casai and they come to a city where we have a property, there should be no reason why they wouldn't want to stay with us."
Bob W. has two primary goals for the new year: Doubling down in their existing locations (Tallin, Helsinki, Madrid, and now London) while also expanding further afield (Austria, Germany, Norway), and enhancing their product and tech. This means, Jeremy said, "building out our hospitality engines so that we're owning the entire guest process" and improving guest repeat booking rate and optimizing RevPAR as much as possible.
Revenue Gains Found through Upselling
Bob W. has shown the value of finding the right business partners for mutually beneficial relationships. "We're trying to own the customer journey as much as possible" Jeremy said, "but sometimes it makes sense to find a partner. We're not a delivery company."
Their most popular upsell package is for breakfast. To execute F&B (which there isn't on site), they source a hip coffeeshop within 500 metres of the building to be their breakfast partner. Another partnership they recently launched in Helsinki and Tallin is for fridge filling. Jeremy said, "Fridge filling is something I've tried many times over the years and it's always been one of those things where the logistical burden outweighs the benefits, but finally with this massive surge of fast delivery grocery companies it's something we can now do."
Other upsell opportunities include early check-in, late check-out, and room upgrades – all options within the Bob W. guest portal.
Sustainability: Not Just a Trend
As Erato said, "This is a buzzword that is here to stay." And at Blueground, they are creating a role on the team dedicated to this, to help determine how to approach sustainability, create sustainability standards, and manage the increase in sustainability questions on RFPs.
For Casai, Alberto said, "part of sustainability is investing in suppliers and growing the local ecosystem." Casai partners with local NGOs on topics that are important to Latin America. "We work in short term rentals, so we invest in home availability and NGOs that work with local communities to improve their homes."
In addition to making eco-friendly and sustainable choices in their buildings, in 2020, Bob W. became one of the first hospitality companies globally to publish their sustainability numbers.
"You stay at a Bob, you emit 15.4 kg of CO2, and we remove 13kg of CO2 from the air. So we continue to do that and we encourage all other companies to show us your numbers."

– Jeremy Slater, Acting Group COO, CEO, Western Europe at Bob W.
Watch Full Video Here