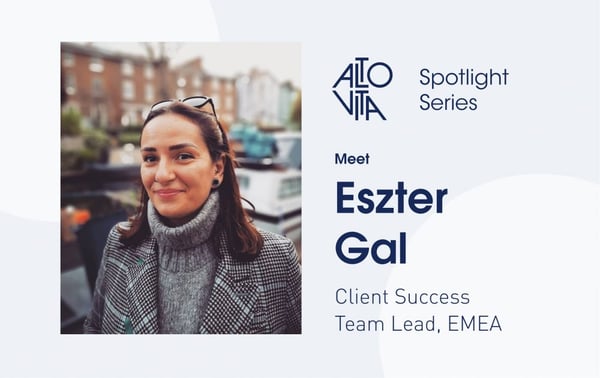 AltoVita's Spotlight Series
AltoVita's Spotlight Series: 5 Minutes with Eszter Gal
Meet Eszter Gal, our Client Success Team Lead for EMEA. Eszter was born and raised in Romania, and speaks multiple languages: Romanian, Hungarian, and English.
She joined the AltoVita team in July 2021, having previously worked in emergency relocation amongst other roles. Since the war in Ukraine began she has been a catalyst for providing humanitarian support, helping relocate Ukrainian and Russian families, predominantly employees of multinational companies, and even fellow colleagues working in Kyiv. You can read more about her story in The Mover, here.
Continue reading as we get to know more about Eszter…
What excites you the most about specializing within EMEA, and are there any particular challenges this region faces when it comes to corporate accommodation?
Every market is challenging, but what I enjoy the most about my work is that I'm driven by geography and very much love working with remote locations on a daily basis. Working from anywhere really gives you the chance to connect with so many different cultures, whilst learning about their needs and interests in a unique way. For example, when I'm accommodating guests in a certain city I'm not familiar with, my passion is to research into the history of that city, understand what they would need to know from a relocation perspective and how I can help make this transition as easy as possible. I'm not sure if that's really a challenge, but it's definitely something which requires a lot of time and research.
You've worked within the hospitality sector your whole career. What motivated you to start this career path in reservations and account management?
Yes, I've worked in reservations for a short period of my career, mostly revenue management based on the property supply side. This knowledge has helped me become very analytically driven and logical which are key role requirements for my current position with AltoVita. My past experience has also helped me develop a real interest in business operations which is great. Since we are a scale up, AltoVita provides a wonderful opportunity for me to learn more about many aspects of the business as we cross over so much between departments.
I'm very much human-centric when it comes to working with technology, so for me that combination has always been what's inspired me the most about our tools.
Is there a particular tool that you love pitching to our clients when understanding their current needs and pain points?
I'm very much human-centric when it comes to working with technology, so for me that combination has always been what's inspired me the most about our tools. The AltoVita tech team is truly amazing and are always able to help make ideas into reality. Fundamentally, when building a tool to help people, you have to prioritize the clients and their needs, so for me it's really about pitching those tools and seeing them come to life with these values intact. So I think what's most rewarding is showing how we've been able to create a variety of tools for a variety of clients, tailored for their needs and in turn showing our adaptability and innovation as a business.
What do you love the most about working with our global team?
So I've recently just met our colleagues from the US and LATAM, who are absolutely lovely and honestly the entire team worldwide is just a big happy family. It's been so exciting seeing how quickly we've grown as a company and I'm always looking forward to meeting new team members.
At AltoVita we are really able to help educate ourselves by learning from each other all the time and on so many levels. No matter where we are on a daily basis. Across every department everyone always seems to share the same passion and respect, whilst also being information driven. So we're always eager to go above and beyond which is fantastic as you're constantly discovering something new whilst being able to share advice along the way.
You have been absolutely wonderful and volunteering nights / weekends along the Romanian-Ukrainian border since the war began to help with the relocation crisis. Can you briefly tell us what it's been like and finding accommodations for those in need?
It's been overwhelming to say the least but at the same time incredibly rewarding to help those in need. We've been working mostly in operations, so it's about trying to help navigate people, seeing how we can get them somewhere safe, whilst understanding their transportation and humanitarian needs along every step of the way. We've been working with remarkable organisations, from food donation banks to so many astounding funds and committees to help with this on-going crisis –it's really a group effort.
The volume for corporate refugee relocation has reduced recently, but demand is still staggering and has been for the past few years now. So I'd really like to take this opportunity to remind people to keep yourselves informed, do your homework, get the facts right, and find out what's really happening. There are wonderful reliable resources available if you want to get involved or learn more, from online forums and hubs to your local embassy. Anything and anyone can make a positive difference.