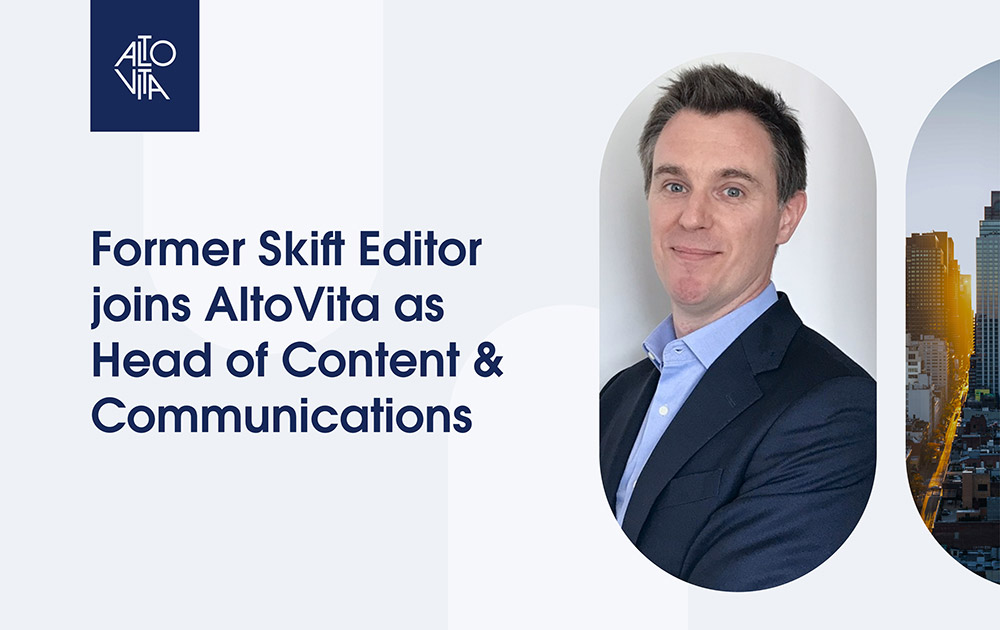 News 
Former Skift Editor Matthew Parsons joins AltoVita as Head of Content and Communications
London — May 11 — AltoVita, the award-winning global corporate accommodation platform, has appointed Matthew Parsons as Head of Content and Communications.
An experienced business journalist and award-winning reporter, he has covered the corporate travel sector for more than six years. He joins AltoVita, whose customers include Hewlett Packard Enterprises, Google and several major US government agencies, from Skift where he was Corporate Travel Editor for three years.
Prior to Skift, Parsons was the editor of Business Travel News Europe, while he has previously held senior editorial roles at publishing companies Informa and United Business Media.
He joins AltoVita at a time of rapid growth, following its $9.5M Series A fundraising in December last year.
"I'm fascinated by the intersection of business travel, technology and culture. As we emerge from the pandemic, corporate travel and working patterns look vastly different — and they continue to evolve," commented Parsons.
"I'm excited to be joining AltoVita at such a pivotal moment, and look forward to sharing relevant insights and data to help corporations, relocation companies, travel agencies and hospitality operators gain a better understanding of the trends impacting their businesses.
"AltoVita has also built up an impressive portfolio of awards, webinars and events, including the upcoming Innovation Summit on June 8 in London. It demonstrates the team's commitment to engage with customers to build better products, but also gives us the opportunity to share the conversations we're having around managing the complexities of extended stay programmes."
Vivi Cahyadi Himmel, CEO and Co-Founder at AltoVita, commented: "We're thrilled to welcome Matthew Parsons to AltoVita as our new Head of Content and Communications. With his impressive track record in business travel journalism at Skift and BTN Europe and a keen eye for storytelling to inspire and connect people, Matthew brings a wealth of experience and knowledge to our team. His expertise and passion in corporate travel and talent mobility will be invaluable as we elevate our brand and share our mission to build the largest and most connected ecosystem in corporate accommodation in the world. We're excited to welcome him onboard."
Urska Blagojevic, Marketing Director at AltoVita, added: "At AltoVita, we believe that defining a clear departmental vision is essential to building a successful business. That's why we're thrilled to have Matthew Parsons on board as our new Head of Content and Communications. With his extensive experience in business travel journalism, Matthew has a keen understanding of how to develop effective content marketing and PR strategies that align with our overall vision and goals. We're confident that his leadership and expertise will help us take our brand to the next level, and we look forward to working with him to develop and execute our strategic initiatives."
To find out more about AltoVita's latest roles, please view AltoVita's Career page.
Founded in 2018 by Vivi Cahyadi Himmel and Karolina Saviova, who have lived in over 20 cities between them, AltoVita was born out of the lack of available options for corporate travellers and a desire to standardise and provide quality assurance to the legacy corporate accommodation sector.
The AltoVita platform provides diversified asset classes to interns all the way to executives, as well as the ability to search for properties by safe and sustainable practices. The founders' vision is to power the entire accommodation ecosystem — be it business travel or global mobility — with combined data-driven scalable technology that comes with flexibility and enriched content.
Putting employees first, all properties on the AltoVita platform are fully vetted and verified to provide duty of care and compliance, backed by its extensive 4-Tier Quality Control system and supported by a dedicated customer success team.
AltoVita proprietary features include data analytics and market intelligence tool, policy builder and end-to-end housing management with financial management. AltoVita's fast-growing global footprint currently spans 165 countries and 1,553 cities, including Singapore, Dallas and Bangalore.