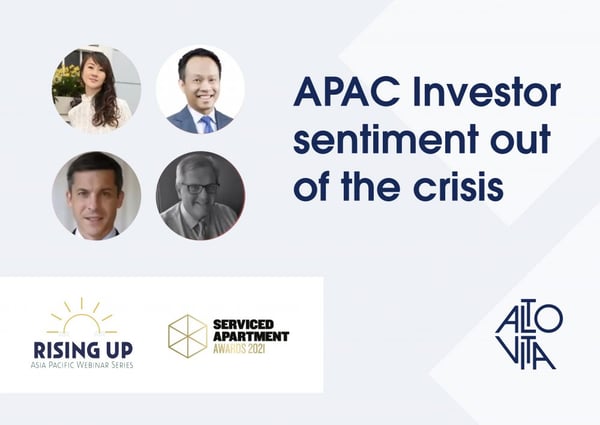 Hospitality
APAC Rising Up Conference: Investor Sentiment Out of the Crisis
On May 11 we kicked off the APAC Rising Up conference with Serviced Apartment News (SAN). This four-day event was the first of its kind, bringing together thought leaders to examine a number of key issues facing the serviced apartment, co-living, and corporate accommodation sectors in the Asia-Pacific region.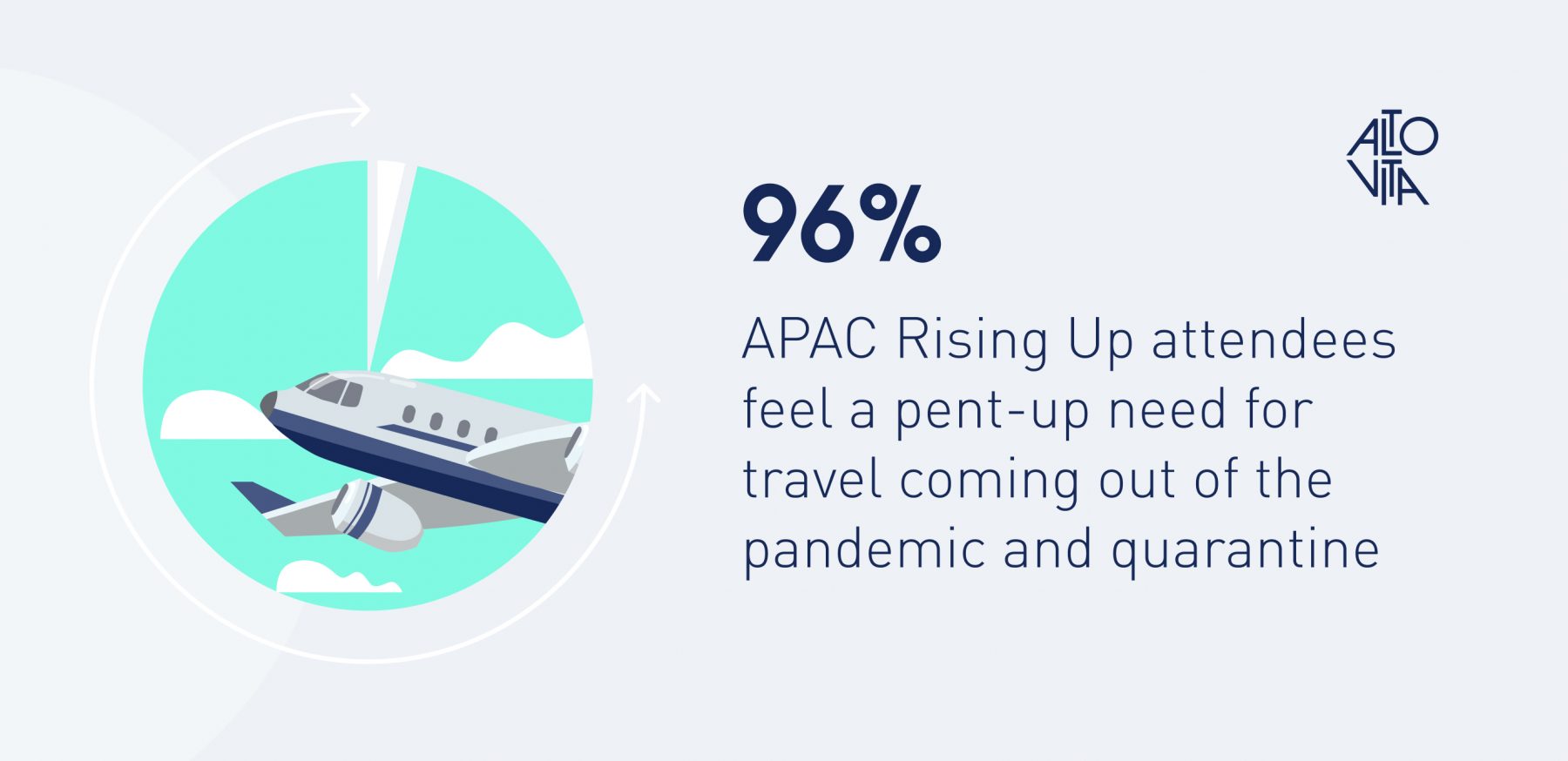 Day 1 focused on Investor Sentiment Out of the Crisis. On Day 2, we discussed trends for The Apartment of the Future – specifically, how are changes to the way we live, travel, and work shaping the architecture, design, and functionality of apartments in the APAC region? On Day 3, the group considered the impacts of A Work From Anywhere Future from with an HR perspective. Day 4 covered Smart Technology to Smart Distribution – read our in-depth recap here.
Moderator and SAN editor-in-chief George Sell said of the Day 3 session:
"It was great to hear about apartment design from both an operation and a design perspective. Just as we have seen over the course of the Rising Up series that flexible rental terms are increasingly important, it's clear that flexible spaces with multiple uses are key to future hospitality design. This applies to both apartments and communal areas. In apartments, moveable walls, multi-use furniture, and intuitive guest-facing technology all have a part to play. Communal areas are becoming neighbourhood hubs rather than exclusive spaces for guests, with F&B areas and workspaces offering a range of uses during the day."
To learn more about the Rising Up conference, check out SAN's recap which includes links to all four webinar recordings. Below, we dive into Day 1.
Meet the panelists for "Investor Sentiment Out of the Crisis"
AltoVita CEO and co-founder Vivi Cahyadi Himmel joined a panel alongside Mak Hoe Kit, managing director, Ascott Global Serviced Residence Fund & head, business development, The Ascott Limited; Blake Olafson, founder and managing partner, Asia Capital Real Estate (ACRE) & founder, HOMA; and Charles Blocker, founder and CEO, IC Partners Ltd.
Investment in the region grew despite the pandemic
Ascott had a record-breaking year in terms of signing new units in their pipeline – including increased interest in serviced apartments. Oakwood has teamed up with a Chinese conglomerate to launch a new brand. These are just two examples of how the APAC region continues to see investment activity despite the pandemic. In their analysis of the region for the past year, SAN found single-asset property transactions, asset management companies changing hands, company acquisitions, and quite a lot of funding rounds – particularly in the co-living space.
Charles also noted an increase in appetite for alternative stay accommodations particularly in the Eastern Economic Corridor in Thailand and Hanoi to Ho Chi Minh City in Vietnam. He predicts these areas will continue to see a lot of growth, accelerated by the pandemic's quarantine restrictions and the need for quarantine hotels and serviced apartments for stays of at least several weeks.
Community & connection are driving forces for change
With occupancy rates steadily in the 90th percentile, multifamily rentals have been a darling child out of COVID. Blake said, "People value the importance of home even more as you get stuck in home. … [While right now multifamily units don't really exist in Asia outside of Japan] the trend toward longer-stay is happening outside of Japan as well. It's a societal change. People are feeling more comfortable renting, especially the younger crowd." He and Charles both feel this change is because people are searching for community and connection even more coming out of the pandemic. Charles adds that more often developers are finding themselves working much harder on the common areas of a home, and even the commercial areas, versus in-unit features like the bath and ceiling height. This wasn't a focus five years ago, but it is now.
"In the longer-stay market, managers are scrambling to find staff. There's no stress in the market. The stress is, How do I expand faster."

– Blake Olafson, founder and managing partner, Asia Capital Real Estate (ACRE) & founder, HOMA
Corporate clients seek flexibility
It's no secret that business plummeted during the pandemic – but what's encouraging is that now the appetite for travel has changed entirely.
"Before the pandemic, 1 or 2% of a multinational company's employees were expats. But now, that landscape has changed entirely with the rise in work from anywhere (WFA) and virtual assignments. This unlocks the opportunity for remote work, which means that now maybe 20-30% of a company's workforce could be mobile employees."

– Vivi Cahyadi Himmel, AltoVita CEO & Co-Founder
Vivi believes a key to success moving forward for our sector will be adopting flexible lease terms. She cited AltoVita's Corporate Housing Innovation Summit, where polling of 400+ participants found that a staggering 93% prefer flexible leases (weekly or monthly), with only 2% desiring a fixed 1-2 year lease term. Further, the Innovation Summit has identified four key trends that corporate clients are looking for:
Pet-friendly homes
Family-friendly homes with larger spaces
Work from home amenities
Safety & security features, so that unique homes have the same level of security as serviced apartments
On the mulifamily side of things, Blake shared that they are now accommodating flexible leases in their Asia strategy. He estimates that around 60% of ACRE's portfolio is annual leases and 40% is multi-month or weekly leases. He also stresses that in addition to flexible lease terms, operators should invest in flexible payment plans.
Mergers & acquisitions of new asset classes
When asked about Ascott's mergers and acquisition strategy, Mak Hoe Kit said that while on the surface acquisitions into areas like co-living may seem out of the ordinary for Ascott, it's all about the ecosystem. The community and connection that Blake and Charles spoke of and finding ways to service guest needs is the link between various asset types, from student accommodations to senior living. For their foray into co-living and student accommodation in particular, he adds, "This is very synergistic for us in the lodging space because it's just catering to a slightly different age group, just as we use our serviced apartments and different brands to cater to [other audiences]. For us this is a natural evolution of [the guests] we cater to."
"I think we will see tremendous promise in the co-living sector."

– Mak Hoe Kit, managing director, Ascott Global Serviced Residence Fund & head, business development, The Ascott Limited
The rise of co-living & the expansion into secondary cities
Who is staying at co-living properties? For Ascott, it's primarily millennials. Co-living has been well-received in Asia, and they are hoping to take the model to Europe next; in the last year Ascott signed more than 1,000 units for co-living from different countries. Mak Hoe Kit said this asset class serves a group of people who are unworried about the setup because they still maintain their own spaces for safety and privacy. Blake further expanded on this, saying, "In Asia the cities are pretty chaotic, and guests want the ability, as Hoe kit said, to go back to a private space and close a door and have a sense of privacy. But at the same time, have community when you want it."
At ACRE, they've received feedback that guests at all income levels are more focused on health and wellness, both mentally and physically. Using this data, they've spent more time properly planning out gyms that appeal to a 25- to 35-year-old guest, with spaces for yoga, swimming, and more. They've also created co-working spaces in the lobby, so a semi-casual space is available for residences within the building without having to go to coffeeshops.
Vivi added that from AltoVita and Benivo interviews, 64% of companies in APAC want more remote locations and co-living units. She pressed the group, What's the strategy for moving where the jobs really are when it's not always the big cities? Blake points to conversion over new construction (which takes significantly longer) and expanding into secondary cities (where the job market is more stable and not tourism related) as a strategy for growth.
"Think about the precinct of where your property is and having leadership in that precinct. It could start off with just one or two blocks. It's a combination of the residences, it's the hotel, it's the food and beverage, it's the bake shop, the cleaners… these precincts where you have some likemindedness. This will help raise the values. I really think this will be another factor that developers or investors look at. It's not just about the building, where you're programming 300-400 metres so that it's a great gym, it's also when you get out on the street – is it the same old Starbucks or is it something else? That's a really magical part [of the location] and it that can unlock value. But it does take leadership and coordination."

– Charles Blocker, founder and CEO, IC Partners Ltd.
All about Real Estate Investment Trusts
Mak Hoe Kit discussed the advantages of Real Estate Investment Trusts, a popular investment vehicle in the region. They can offer a stable income with 5-6% yield, and it's possible to invest in real estate all over the world.
The importance of environmental, social & corporate governance (ESG)
Mak Hoe Kit shared that environment, social, and corporate governance (ESG) policies are critical to Ascott's investment strategy, and Charles noted that he has seen a number of investment prospectus that include disclosure documents with an ESG section that speaks to the holistic view of how the development will help the local economy and the capital that would be deployed. He says, "[Corporate social responsibility] will become a critical factor to raising capital through limited partners."
Blake expanded on this, saying, "we look at it like not only is it the right thing to do, but when you look at it from a long-term ownership perspective, it's profitable to do. When you consider double glazing of all the windows in the building, people think 'jeez you're throwing away a million dollars,' but if I can save $150,000 in electricity a year because I did that, I can save $2 million or more [later]." ACRE's buildings in Thailand will be the first LEED certified rental residential buildings in the country, and the first that are EDGE certified. Blake says, "this makes a difference to our tenet base." That said, he's not convinced guests will pay more rent for ESG, but if you can educate on the benefits it can be a differentiating factor between your building and another. He adds, "Whether you're big or small, I don't think you can ignore it."