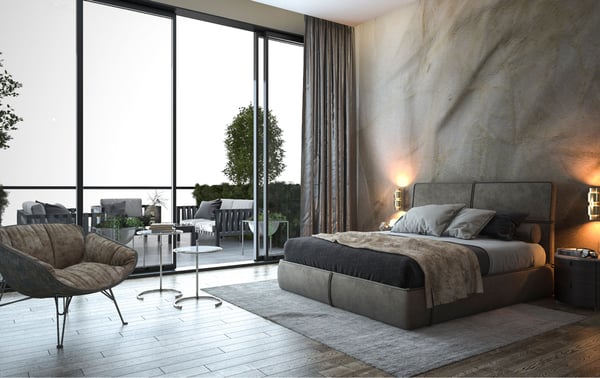 Hospitality
Blog
VIP Corporate Apartments: Bridging the Gap Between Hotel Amenities and Home Comforts
Luxurious amenities. Impeccable service. Exceptional comfort. These are all traits we associate with luxury hotels. But these days, corporate travellers requiring extended stays are looking for the pampering and indulgent experience they expect during a hotel stay within the familiarity and privacy of their own living space.
Who says you can't have the best of both worlds?
The truth is, even the most luxe hotels can become limiting over time. By offering resort-style amenities in corporate apartments, condos, and other extended or short-term rentals, business travellers who require extended stays can enjoy the comforts of home while having an exceptional experience.
Let's explore what modern corporate travellers seek in extended and short-term housing today and how companies can meet their needs.
Why Resort-Style Amenities Matter
Corporate travellers seek corporate apartments that balance professional efficiency and personal well-being. Business travellers will likely favour corporate housing with hotel-like amenities when searching for accommodation to elevate their comfort, convenience, and overall experience.
Below are a few reasons why resort-style amenities matter to corporate travellers.
Enhanced Comfort
From the landscaping and lobby to the linens and toiletries, incorporating hotel amenities into corporate housing can create a welcoming, luxurious ambiance. By incorporating hotel amenities, corporate apartments can provide the comforts and convenience of a hotel while offering a larger living area and a more residential feel.
Convenience and Efficiency
VIP corporate travellers often have demanding schedules and require seamless services. Having hotel amenities in a corporate apartment ensures access to concierge services, housekeeping, and 24/7 emergency support, which allows business travellers to focus on their work without worrying about mundane tasks.
Premium Facilities
Corporate apartments may feature fitness centres, business centres, swimming pools, meeting rooms, and other facilities commonly found in hotels. These amenities cater to the needs of VIP corporate travellers who seek convenience and on-site resources for their professional activities.
Introducing the Comforts of Home
By combining hotel amenities with the comforts of home, temporary housing can feel relaxing, convenient, and personalised. Business travellers can maintain their routines, cook their meals, and have the freedom to personalise their living space according to their preferences, fostering a sense of familiarity and comfort.
Below are a few reasons why VIP business travellers appreciate the comforts of home in corporate apartments with hotel amenities.
Home-like Amenities
Corporate apartments can include features commonly found in homes, such as a washer and dryer, walk-in closets, a dedicated workspace, high-speed internet (aka Wi-Fi), and a fully stocked kitchen with plenty of housewares. These amenities contribute to a sense of normalcy and convenience, making the corporate apartment feel more like a home away from home.
Privacy and Space
Floor plans for corporate apartments typically offer more square footage than hotel rooms. VIP corporate travellers appreciate the additional space, allowing them to work, relax, and entertain guests comfortably. This privacy and ample room are essential for those who value a home-like experience during their travels.
Cozy Environment
Corporate lodging offers a more relaxed and inviting environment, resembling a home rather than a standard hotel room. This includes features like a fully equipped kitchen, a spacious living room, and separate bedrooms, allowing travellers to unwind, cook their meals, and feel more at ease during their stay.
Finding the Perfect Balance
Mixing resort-style amenities with the comforts of home is essential because it provides opportunities for relaxation, increases work-life balance, and enhances productivity. It can also lead to impressive client experiences and talent retention.
Productivity and Focus: The right living space can increase productivity and focus for corporate travellers. An environment that supports relaxation, stress reduction, and mental clarity can help corporate travellers find the balance they need to be at their best during business-related tasks. And a dedicated workspace in a fully furnished rental can help, too!
Relaxation and Recreation: Corporate travellers often have demanding schedules and high-stress levels. Resort-style amenities provide relaxation and recreation opportunities, allowing them to unwind and recharge. Features like swimming pools, spas, fitness centres, and outdoor recreational areas offer a much-needed break from work-related activities, promoting well-being and rejuvenation.
Work-Life Balance: Corporate travellers should strive to maintain a healthy work-life balance, even while away from home. Access to various facilities and amenities catering to professional and personal needs can enable corporate travellers to blend their work commitments with leisure time. They can then enjoy their surroundings, engage in hobbies, and maintain a sense of normalcy.
Impressive Client Experiences: Corporate travellers often host meetings and events or entertain clients. Hotel-like apartment communities with lobbies, business centres, meeting rooms, or restaurants can provide a captivating backdrop and an opportunity to create memorable client experiences. It helps leave a positive impression, foster better business relationships, and enhance the overall perception of professionalism and attention to detail.
Attracting and Retaining Top Talent: Companies often invest in providing exceptional employee accommodations. Access to resort-style amenities is a valuable perk that can attract top talent and increase employee satisfaction. By offering a pleasant experience, companies can enhance their reputation as employers prioritising their workforce's well-being and comfort.
Corporate Apartment Quality Control
Quality control is essential when choosing a corporate apartment to ensure a quality experience for corporate travellers — especially those with high standards expected in a professional setting.
From a furnished studio for a young professional to a 5-bedroom apartment or house for a family, below are a few reasons quality control is essential.
Consistency and Standards: Quality control ensures that corporate apartments meet consistent standards of excellence. It verifies that the property is well-maintained, clean, and equipped with all the amenities and services expected for a comfortable stay.
Guest Satisfaction: Quality control processes help identify and address potential issues or deficiencies in the corporate apartment before guests arrive. Conducting thorough inspections and quality checks will meet guests' needs, and their stay will be comfortable and satisfactory.
Professional Image: Corporate apartments serve as a representation of the company or organisation booking them. By choosing accommodations with a robust quality control process, businesses can maintain a professional image and demonstrate their commitment to providing their employees with high-quality accommodations.
Productivity and Efficiency: A well-maintained corporate apartment with proper quality control measures ensures everything is in working order and functioning as expected. This contributes to a productive and efficient stay for corporate travellers, as they can focus on their work without being distracted by maintenance issues or unexpected inconveniences.
Value for Money: Quality control ensures that the corporate apartment delivers value for the investment. By choosing an apartment that has undergone rigorous quality checks, businesses can be confident that they are paying for a premium experience that meets their expectations.
With AltoVita, corporate travellers and the companies they work for can quickly source and book vetted corporate housing options. All properties are reviewed through AltoVita's meticulous Four-Tier Quality Control standard. Suppliers and properties are screened and continuously reviewed, and a pre-arrival property check ensures that everything needed for a VIP stay is present before guests arrive.
With more than 1 million properties, AltoVita proudly claims the world's most extensive inventory of corporate accommodation. Schedule a demo to learn more about how AltoVita can provide the resort-style amenities and comforts of home that modern corporate travellers seek.