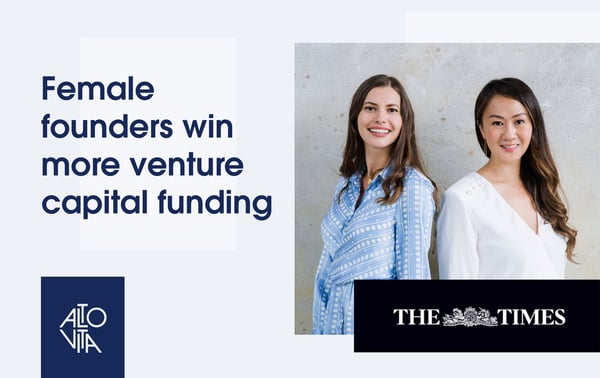 News 
Female founders win more VC funding: Interview with Vivi Cahyadi Himmel
Last year the UK market saw a decline in total fundraising from investors. However, more female founded companies secured investment from venture capital firms than ever before.

According to recent research from Beauhurst, 27% of all equity deals in Britain involved businesses founded or co-founded by women, an increase from 24% in the previous year. This increase is a testament to the determination and entrepreneurial spirit of women in the business world.
Our journey
As a female founded company in the corporate accommodation space, AltoVita recently achieved a significant milestone: securing $9.5 million from two venture capital funds. This investment will empower us to further our mission in providing excellent service and accommodation solutions to our clients such as HP Enterprise and the US government.

The road to securing investment, however, was not a straightforward one. To do this, 259 potential funding prospects were identified and meetings were booked with 54 of them. This ultimately led to choosing Fifth Wall to join with our existing investor, Novum Capital Partners.

Our founder and CEO, Vivi Himmel, shared a comment on the arduous journey of securing:
"Unfortunately, fundraising is not a romantic journey at all. It is very calculated. The hard work begins way before the fundraising starts. It's important to really line up your believers, not just one or two but hundreds of them. They will be the ones creating the snowball effect. Those 259 prospects were not easy to collect, it was from getting referrals and introductions."
This process required a great deal of hard work and dedication, but it has set us on a path for continued growth and success.
What's next
At AltoVita, we understand that fundraising is a difficult journey and we are grateful for the support of our investors and look forward to using this investment to further our mission to redefine the corporate accommodation space.

What do we hope this will bring? We want to inspire other female-led companies to pursue their entrepreneurial dreams and continue breaking barriers in the business world. The rise of female founders is important in the corporate accommodation sector as it promotes diversity and increased representation, while allowing for a fresh perspective on the outdated industry. Encouraging and supporting female entrepreneurship in this sector is beneficial for everyone involved.

To read the full story in The Times head to: https://www.thetimes.co.uk/article/female-founders-win-more-venture-capital-funding-w8fwnzfmf