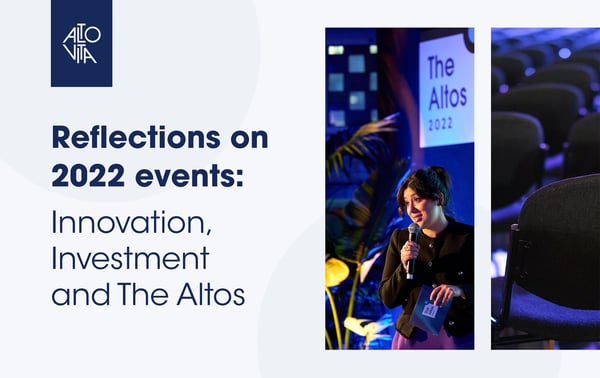 Reflections on 2022 events: Innovation, Investment and The Altos
Last year we brought some of the industry's best minds together to deliver two events centred around the future of corporate accommodation: The Smart, Safe, Sustainable Innovation Summit at Kew Gardens and The Altos at the iconic Tate Modern.

Both events gathered a range of industry experts from JP Morgan Chase & Co, CARTUS, KPMG, NES Fircroft, Fifth Wall, ALTIDO, Flutter and many more. These discussions and events were part of AltoVita's mission to innovate the global mobility and corporate housing sector.
The Smart, Safe, Sustainable Summit
The three-month Summit series included cross-sector collaboration to improve smart, safe, and sustainable features within the temporary housing space. It consisted of thought-provoking virtual discussions with industry luminaries, focus groups and an immersive in-person event. Over the space of three months, it included:
March 10: Design Thinking: Unlocking ESG Together – more than 120 business leaders representing 29 countries from across the global mobility and business travel sectors came together on a virtual session to identify 50+ sustainability, guest safety, and smart technology issues that the sector faced. We used these insights to create features which address these real, impactful issues.
March 31: Focus Groups – we held virtual focus groups with our customers to test out the prototype and built new features based on their feedback.
May 12: Smart, Safe, Sustainable Summit
We welcomed a variety of industry experts to the beautiful Nash Conservatory at Kew Gardens, before going for a tour of room2 Hometel in Chiswick (the first hotel in the world to reduce 100% of its carbon emission from conception to end-of-life to zero). Three sessions were conducted throughout the day, where 12 panellists gathered from various companies including KPMG, Delivery Hero, and Millennium Partners. Insightful discussions were held on how the corporate travel sector can be more smart, safe, and sustainable.
The event then continued at The Goldsmith's Centre, with a keynote speech from sustainability expert and broadcaster, Juliet Kinsman and awards to celebrate some of the best talent and companies in the corporate housing sector.
Unveiled during the latter part of the event was our Request For Pricing (RFP), a geotagging system that aggregates data on sustainable practices from hospitality partners, empowering users to easily identify properties that have sustainable initiatives in place. This streamlines the historically tedious RFP process, making it easier and faster for clients to send RFPs and receive pricing information from properties.

Overall, the summit was a chance to open up the discussion around sustainability in the sector and sparked commitment from a range of companies and individuals in doing their bit to protect our planet.
The Altos experience: panels, awards and more…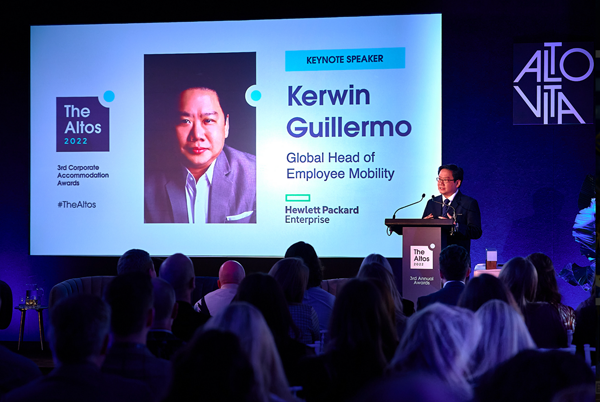 The Altos 2022 took place at London's iconic Tate Modern on the 1st of December. The event opened with a talk from Kerwin Guillermo, Global Head of Mobility at Hewlett-Packard Enterprise.

Four panel sessions then informed guests about a range of topics – everything from aspiring to be green to the extended stay market. With a range of industry experts on each panel, the discussions included:
Aspire to be Green: This session involved discussion of sustainability in corporate accommodation and was moderated by Jess Dunderdale of AltoVita. The panel explored the standardisation of sustainability initiatives and accreditations across all accommodation asset classes and how to effectively implement them in global mobility and business travel.
Learn How to Succeed in the Mid-Stay Market: The second session was moderated by our Hospitality Partnerships Manager EMEA, Laura Marchand where the panellists discussed how the industry has adapted to the new habit of corporate travellers e.g. remote working and extended stays.
Thrive in '23 – Trends for the Next 12 Months: In the third session, our CEO and Co-Founder, Vivi Cahyadi Himmel, set the stage for the year ahead by highlighting the decline of easy access to capital, supercharged demand from China and low-friction geopolitics as the backdrop for the year ahead.
Optimise Extended Stays: The Altos 2022 panel sessions ended with a discussion on optimising extended stays.This was moderated by AltoVita's COO and Co-Founder, Karolina Saviova. Andy Conduit Turner, Cartus' Global Director of Sales and Technology Enablement, mentioned the innovation and creativity that surged during the pandemic.
Following the sessions, live music (and bespoke cocktails!) flowed into the section portion of the day: The Altos Awards 2023. However, this wasn't before Vivi and Karolina announced our Series A fundraise. Joined on stage by Miguel Nigorra, Partner & Co-Head (Europe) at Fifth Wall and Gabriele Gallotti, CEO and Founder of Novum Capital Partners, it was a spectacular moment for the whole team to celebrate our success.

Moving into the awards, which were judged by industry experts including John Bolger, Head of Travel at Deloitte, Cristina Chimenti, Global Travel Manager at Sky, Neil Woodliffe, Travel and Expense Manager Global at Clarivate; eleven Altos trophies were handed out on the night. From Rising Star to Best Operator, you can find out more about the winners here.
Overall, we're proud of the events that we hosted over the past year and we're now looking ahead to making the Summit and Altos even bigger and better in 2023! Follow us on social channels (Instagram, Facebook, LinkedIn, Twitter and Youtube) to be the first to know about AltoVita events in 2023…