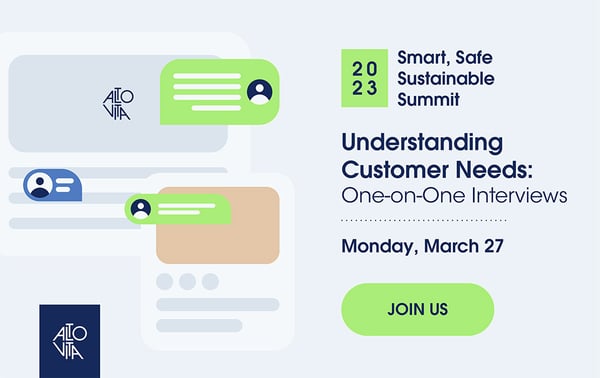 Smart, Safe, Sustainable Summit
Announcing User Research Sessions: Unlocking the Power of Data Intelligence With Your Feedback
The countdown is on! We're immensely excited to have announced our 3rd annual Innovation Summit, to unlock the power of data and technology for a smarter, safer and more sustainable sector.
When it comes to global mobility and business travel, we know that our customers' needs are ever changing and we're committed to continuous innovation to ensure that we're always going above and beyond to provide them with the best accommodation booking experience possible. However, we wanted to find a practical way to learn more about their pain points and develop solutions to solve them. And that's where our user research interviews come in…
With the summit culminating in a captivating, all-day event held in London on 8th June, the build up begins now! From March 27th on, we're inviting you to participate in our exclusive user research initiative to help shape the future of the corporate accommodation data landscape, through our Understanding Customer Needs session.
Jobs To Be Done
As part of this process, we'll be conducting a series of qualitative in-depth one-on-one interviews using our unique Jobs To Be Done framework. Our fresh approach to product development removes the focus from the product itself and places it on the customer. We explore customers' true motivation and specific goal, or "job," and the thought processes that would lead that customer to "hire" a product to complete the job.
The outcome is that we have deeper, more detailed insights in our customers' needs, challenges and core objectives – which are all based on personal thoughts and feelings. From this, we are well equipped to deliver first-class tailored solutions which meet the genuine needs of the industry. Ultimately, we want to ensure that AltoVita's products and services are user-centric, effective and provide an exceptional experience all round.
The benefits for you
If you're wondering how this might change the way you work or the tools you can access, here are the key benefits for you:
Influence on product development: Become part of a process which is shaping the future of the industry. We want your personal insights to help shape the next phase of our product.
Early access to new features: Participants will receive exclusive previews or early access to upcoming features and enhancements. This will allow you to stay ahead of the curve and benefit from innovations before they are widely released.
Tailored solutions: By understanding our customers' unique pain points, goals, and workflows, we can develop more personalised solutions to address your specific needs. This leads to improved efficiency, productivity, and overall satisfaction.
Meet our Moderator: Jamie Turner
As our innovative Director of Product, Jamie will be moderating the sessions to help shape the next version of the AltoVita platform and take our solution to the next level. With 10+ years experience in product development under his belt, Jamie has a deep understanding of market fit, the value of customer feedback and building detailed product road maps.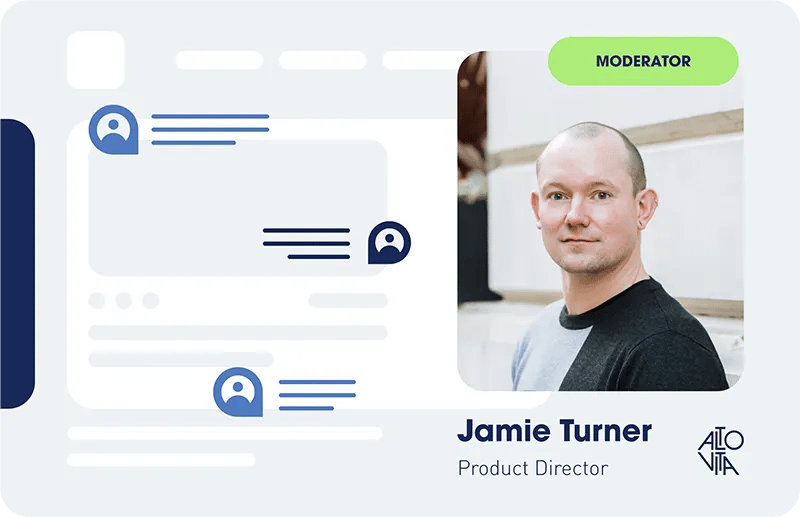 "This will be my first AltoVita Innovation Summit and I couldn't be more excited to be moderating this part of the process. AltoVita's unique take on gathering customer feedback has already proven invaluable when it comes to building our platform. I'm looking forward to the sessions and would encourage anyone that hasn't already, to sign up and collaborate with us!"
– Jamie Turner, Product Director at AltoVita
Join us!
If this sounds like something you'd love to be a part of, we'd like to extend the invitation for you to join us – but be quick, as we only have 15 slots available!
To stay up to date with more Summit developments over the coming weeks, make sure to follow us on LinkedIn and Twitter.