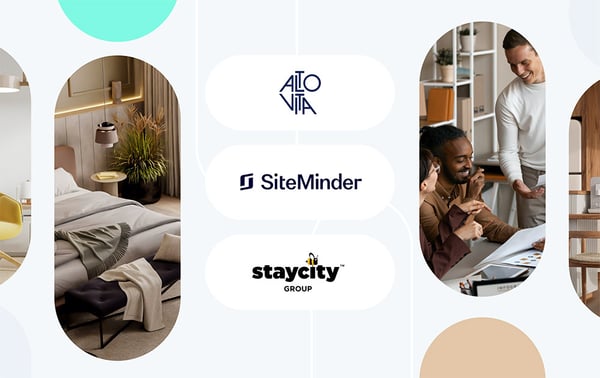 Hospitality
News 
AltoVita, SiteMinder and Staycity: Integration Announcement
AltoVita (the award-winning enterprise software layered with a human-centric approach to powering the corporate accommodations sector) and SiteMinder (the world's leading open hotel commerce platform) are pleased to announce that, after a quick and smooth development process, their integration has gone live, meaning their mutual accommodation supplier customers, such as Staycity Group (Europe's leading aparthotel provider), can benefit from this two-way channel management solution.
Karolina Saviova, AltoVita's Chief Operating Officer, said, "We are delighted to add SiteMinder to our portfolio of integrated software partners. As a leading software solution, this opens up two-way connectivity for a large number of accommodation suppliers who use both tools, whereby they can send AltoVita live rates and availability via SiteMinder, and receive an instant booking in return. We are thankful to Staycity for having piloted this integration."
James Bishop, Vice President, Ecosystem and Strategic Partnerships, added, "As the world of flexible, decentralised working matures, business leaders are increasingly realising that their employees are social creatures, and that travel and relocation are vital when building winning teams and successful working relationships. Through our partnership with AltoVita, we are thrilled our hotel commerce platform can provide corporate travellers access to a growing network of verified properties in a user-friendly way, as business travel volumes reaccelerate globally."Kearon McCarthy, Global Sales Director- Corporate Agents and Groups, Staycity, rounded off by saying: "AltoVita has been a valued partner for years, and their faith in promoting instant booking as the future of this sector, means we can receive bookings, via SiteMinder, in an automated, seamless and quicker manner, revolutionizing the manual process in which the relocation industry has traditionally worked. We are happy to partner with them in this way."
About AltoVita:
AltoVita's cloud-based technology empowers hospitality partners with hassle-free access to unique corporate demand, saving them time and operational costs by removing manual workflows.AltoVita's award-winning technology creates a cloud-based bridge between the highly fragmented property distribution system and Global 2000 companies, relocation management companies, and business travelers, reducing the legacy 48-to-72-hour bidding process down to a few minutes.
The fully customizable platform provides instant access to a diverse network of 1 million+ housing options worldwide- including serviced apartments, professionally managed homes, aparthotels, and co-living- with the ability to sort by desired amenities, pet friendliness, sustainability scores, and more. www.altovita.com
About SiteMinder:
SiteMinder is the world's leading open hotel commerce platform, empowering hotels and accommodation providers to sell, market, manage and grow their business. SiteMinder's innovative online platform offers hotels and accommodation providers a comprehensive range of products and solutions to manage and streamline the distribution of their rooms across a wide selection of direct and indirect channels, take bookings from guests and communicate with guests. The global company, headquartered in Sydney with offices in Bangkok, Barcelona, Berlin, Dallas, Galway, London and Manila, generates more than 100 million reservations worth over US$35 billion in revenue for hotels each year. www.siteminder.com
About Staycity:
Dublin-based, privately-owned Staycity Group was founded in Dublin in 2004 by CEO Tom Walsh and has since grown to become one of Europe's leading aparthotel operators. The properties, which operate under the Staycity Aparthotels and the premium Wilde Aparthotels brands, appeal to business and leisure travellers offering central city locations, well-equipped, modern apartments, fantastic customer service and facilities that include a guest laundry, gym, lounge, café and 24-hour reception.
Staycity currently operates nearly 6,000 apartments across 32 properties in France, Germany, Ireland, Italy and the UK. Future openings are planned for London, Paris, Munich, Amsterdam, Lisbon, Porto and Cambridge with many more exciting cities still to come- the goal is to make Staycity Europe's largest aparthotel brand with over 15,000 apartments by 2028. www.Staycity.com