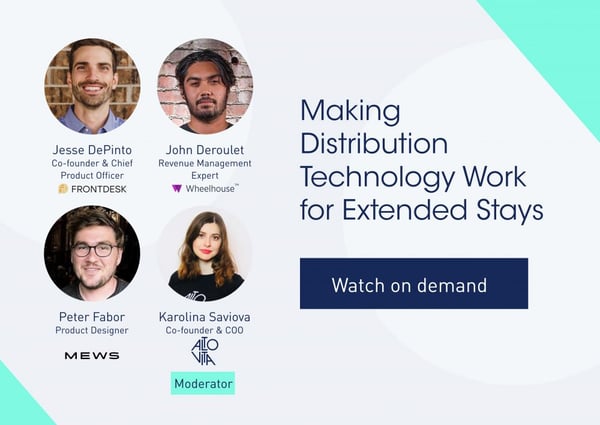 Making Distribution Technology Work for Extended Stays: Watch Now
On Wednesday, September 22, AltoVita COO and Co-Founder Karolina Saviova hosted a virtual session on how to make distribution technology work for extended stays. Topics included extended stay trends from business travel to corporate housing, the current challenges with existing property management system (PMS) technology, what features are required for extended stays, yield management, and more.
Watch the recording below and hear from our distinguished panelists:
Watch the Recording
Key Takeaways
There is dissociation between the corporate relocation and global mobility sector and the Big 4 OTAs. As such, OTAs cannot effectively serve the unique demand from corporate relocation/global mobility as there is not commitment to duty of care-compliant housing options, one cannot pay for extended stays in monthly installments, the booking flow with low quality control and third-party approvals isn't suitable for corporate extended stays, and steep commission rates are an issue for operators.
Demand for extended stays increased during the pandemic. As shown in AltoVita's 2021 Flexible Rentals Market Report, 68% of the flexible rentals sector is seeing an increased demand for extended stays, and 59% are seeing a demand for large spaces. In addition, John reminded us that 40% of all startups are now starting with remote work as a standard. Plus, in Q1 a quarter of bookings on Airbnb were for stays of 28+ nights. These trends will be key in bringing extended stays mainstream.
PMS was not developed to accommodate extended stays. PMS and yield management technology was originally created for short stays, and there is a lot of work to be done to optimise these tools to meet extended stay demand. For instance:
Need to develop an aspect of the PMS/yield management software algorithm to deal with extended medium-term stays and allow better channel segmentation, inclusive of large OTAs and niche OTAs.
Current tools are based on the transient short term rental (STR) model (for example, Mews, Guesty, Avantio), and revenue management tools for long-term pricing usually follow the real estate model (for example, Yardi, Real-Page). Currently there is no real product that supports monthly stays, which makes servicing and booking flexible rentals challenging.
Cancellation policies are not one-size-fits-all, and what works for short stays typically does not work for long stays.
New billing functionality needs to be created to better serve extended stay guests, moving away from the traditional daily rates and daily tax.
Extended stays by nature require greater flexibility, and that includes the check-out date. The ability to have an open check-out date would be a worthwhile feature.
Optimising the guest experience is key for extended stays. There is big potential for upselling with this stay occasion (see examples from Peter below, and more in the recording). In addition, many long-stay guests extend their stay, so hospitality operators should be proactive about asking whether a guest would like to extend their stay and making that process seamless.
So, what are the benefits of extended stay bookings?
Jesse cited many reasons, including savings on operation costs (you're not servicing laundry, cleaning daily, and having 24/7 customer service), risk reduction (with less reservations to manage, there is less chance for incidents and the likelihood of bad actors), and increased stability from a revenue management perspective (you're better able to fill the calendar in both busy and slow seasons and maintain steady occupancy). "This goes a long way for long-term sustainability for an operator who's trying to grow their brand," Jesse said. "Oftentimes longer-term guests, especially if they're corporate in nature, tend to be lower risk."
John observed that we are moving away from an era where revenue managers would ask, "What segment am I targeting?" to "how much and when"? This is a key mindset shift for the industry. John said that having a diversified mix of stays is akin to a stock portfolio: "Your STR stuff is going to be high risk, high reward but your long term stays are your way to hedge against that, particularly when there's volatility. … Taking on long-term stays allows you to take on a bunch of bonds. You know that revenue is going to be coming in, it's going to be stable, you don't have to try and sell it later." In addition, John concurred with the other panelists about the benefit of extended stay as a revenue management strategy. He said, "Looking at your portfolio and deciding when you need to take those on, when you have vacancy, and what you need to do in order to capture that revenue to bring up your overall RevPAR is the problem that revenue managers are going to be trying to figure out going forward, across all company types."
Peter shared insight from discussions he recently had with around 30 hotel and apartment operators to learn how they are approaching extended stays and dealing with the challenges brought about from the pandemic. "The majority of hotels discovered that this is an amazing opportunity," he said. "They can create a healthy mix, a healthy portfolio, and can be stable over the next lockdown or whatever is going to happen." In addition, these hoteliers discovered an additional revenue stream unique to long-stay guests: the ability to upsell other areas of the hotel otherwise empty or unused, such as meeting rooms as coworking space or, in the case of one hotel in Antwerp, renting a room to use as a podcast studio. "It's not just about the allocation of the rooms between short term and long term," Peter said, "but it's also about discovering other opportunities that extended stays can bring."
Watch the recording above to learn tips from our panelists on how to optimise and support extended stay bookings.