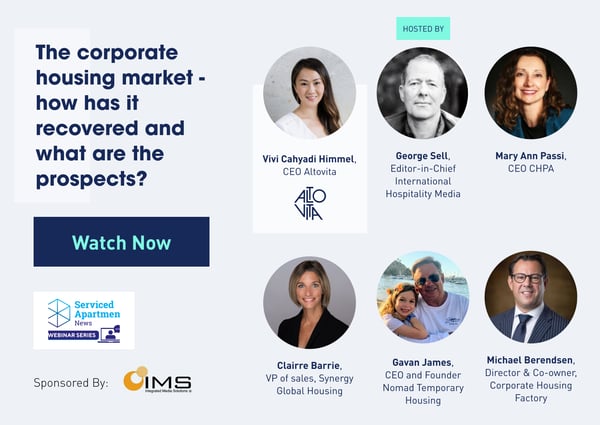 Hospitality
Watch Now: SAN Webinar on the Corporate Housing Market
On October 21, AltoVita's own Vivi Cahyadi Himmel joined the latest Serviced Apartment News webinar: The corporate housing market – how has it recovered and what are the prospects?
The standout virtual discussion was hosted by George Sell, editor-in-chief of International Hospitality Media, in conversation with:
Watch the Recording
Key Takeaways
Relocations are picking up all over the world – except APAC. While Europe and other regions are starting to see a lot of movement, APAC is challenging as countries open up, close again, restrictions change, and then certain operators cannot accept foreign guests. Vivi added that for the EMEA region, the nature of pandemic restrictions and requirements – COVID tests, immigration processes, flight cancellations – are leading to more last-minute bookings.
Inventory remains a challenge, particularly in North America, and staff shortages are impacting the guest experience. How can operators combat this? Vivi noted that one solution is to look to technology to compensate for manual processes – for instance, operation and maintenance software, remote door locks, automated guest screening, and mobile check-in.
The average length of stay is getting longer. This trend hasn't slowed since lockdowns started easing around the world. Michael cited a few drivers for this: The shortage on supply, guests needing to stay longer because it's taking longer to find a house to let or buy, and construction on new builds slowed significantly or stopped altogether during the last 18 months.
An upside of the pandemic: "the great pause." Claire spoke about how the pandemic gave companies a rare chance to take a step back and look inward, to think about what they wanted to create or how to innovate. This led to an acceleration of technological adoption and growth for the sector.
The future of work is flexible and adaptable. Gavan has started to see relocation policies being developed around remote work, which shows that "companies are acknowledging and recognizing this is going to be a long-term trend." When it comes to building design, Vivi noted the conversation in APAC especially of modular building design, where studios could be combined to created a larger apartment as needed, and then changed back again. Coworking space and in-unit work desks will also be commonplace moving forward.
Technology cannot replace the importance of the human touch. Mary Ann said that while innovations and opportunities for streamlining are welcome, the human touch is also extremely important. Softer services seen throughout the pandemic included everything from grocery delivery to, in one case, bringing grass to a guest's balcony to create a pet area when they couldn't go outside during quarantine.
Environment Social Governance is not just a trend. As Claire said, "Sustainability is 100% here to stay." Evidenced through the volume of ESG-related questions on RFPs and its rising importance for attracting and retaining talent, having genuine, authentic ESG policies and practices can be key to a company's success. Gavan shared two examples of ESG in action: 1) Help lower greenhouse gas and carbon emissions by offering apartments closer to the work site, and 2) Highlight the partners who have sustainability programs within their buildings, from how they're built to their energy efficiency. Michael added that technology can also serve this goal, by having devices in the unit that track the usage of electricity and water. Looking to the future and why people relocate, Vivi said, "The new age of mobility will be driven by people seeking climate-resilient regions to move into."