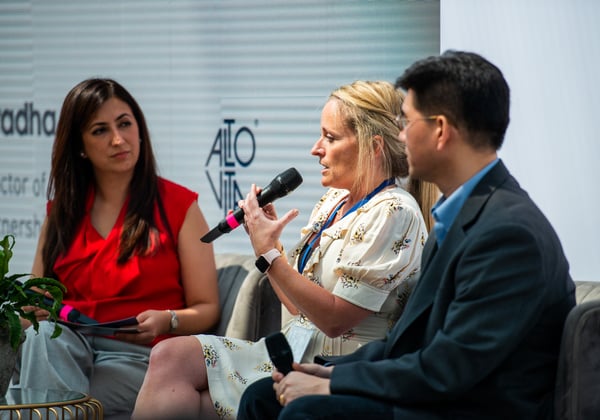 Innovation Summit
Duty of Care
Global Mobility
3 Case Studies on Working Smarter With Mobility Data
Even the most technologically advanced organisations continue to explore the best ways to harness data intelligence.
At the recent AltoVita Smart, Safe, Sustainable Summit, mobility experts from Dassault Systèmes and BAE Systems openly discussed their own journeys when identifying relevant data — which is often in "abundance" at larger enterprises like these.
Here are 3 examples, to help inspire your own journey working with data.
1. Managing Remote Workers
Many companies are still adjusting to remote work patterns, now made even more complex by the rise of blended travel.
The data that global mobility teams can harness can help businesses keep track of their employees, and ensure relevant state or country taxes are paid.
So what data is relevant exactly?
"Connecting with hybrid or remote working, we do keep track of everyone. Now the question is, what kind of data are we collecting? Is it all useful? That's the key question," said Joe Lee, Director of Immigration & Global Mobility at Dassault Systèmes.
Lee shared some recommended reading, "Measure What Matters" by John Doerr, but admitted it was a struggle Dassault was experiencing from a human resources perspective.
"We have the data, but we didn't know how to use it," he said, during the "Work Smarter not Harder: How Data Intelligence Can Help Global Mobility & Business Travel Managers" panel debate — which can be watched in its entirety below.
For hybrid workers, he said he needed to find out where people are if they're not in the office. Some employees may be in an office in France, but then ask if they can go to Germany, or the UK.
"We need to analyse that. You can imagine the questions from leadership: 'Mobility, start analysing. What data do we have?'"
He said that for a current internship programme, a number of questions were raised: how many people are moving, where are they moving to, and how much money are they spending, and in which locations are they spending.
"That data is already available," he said. "The baseline is to make sure that you have the objective and then making sure you are measuring based on the key objectives. Because if you fail to identify that, any data that's thrown in front of you is useless."
2. Enhancing Employee & Family Experiences
Shelley Crofts, Head of Global and Domestic Mobility Services at BAE Systems, is on a mission to obtain better data to improve the lives of employees and their entourage.
It's a simple ambition, but easier said than done. BAE Systems has 95,000 employees across 40 countries, with about 600 assignees. Her organisation is hugely date driven, she said, but added that mobility had been siloed for a number of years.
"The baseline is to make sure that you have the objective and then making sure you are measuring based on the key objectives. Because if you fail to identify that, any data that's thrown in front of you is useless."
"When I first joined the team, suppliers and everybody were saying to me that the number one reason why assignments fail is because the family's not happy, or the partner can't settle," she told moderator Shradha Mithal, Director of Client Partnerships for India at AltoVita.
Crofts said she now makes efforts to visit different sites, to have dinner with some of the families that have relocated — but feels that ultimately needs to be translated into usable data.
"Understanding that we do employee surveys, we gather the data, we analyse the data, we speak to the employees … who is speaking to the families?" she asked.
"What is that direct communication? Where are the phone calls, where are the human touch points? What are the buddying systems? What's the advice that we can provide? How can we support …. dual careers in an environment that is very different to how our current policy reads?" she added.
In an earlier session, one speaker also talked about the sacrifices other family members made during relocations.
It's now time for change, Crofts believes.
"My personal opinion, and we are looking at a reset of the policy, but my opinion is it's sort of set in almost 1950s style, where you have a spouse that follows you. 'Trailing spouse!' — don't get me started on the word 'trailing spouse'!" she continued.
"But you have a family that follows you, and you are effectively cashed out and allowance for that. That in my view needs to be reset. Bring it back to the data piece … I can absolutely see a huge benefit in technology integrations, we've got to create this tech ecosystem, so we take out all these manual input points as we're going through the process, the data should just flow between, it should trigger automatic things."
She also suggested online tax briefings that employees can go back and rewatch in a "modular system"as people can't take it all in one go. This way, a smarter use of technology them frees up time for "value-add activities".
"It's not about reducing down my team, it's allowing my team to be able to set up focus groups, working groups, spend the time travelling to meet the families, meet the families beforehand, whatever that looks like," she added. "That's the benefit of the technology and the automation that's coming towards us, rather than necessarily just being a cost saving."
And this also equated to duty of care, as well as family care, she added.
3. Smarter Data for Sustainability Reporting
A wide range of data can also be collected by mobility teams to include in sustainability reporting.
For example, businesses can even factor in information on things like furniture used in corporate housing.
"One of the things we have the ability to look at from a policy lens is ... furniture allowance being based on throwaway IKEA furniture. There is something that, generationally, younger generations are more open to, the rental furniture (or) secondhand side of things."
Crofts also wants to dive into how relocated employees engage with the communities.
"What partnerships can we create to really invest in the community?" she said. "How can we set up other programmes that probably are more about that community aspect than necessarily just some cost elements and some carbon efficiencies."
Dassault's Lee also told delegates that suppliers wanting to work with his organisation should be prepared to submit a sustainability report, because the weighting of that report would be about 25%.
Lee also looks at aspects like household shipment carbon.