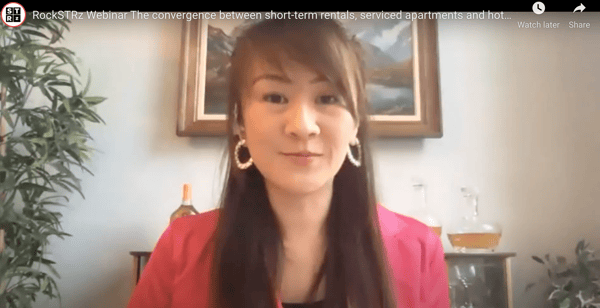 Global Mobility
Vivi Cahyadi Himmel on the convergence of short-term rentals, serviced apartments and hotels in 2021
How has the pandemic affected the various hospitality assets?
We can all imagine how shocking the year 2020 was for the hospitality industry, for obvious reasons. Quarantines, closed borders, and a general uncertainty made people stay at home and work from there. Despite this sounding like doom for the industry, in reality, it has brought about some new and exciting opportunities.
Our CEO & Co-founder, Vivi Cahyadi Himmel, joined the RockSTRz host, Paul Stevens, to discuss the convergence between short-term rentals, serviced apartments and hotels in 2021. Other panelists include:
Omer Rabin, Managing Director (Americas) of Guesty
Pauline Houston, VP of Business Development of Silverdoor
Charlie London, Director of Seven Living
The ability to work from home has opened up the possibility for many employees to live a life abroad. 'Life shoppers' are those that will rent a place for a couple of weeks or months, and then hop to the next place. Seizing the opportunity of remote work. However, though this new reality can be exciting for talents, for corporates it is a bit more complicated, as there isn't a single formula that will work for all industries or employee.
For corporates, there isn't a single formula that will work for all industries or employees.
This new trend of global mobility has helped short-term rentals grow. Hotels were great before the pandemic, but right now they are not always the best option for corporate travellers. They can be more expensive surpassing the corporate budget. The hygiene and safety protocols in regards to the virus are much more compromised as it has a lot of public areas.
Additionally, hotels don't deliver a home away from home experience. They are much better suited for shorter stays where the hotel aims to serve as a place to sleep and eat. On the other hand, short-term rentals, private homes, and service departments have many of the things hotels are missing: less contact with people, a private space that can comfortably be used to work, sleep, exercise, and eat in. They are better in regards to sustainability and budget. And last but not least, they offer longer period contracts than the ones hotels can offer.
Having said that, there are also some big challenges that the short-term industry is facing right now. Global mobility sits within the human resources department of companies since it is fairly complex and requires highly specialized expertise, that goes beyond the regular business travel needs.
There are things to account for when people are mobilizing to other countries, or regions, such as risk assessment, tax integration, social security, employment law, insurance, etc. And in some cases, there will also be spousal support and children's education, for example. This means that there is a huge need for a concerted effort from companies and governments to focus on this rising trend.
With all of these factors that need to be controlled, corporate housing management has needed a major update on their quite out-dated technology.
AltoVita has developed a smart distribution system that delivers fast and efficient consolidation of the duty of care compliant live portfolio of properties worldwide.
There has also been some new technology developed for key-less entry into the properties, and 24/7 guest communication to provide a great guest experience.
Global mobility will continue to develop and change with the times, but two things are certain: remote work has changed the game and short-term rentals are the future.