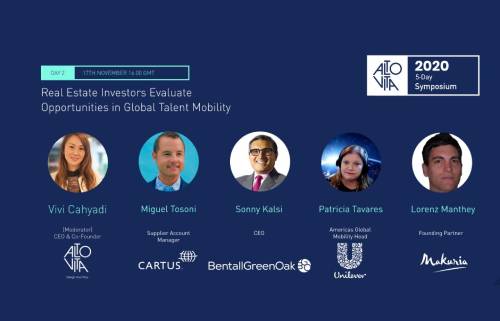 Global Mobility
Real Estate Investors Evaluate Opportunities in Global Talent Mobility
There has been much discussion around the many mobility issues currently being faced, as we tussle our way through this COVID-19 crisis. In this blog we would like to impart some of the views from day 2 of our 5-day symposium. The event was hosted by CEO & Co-founder Vivi Cahyadi Himmel who was joined by our esteemed panel of speakers: Global mobility experts Patricia Tavares and Miguel Tosoni; and Real Estate investors Sonny Kalsi and Lorenz Manthey. The panel opened the floor with a discussion on latest trends and unique opportunities created by the global pandemic.

Why is global mobility important for multinational companies?
In an age of virtual meetings and connectivity tools, the countless needs of clients have surged. This has encouraged many companies to invest in relocating employees to enhance the workforce, create fresh perspective and in turn provide better and more personable service to their clientele.
Global mobility is a tool used within Human Resources where the company can move their talents to offices in different countries as well as developing future talents. Mobility exposes the assignee to cross-market and cultural learnings as well as building a greater understanding of the clients' target audience.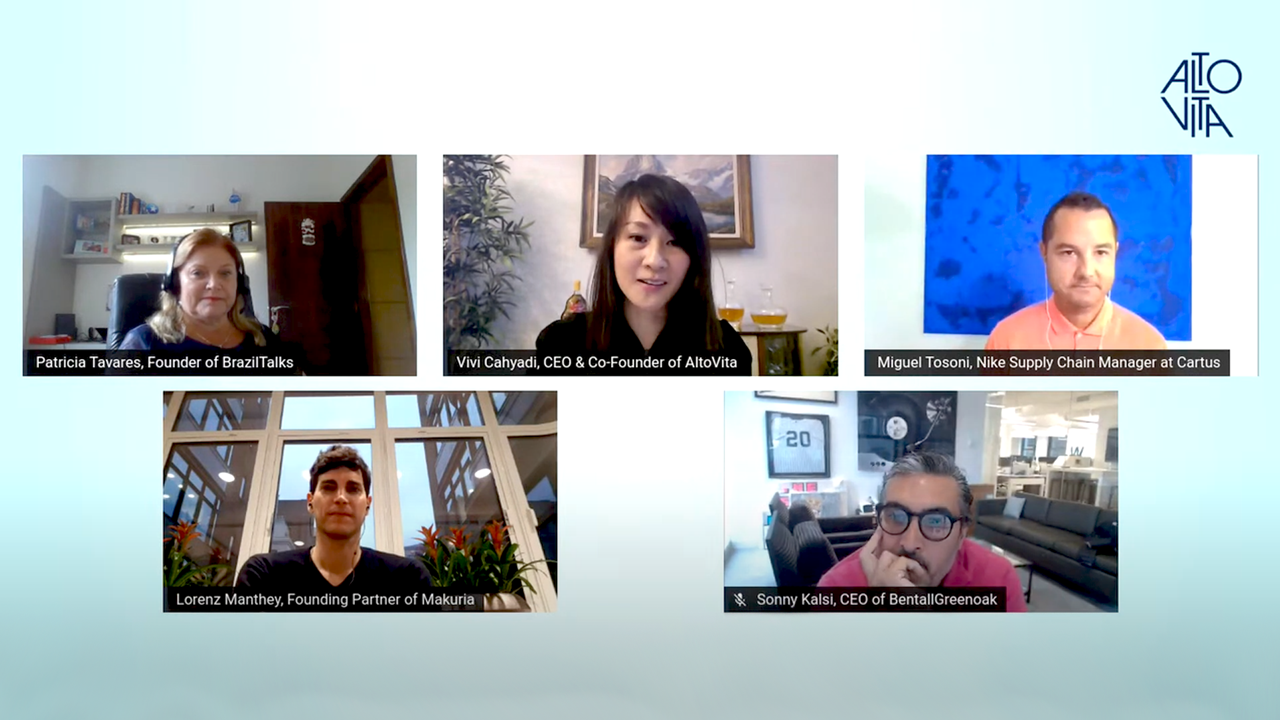 How does employee experience and duty of care really impact corporate housing?
As cross-border business activity begins to come back to life, many HR and corporate mobility professionals are reviewing their relocation strategy, as they assess the effects of the global pandemic. Patricia emphasized that a lot goes into global mobility, it is not just about 'moving people' but also ensuring that the assignee is well settled. 'We take care of them from end to end; figure out what type of assignment is best then begin the 'strict Global mobility' immigration processes, Tax service compliances in the home country and host country, internal processes with the assignee's benefits HR and payroll then comes the physical move.
the product within corporate housing has changed in the last decade, people now have access to amazing concepts, such as that provided by Alto Vita, that focuses on delivering a more unique inventory and style to temporary stays. These unique inventories also come with its challenges, where duty of care, the personal vetting systems require standard protocols.
Covid has been a great accelerator of the new trends in Corporate housing. Now as investors, what we are trying to determine is which trends are long-term, and therefore permanent and which are short term. One of the more permanent trends is that companies will be looking for more flexibility around space, commented Sonny.
Lorenz added that residential has fared reasonably well in this crisis and has heightened the importance of the home, the trend remote working/working from home is helping that.
Increasingly, asset owners need to think about how they will provide this flexibility and level of service to their tenants and what type of tools they are going to need to be able to execute that.
It's going to become increasingly important to use technology platforms to optimise assets in the residential space; especially when appealing to global tenants who will expect the same quality of service independent of the region they're relocated to. One of the best ways to achieve this is by setting up vetting tools and platforms such as Alto Vita to aide in the process.
Andrew Acocella from the audience echoed this view with the comment, 'Vetting platforms like AltoVita, combined with committed Real Estate Developers can help deliver consistent quality not always available in the Airbnb model!'
From this discussion it is very clear that the Corporate Housing model has the powerful ability to disrupt and unlock a great deal of avenues that aren't currently set up, but very easy to pivot it, therein lies the importance of flexibility.
One of the big opportunities in the secular shift is to identify the arbitrage points and create a product for the global market but with local asset prices. Having flexible assets unlocks opportunities in already established assets turning them into temporary housing.
The growth of unique homes in the last 3 years has enabled Alto Vita to capture them as part of its portfolio, Vivi point outs that any real estate asset can be used for temporary housing.

The difficulties and challenges of sourcing accommodation in different regions
With over 20 years of experience, Patricia highlighted that in the last decade companies use of corporate housing has increased. Though it becomes increasing challenging when relocating assignees from big cities to remote locations.
This proves the importance of a solid vetting system. In more remote areas and smaller countries, RMC's and vetting companies are vital to ensure that the accommodation of their client is safe, secure and run by a reliable owner.
A great question was raised by Richard Majewski​ during the discussion, who asked; "if it is a trend for assignees to source their own preferred unique home property for example, do they then refer to their relocation agent to place the booking." Patricia and Miguel responded by highlighting that a local RMC would ultimately be on the ground to do a human verification for each property they manage, and this is a prepared approach for any assignees because of duty of care.
Miguel further stated that it also depends on the market and what options are available for that assignee, which is why we need to show an array of properties to find the best accommodation for that client.
As far as evaluating opportunities go, Lorenz highlighted a great point; there is a need for asset standardisation and managing quality and expectations globally. A rule of law builds trusts to the investor, some of the key issues in this space are:
Local limitations
Culture
Regulation(s)
These are some of the few local intricacies that one needs to be familiar with in order to operate Real Estate. There must be expertise in local knowledge for one to be able to provide a good product, which goes back to the theme of having platform providers acting as a tool for Real Estate owners to provide that service. Having operators that understand the risks on a local level and know how to mitigate them will be of huge value.

The pandemic has greatly revealed the cracks in the industry, with that knowledge, what are the game changers that we can expect in the future.
Real Estate is trying to utilise technology as a result of current circumstances. Integrating technology within this industry is the real game changer.
How well can companies manage hiring and relocating employees all over the world when the world is shut down?
It's very simple, our respected panellists have shared many insightful statements, as an industry we may want to start thinking about such as embracing technology and being flexible with assets.
This will give employees a great experience no matter the region of the assignment whilst mitigating risks by adding the human touch of RMC's and renowned vetting platforms.