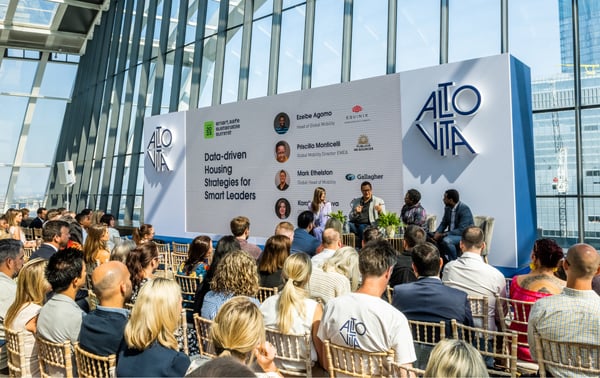 Innovation Summit
5 Key Takeaways From the AltoVita Smart, Safe, Sustainable Summit
Expert speakers dived into a colourful spectrum of topics at the AltoVita Smart, Safe, Sustainable Summit on June 8 in London.
Smarter ways to use data, establishing the link between talent and expatriation, and rethinking the experiences that employees — and their families — undergo when relocating were discussed at the packed event at the Sky Garden.
More than 200 delegates from the worlds of business travel, global mobility and extended stay accommodation also mingled with the speakers from companies including Barclays, Pinterest, BAE Systems and Electronic Arts. Watch the video highlights below:
Over the coming weeks, we'll be sharing more in-depth reports from the summit. For now we've rounded up some of the day's main topics, to give you a flavour of the challenges corporations are facing today, and a preview into what we'll be reporting on in greater detail in the future.
Be Smarter Using Data
The summit, which is now in its third year, placed data intelligence on centre stage with an exclusive preview of Alto Insights. And during the first panel, one speaker warned of the dangers that can arise if your organisation gathers too much data, or the wrong type.
"One of my pet peeves is collecting data for data's sake," said Ezeibe Agomo, Head of Global Mobility and Immigration at Equinix, a digital infrastructure company.
Data can be "abundant" said another speaker. "... But at the same time we need to sort out which one is the right data," said Joe Lee, Director, Immigration and Global Mobility at Dassault Systèmes.
"The baseline is to make sure that you have the objective and then making sure you are measuring based on the key objectives. Because if you fail to identify that, any data that's thrown in front of you is useless."
Speaking during the "Work Smarter not Harder — How Can Data Intelligence Help Business Travel and Mobility Managers" panel debate, Lee added that Dassault Systèmes faced a problem because the organisation had too much data.
Think Beyond Cash
The audience also heard that it's important for corporations to not just give out large sums of cash to employees that are relocating.
They may say it's what they want at the start, but it's a false economy according to Priscilla Monticelli, Director, Global Mobility EMEA, Publicis Groupe.
"We are in the process of refreshing our policies and the things that I've heard from our businesses and our HR partners is that people want cash," she said during the "Data-driven Housing Strategies for Smart Leaders" panel. "And so they fought us over services because they cost too much."
But Monticelli said the data showed otherwise, based on the gatherings over the past four years concerning who had been satisfied with their moves compared to those who had not.
"In addition to surveys of all the people who have moved, we came back with a result that showed 90% of our people and our businesses preferred services over cash," she said.
"You give them cash, they go spend it, and then they come back and say, I didn't get any support for my move. Things went wrong here and there, and there was nobody there for me," she added.
The Case for Uniting Business Travel and Global Mobility
Ryan Taylor, Category Manager for Travel at SMBC, shared how the bank was setting up a new campaign called "Safety First" to embed diversity, equity, and inclusion, as well as traveller wellbeing, into the travel program.
It wasn't easy, however, he told moderator Jess Dunderdale, head of client partnerships at AltoVita.
He said that "safety" was perceived mostly as something to do with traveller tracking, and so many would simply think it falls under his domain.
"It's actually a lot more than that. It's about: do they need a visa before they're travelling? How are they met when they arrive in country?" he said. Everyone thought it was the travel department's role, he noted, but said it was actually a lot of other departments as well.
"So it's to do with our expats that are transferring into countries. It's for people that are being temporarily assigned. So we are on a journey at the moment … Rather than have them as two separate projects, we wanted to combine them all together and we wanted to brand it, because we want our employees to know that their safety is always at our priority."
Nurturing Talent With Better Mobility Programmes
The Smart, Safe, Sustainable Summit was held in order to showcase how travel and mobility data can be better harnessed. Billy Ho, who leads the Global Talent Mobility function at Electronic Arts, shared how the games giant was leading the way.
The company has about 12,000 employees, and at any one time 10-15% can be travelling.
"There's a lot of work in terms of a thousand employees that we're supporting here and there," he told delegates.
One focus was around the flexible work trend.
"Can we relocate someone to a different location? All of that is driven by data as we look at it to see how we can maximise the growth of our company," he said. "We purposely brand ourselves to be talent mobility, because we have a strong contribution into talent development. And so when we look at it from that perspective, there is again that additional lens of using data to see how is mobility driving talent and development, whether that be retention, whether that be career growth."
He said that Electronic Arts was linking the data together to "tell a story" and was now promoting its policy of internal mobility.
"How can we develop our internal talent? Where are our internal talents? All of that is driven by data as we build out the policy, and we are successfully building out the policy to really allow a lot of these opportunities within our company to be shared internally and supported by mobility in terms of how and where you can grow your career," he said during the "From Spreadsheets to Dashboards A Fresh Approach to Global Mobility and Travel Management" panel.
For Dassault Systèmes' Lee, in a separate panel he argued the most valuable data came from looking at the reasons why people are not staying with the company.
"Two thirds of the people who left the company uniformly said: internal mobility limitation is the key reason why I'm leaving the organisation," he said. "Oh wow. That was mind blowing."
SMBC's Taylor also pointed out there's a cost associated when someone is leaving the bank. While most businesses are more wary of spending, he said the bank was becoming more conscious that if an employee leaves, you've got to then go and recruit someone else.
"That is now being recognised within our organisation and it is part of the focus of the Safety First campaign that we're working on as well," he told delegates.
Empowering Expats With More Choices
A fireside chat with a seasoned expat provided a hit with delegates, shining a light on the need to remember the people behind the data.
Nabil Abi-Aad, Regional Commercial Director, Europe, Middle East and North Africa, at Nestlé, has relocated six times, and been an expat for the past 20 years.
He pointed out that those six countries may be what appears on his LinkedIn profile, but emotionally it translates to "five farewells."
"So we go there, you build friendships, you meet people and you connect emotionally to people and to colleagues," he told the audience. "So for me, six countries means five farewells, which means it's a lot of emotional things."
With his family with him, was there enough support?
There's no wrong or right, he said, when it comes to the services that global mobility people offer. But he said he mostly wants flexibility and empowerment.
"I like to feel empowered, let's say in this job that I have, I don't really need a car, or if I need a car it's not in the amount that the company decided that I have to have. So for me, I would take that money .... I'm more (into) flexibility, you know, have this lump sum or whatever, not cash, but let me choose. In my case, I over-invest in the house," he said.
"In terms of flexibility, give more empowerment to the people who are moving because everybody has a lifestyle. I'm not here to judge, but let (asignees) make the choice how they would like to invest that money, depending on the situation they are in. Kids, no kids, couples, no couples, they have a dog so they need outdoors … it's not for the company to decide," he said. "The new generation might want to ride a scooter. They don't need a car, but in the system its says, OK, you have a car, I'll get a car. So let's give the empowerment back or a sense of empowerment, so that it makes them feel the settlement is much easier because it's already tough."
Elsewhere, moderator Urska Blagojevic, marketing director at AltoVita, shared a statistic that 40% of overseas assignments fail. The cost of failure is high too; on average an expat assignment can amount to over £300,000 per year.
Shelley Crofts, Head of Global and Domestic Mobility at BAE Systems, also encouraged the audience to listen to family members. During a later panel she recalled how she travelled to the US to meet a number of the assignees and their families.
"We had one particular case where the wife hadn't settled, she didn't drive. And in the US, if you don't drive, you can't get anywhere by the looks of things," she said.
"... We felt we needed to do more with cultural training and spousal support. And we felt that that was required, and we did have elements of data on it, but when we were able to use the story of the dinner that we'd been to, where the wife was in tears, and this was her experience, then it became listened to, then it became powerful."
Crofts added that it was about "bringing that data to life."