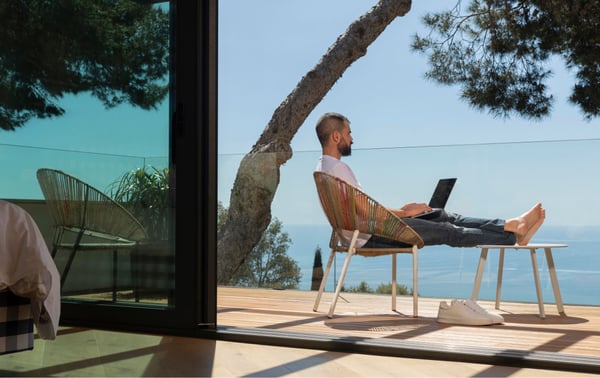 Duty of Care
Global Mobility
Travel
Work and Play: Is Blended Travel Right for Your Company?
As the world emerges from the pandemic-induced restrictions, business travel has picked up and travellers are eager to explore new destinations in-person. Enter the concept of blended travel, which offers a hybrid approach to travel by combining business and leisure travel.
Sometimes referred to as bleisure travel or workcations, this mix work and play while on the road is gaining popularity. While those who travel for work see blended travel as a smart way to make the most of travel opportunities, some travel managers and companies question whether it's a good idea.
Let's explore the pros and cons of bleisure travel to better understand how businesses and the travel industry are navigating this merging of travel styles and serving this new, dynamic, blended travel persona.
Tracking Blended Travel's Rise in Popularity
Blended travel isn't new, but the travel trend has gained popularity post-pandemic for a variety of reasons. Mainly, the Covid-19 pandemic significantly changed how we live and work — and the changes aren't solely a pandemic-era phenomenon.
1. Advances in Technology
The rise of remote work led to the blurring of boundaries between work and home, and there was a marked rise in the number of remote workers and digital nomads.
According to a study by Pew Research, roughly six-in-ten US workers whose jobs can mainly be done from home (59%) are working remotely all or most of the time. Only 23% of those respondents said they teleworked frequently before the coronavirus outbreak.
Along with the rise of remote work, the ubiquity of smartphones, laptops, and Wi-Fi has made it easier than ever for business travellers to see the world as their workspace. They can easily stay connected to work while enjoying leisure activities, which has allowed more people to take advantage of the benefits of blended trips without sacrificing their work productivity.
2. Emphasis on Work-Life Balance
Along with the rise of remote work during the pandemic came the blurring of boundaries between work and home. As many struggled to balance work and personal life demands, they re-evaluated their priorities.
Many people realized that a healthy work-life balance is essential for their physical and mental well-being. People have focused more on spending time with loved ones, pursuing hobbies and interests, and taking better care of themselves — all things traveling can bolster.
Bleisure travel allows business travellers to maximize their travel time by combining work and leisure activities. This can be a smart way to extend a business trip into a mini-vacation, making the most of travel time and reducing the stress of back-to-back business trips.
3. Company Acceptance
In the past, business travellers typically kept employers in the dark when adding leisure time — a practice now known as taking a "hush trip." But today, the script has been flipped: 73% of business travellers cite bleisure travel as a corporate perk.
Changing traveler behaviors have caused companies to reevaluate the leisure extension status quo. Companies increasingly recognize the benefits of bleisure travel for their employees and how it can create a culture where employees feel free to rest and recharge.
Blended travel can also be a selling point for attracting new talent, particularly for younger employees like Millennials and Gen Zers, who value flexible work schedules and travel opportunities.
The Benefits of Blended Travel
The combination of business and leisure travel can offer several benefits for both employees and companies.
Benefits for Employees
Bleisure travel offers several benefits to employees, including:
Opportunity for personal travel: Blended travel presents an opportunity to explore new destinations, experience new cultures, and take a break from the monotony of business meetings and conferences. It can also be a chance to spend time with family or friends or to turn a work trip into a mini-vacation.
Improved work-life balance: Bleisure travel can also help employees better balance their work and personal life. Employees can reduce their stress levels and return to work feeling refreshed and rejuvenated by taking a few extra days to relax or explore.
Increased motivation: Offering bleisure travel can also boost employee motivation and job satisfaction. Knowing that they have the opportunity to combine business and leisure travel can make work travel more enjoyable and exciting for employees.
Reduced travel costs: Bleisure travel can also be a cost-effective way to see the world. Employers can save money on transportation and lodging costs since it is partially subsidised by the company, making it easier to explore new destinations without breaking the bank. This can be especially attractive for solo travellers with limited budgets but still want to experience the joys in travel.
Ready for anything: Another advantage for traveling employees is that getting to a destination ahead of time allows them to settle in and adjust to new time zones ahead of the workweek. This means they'll feel better rested before being onsite for their business obligations, and will be ready to put their best self forward!
Benefits for Companies
Bleisure travel can offer many benefits to companies, including:
Improved employee morale and motivation: By allowing employees to enjoy leisure activities during their business trips, companies can boost morale and motivation. This can lead to increased productivity and better job satisfaction.
Increased employee retention: Bleisure travel can also help companies retain employees by allowing them to balance work and personal life. This can lead to higher employee loyalty and reduced turnover rates.
Cost savings: Companies can often benefit from lower travel expenses when employees combine business and leisure trips. For example, if an employee extends their stay by a few days, the company may be able to save on airfare or hotel costs.
Increased business opportunities: Bleisure travel can also provide employees — and by extension, companies — with opportunities to expand their business networks and build relationships with clients or partners in new locations.
Enhanced work-life balance: Finally, bleisure travel can help employees achieve a better work-life balance, which can lead to improved mental health and reduced stress levels. This can ultimately result in more productive and engaged employees.
The Downsides of Blended Travel
While there are many benefits to bleisure travel, there are also some downsides to consider.
Downsides for Employees
Some potential downsides of bleisure travel for employees include:
Increased workload: If employees extend their business trip for leisure, they may have to work longer hours to make up for the time away from the office. This can lead to increased stress and a lack of relaxation during their leisure time.
Reduced travel flexibility: Employees may feel constrained by the company's travel policies when combining business and leisure travel. For example, they may need to book flights or hotels within a certain budget, or they may not have the flexibility to change their travel plans if they encounter delays or cancellations.
Reduced time with family: If an employee chooses to extend their business trip for leisure, they may be away from their family and loved ones for longer periods of time. This can be particularly challenging for employees with children or other caregiving responsibilities.
Difficulty separating work and leisure time: Bleisure travel can blur the line between work and personal time, making it harder for employees to disconnect from work during their leisure time fully.
Potential for conflicts of interest: If an employee is combining business and leisure travel, there is a risk that their personal activities could conflict with their work responsibilities. This could create ethical or legal issues for both the employee and the company.
Downsides for Companies
Some potential downsides of bleisure travel for companies include:
Increased opportunity for fraud: An employee may be more likely to submit a fraudulent expense report that includes leisure expenses as business expenses, such as claiming meals or activities unrelated to the trip's business purpose.
Difficulty enforcing travel policies: Companies may find it difficult to enforce their travel policies when employees combine business and leisure travel. Employees may be unclear about which expenses are eligible for reimbursement.
Duty of care issues: Duty of care refers to the legal and moral obligation that companies have to ensure the safety and well-being of their employees while they are on business trips, including bleisure travel. If an employee is injured or becomes ill during leisure time, the company may be liable for their medical expenses or other costs. This can be particularly challenging if the employee engages in high-risk activities, such as extreme sports or adventure tourism.
Security concerns: Combining business and leisure travel can also create security concerns for companies. For example, employees may be more likely to lose company equipment or data if they are traveling for leisure in unfamiliar environments.
Potential for conflicts of interest: Employees could engage in activities that conflict with their business responsibilities. For example, an employee may be tempted to conduct personal business during their leisure time, such as meeting with a client or prospect outside of their regular work hours. This could be seen as a conflict of interest, as the employee may be using company resources or time to pursue personal gain.
Is Blended or Bleisure Travel a Good Idea?
In the end, whether or not bleisure travel is a good idea depends on various factors. The good news is that any of the above risks can be mitigated if companies have clear travel policies and guidelines in place for blended travel. When necessary, these guidelines make it easy for the company and traveler to delineate between the two types of travel, bringing the sometimes blurry line between work and play into focus.
Whether traveling for business or pleasure — or both — finding corporate accommodation is easy with AltoVita. The platform has a network of 1 million homes to suit the tastes of any traveler and meet their unique needs. Schedule a demo to learn more.