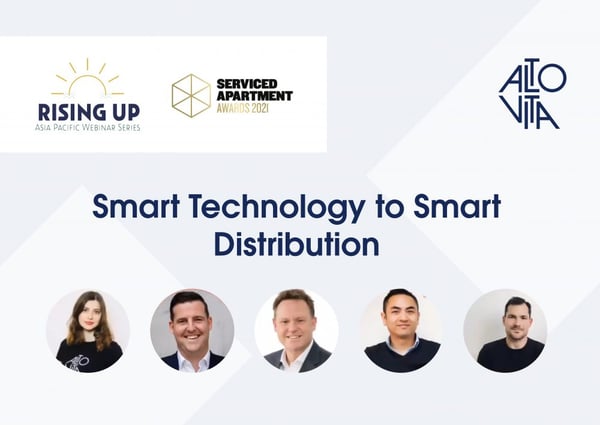 Hospitality
APAC Rising Up Conference: Smart Technology to Smart Distribution
On May 14 we concluded four days of four webinars of the APAC Rising Up conference with Serviced Apartment News (SAN). This event was the first of its kind, bringing together thought leaders to examine a number of key issues facing the serviced apartment, co-living, and corporate accommodation sectors in the Asia-Pacific region. Our final webinar focused on "Smart Technology to Smart Distribution," where we dove into how will the pandemic and the rise of Work from Anywhere will impact technology trends, the landscape of extended stay property management systems, and more.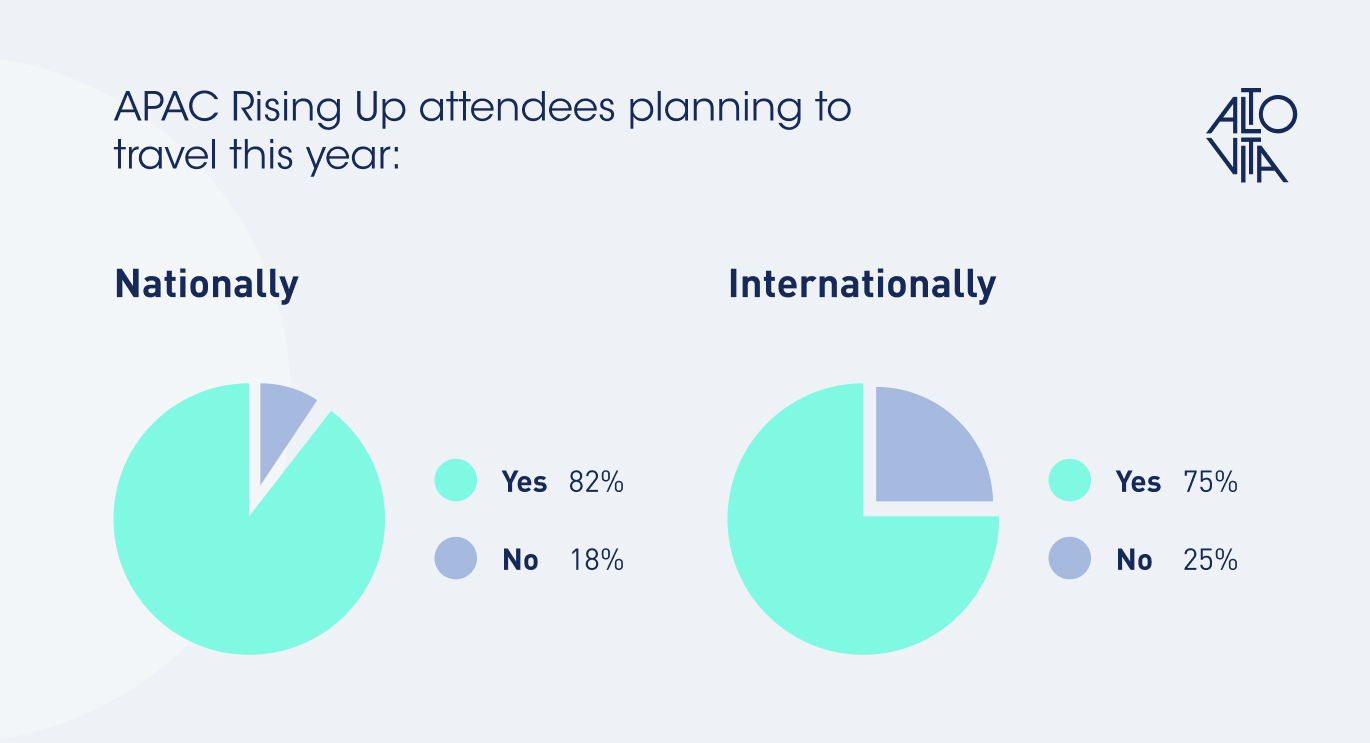 Day 1 focused on Investor Sentiment Out of the Crisis – read our in-depth recap here. On Day 2, we discussed trends for The Apartment of the Future – specifically, how are changes to the way we live, travel, and work shaping the architecture, design, and functionality of apartments in the APAC region? On Day 3, the group considered the impacts of A Work From Anywhere Future from with an HR perspective. Day 4 covered Smart Technology to Smart Distribution.
Moderator and SAN editor-in-chief George Sell said of the Day 3 session:
"It was great to hear about apartment design from both an operation and a design perspective. Just as we have seen over the course of the Rising Up series that flexible rental terms are increasingly important, it's clear that flexible spaces with multiple uses are key to future hospitality design. This applies to both apartments and communal areas. In apartments, moveable walls, multi-use furniture, and intuitive guest-facing technology all have a part to play. Communal areas are becoming neighbourhood hubs rather than exclusive spaces for guests, with F&B areas and workspaces offering a range of uses during the day."
To learn more about the Rising Up conference, check out SAN's recap which includes links to all four webinar recordings. Below, we dive into Day 4.
Meet the panelists for "Smart Technology to Smart Distribution"
AltoVita COO and co-founder Karolina Saviova joined the panel alongside Bradley Haines, Regional VP, Asia Pacific at SiteMinder; Carl Jones, VP, head of travel, Asia Pacific at SAP Concur; Aaron Lee, Founder of Dash Living; and Joseph Lapka, product director at Mews Systems.
The melding of business & leisure travel and what it means for distribution channels
Karolina points to the work from anywhere (WFA) trend, virtual assignments, and working from home during the pandemic as factors contributing toward the rise of people mixing their business trips with a bit of leisure. However, it's imperative for technology to be ready for this type of traveller with the ability for guests to filter properties around duty of care compliance. Carl adds that employers want to know not only that their employees are staying at reliable and vetted accommodation, but also to know where they are. When employees "go rogue" and book outside of the employer-approved channel, then it can't be tracked.
This is called hotel leakage. Carl explains, "It's the number of bookings that did not have a hotel or accommodation option at the same time as the air ticket. In APAC you get leakage at around 80%. … Part of the issue is that people want choice and flexibility, and think if they can get a cheaper option elsewhere they're doing good by the company. But you still need a way to track sales and have it be part of the booking. The challenge is how to get that content in so people can select."
"It's making sure things like data around hygiene and cleanliness are included. Those sorts of data sets haven't really been there in the past, and we are going to need those to be allowed to be part of the booking process."

– Carl Jones, VP, head of travel, Asia Pacific at SAP Concur
Brad breaks down the types of business travellers into two groups, and it is this newer, second group that is harder for employees to track:
Corporate travelers, where employers have asked an employee to travel for work and they add leisure on top of it
Leisure travelers, who are traveling primarily for pleasure but work while they are there
"We're seeing a massive opportunity in the extended stay market when it comes to distribution technology adoption. The booking trends are driving this possible adoption, as guests want to have more control over the choice when it comes to, say, duty of care and various options."

– Karolina Saviova, AltoVita COO & co-founder
Mobile integration for the corporate traveller
Companies serving corporate clients face a number of challenges when looking to create a mobile user experience for the booking flow. As Karolina points out, assignees today most often receive PDFs of options versus being able to go to a platform to book themselves, and Carl added that especially in the APAC region, many countries have pre-trip approval rules which aren't integrated with existing booking systems.
However, mobile can be key to adding value to the on-property experience and guest retention. On the Dash Living app, tenants can enjoy everything from keyless entry through bluetooth to posting on the community bulletin board and engaging with fellow residents. They have also added features for renewing their stay and logging a complaint. Some companies also use their app to push loyalty programs. Josef adds that a mobile experience must be truly valuable. "There's nothing more frustrating than getting an app to check in online, and it gives you a QR code," he says. "Then you arrive at the property and they ask who you are, and you have to go through the whole check-in process [anyway]."
When it comes to cross-border travel coming out of the pandemic, Brad says that mobile will play a huge role with things like vaccine passports and showing proof of accommodation. "Having that all integrated into a mobile device will make it really seamless for [guests] to be able to travel. For the guest journey coming into your property, from check-in to checkout, that's important." Mobile apps can integrate with room service, in-room activities, on-property activities like booking a spa, and more.
"Whether the booking process happens on a mobile device or not – and perhaps it is going to be split there for a while longer – absolutely everything that happens after booking needs to happen on a mobile device."

– Bradley Haines, Regional VP, Asia Pacific at SiteMinder
The evolution of Property Management Systems (PMS)
Generally, traditional hotel property management system (PMS) software isn't appropriate for serviced apartment provider needs, but PMS has started to evolve to suit the extended stay market. Josef cites flexibility around time being a huge driver for positive change. Now, rooms can be booked by the hour and even by the minute – not just by the night or by the number of beds. He says this allows guests to book so they can work from a property during the day, or have a quiet space to take an important webinar meeting – and owners and management companies can diversify their business.
"This diversification to me is the real evolution of a real estate property management system."

– Joseph Lapka, product director at Mews Systems
Brad and Josef also highlighted the importance of data in PMS software. Access to guest data allows staff to determine, for instance, when one guest is checking out and if the next guest can check in early, or when housekeeping can enter the room to clean. Having an integrated system allows you to communicate with guests in real time. To do this, Aaron advises companies to look at third-party tools available on the market to integrate with.
"The industry is quite fragmented. What we've got a duty of as technology providers in this industry is to try and bring it together. … Hoteliers have that information and what we have to try and eliminate is the manual work of actually moving a piece of information from one tool to another. … We've seen a lot of innovation through Covid, and now we have to start to share the data across platforms and create a more open technology environment."

– Bradley Haines, Regional VP, Asia Pacific at SiteMinder
The role of channel manager in the corporate booking process
Brad explains that the channel manager takes rates and availability and distributes that data to online travel agents (OTAs) and wherever booking can be made. To illustrate this, he explains, "SiteMinder connects to Mews, who provides what is available for the hotel. They are setting the rates in the platform. That comes to us, and we push that out to the OTAs. We're then bringing the reservations back into that platform. So we're playing that role as a background integration provider, connecting the OTAs, corporate wholesale markets, etc. into the property and doing the grunt work in the background for them through automation and technology."
"Regardless of where the booking is coming from, it's about the guest at the end of the day, and that's what everyone should be thinking about. How do I make my software, my service, my delivery, my provisions work for the guest?"

– Joseph Lapka, product director at Mews Systems
Artificial intelligence & the distribution system
Carl looks to artificial intelligence (AI) for analytic benefits – for instance, being able to forecast trends and predictability in the market to make smarter business decisions. For AltoVita, Karolina says the goal is to integrate AI within the vetting process for properties and using machine learning to analyze things like amenities and location.
Dash Living, meanwhile, leans on AI most for their chatbot, Allison, which handles inquiries from pre-booking to post-booking. "Her job is to push the lead later into the funnel," Aaron says. "And after booking, Allison works as a customer service agent. Her job is to identify if the person's request is an emergency – for example, is something on fire, or are they locked out." Then, Allison connects to a real live customer support team in the Philippines.
Taking AI a step further, Joseph points to advancements in things like automatic mapping of a room, detecting sprinkler systems, and even being able to scan a passport or identifying document, without the old-fashioned "let me take your passport into the back office and make a photocopy of it." All of these technological advancements work to enhance the guest journey.
The potential of blockchain & cryptocurrencies
The key, says Josef, is focusing on the problems we're trying to solve with the technology, rather than using the technology itself. As an example, he asked, "How many transactions does it take to fulfill one booking?" The answer? "You have a transaction from the guest to the agency, from the agency to the hotel, from the hotel to the supplier, and from the supplier maybe back in commissions to the agency. Every single transaction has a charge when you're doing it using credit cards and the old-fashioned way. Whereas, you can streamline that through cryptocurrency or through those types of technologies, and that's where the real value lies in the future."