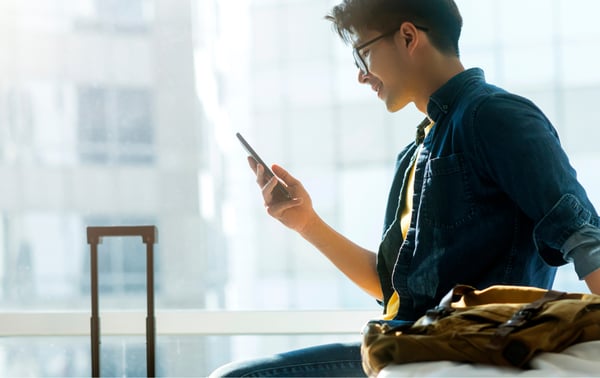 Duty of Care
The crucial role of 24/7 support in modern corporate travel
This is a guest post from Martin Gro, head of growth at TruTrip, a sponsor of the Smart, Safe, Sustainable Summit in Singapore.
Now that there's a shift from short stays to extended ones, partly driven by the rise of remote work — now a reality for eight in ten people — strategic cost-saving benefits can be achieved by using alternative accommodation. But at the same time, business travellers are posed with new risks and challenges as well.
Here we discuss why 24/7 support from travel experts for travelling employees and travel managers is all the more important, and how you can get it.
The shift from traditional hotels to short-term rentals need not mean the absence of better security measures. With proper intelligence on the matter, corporate travel managers can still ensure safety measures and support systems for their travelling employees.
Today, there are several things you must consider when sourcing corporate housing
Strategic location
Being close to transportation hubs, business districts, attractions and even the right schools makes life for expats, or business travellers on the road, more convenient and efficient.
Cleanliness
A hygienic environment is crucial for extended stays, offering peace of mind and access to amenities like home-cooked meals and laundry facilities.
Wellness Amenities
Travellers seek establishments that provide wellness facilities like spas, gyms, and healthy food options to maintain their well-being while away from home.
On-Property Service Quality
On-site services, such as high-speed internet and tailored concierge services, add an extra layer of convenience and comfort.
Value for Money
Travellers look for accommodation that offer the best bang for their buck, including negotiated rates and complimentary extras. Additionally, temporary housing many be included in your tax filing, something that needs to be communicated to the finance department.
Expert Advice
At TruTrip, we've found that 85% of companies don't have a dedicated travel department or travel managers, and the task often falls on HR, office managers, operations or the executives themselves, all of whom are already occupied with other tasks.
This is where travel experts come into play. These professionals are well-versed in the intricacies of travel and accommodation, offering invaluable advice and immediate solutions to any challenges that may arise. Their expertise can be a lifeline in unfamiliar environments, helping to mitigate risks and enhance the overall travel experience.
At TruTrip, we've found out that 85% of companies don't have a dedicated travel department or travel managers
The changing landscape of corporate accommodation necessitates a rethinking of how we support travelling employees, especially when it comes to their safety and well-being. Gone are the days when support was confined to the traditional 9-to-5 office hours of HR or travel managers. In today's dynamic and often unpredictable travel environment, round-the-clock support is not just a luxury — it's a necessity.
24/7 support ensures that your employees are never alone, no matter what time zone they're in or what challenges they face. This continuous support is provided by experts well-versed in the intricacies of travel, from navigating local customs to understanding the best safety practices. With round-the-clock assistance, employees can focus on their work and well-being, secure in the knowledge that help is always just a call or message away.
How do you get 24/7 support from travel experts?
Fortunately, most corporate travel management companies offer 24/7 traveller support for their clients, however business customers need to be aware of chatbots that claim to offer this service. And for a landscape that is always changing, and comes with complex challenges, you need real human support with expertise to travel, which guarantees you a quick and thoughtful fix to any hurdles you come across.
Learn more from TruTrip
If you found this article insightful and enjoyed our discussion at The Smart, Safe, Sustainable Summit last September 6, we invite you to explore more corporate travel insights here. During the summit at Swissôtel The Stamford, Singapore, Susnata Banerjee, our VP of Commercial and Operations, delved into how global mobility and travel managers can leverage technology for greener business travel. If you missed it or would like to continue the conversation, our site offers a wealth of knowledge and strategies to help you navigate the ever-changing corporate travel landscape. We look forward to engaging with you further!