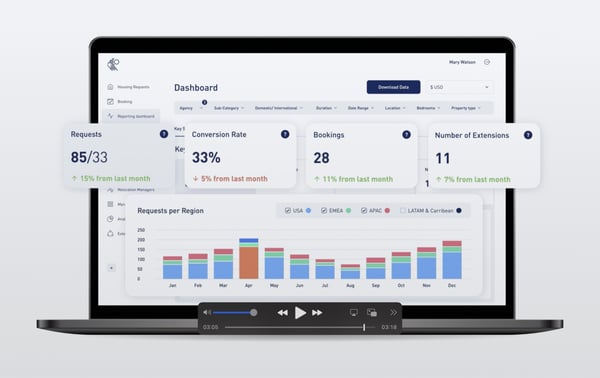 Innovation Summit
Product Updates
Global Mobility
Introducing AltoInsights! A New Reporting Dashboard That Shines a Light on ESG Data
AltoInsights includes new data categories that launch in the summer. It covers environmental, social and corporate governance (ESG) components
Generate cost savings through using an efficient centralised booking system, forecast volumes and negotiate better rates
Improved visualisations let users easily interpret complex information
200 delegates experienced the future of data intelligence during a special preview at AltoVita's Smart, Safe, Sustainable Summit
AltoInsights will help multinational clients meet their net zero goals by 2030 and ESG targets by identifying spend on DEI & sustainable accommodation
Sign up for early access at

hello.altovita.com/join-the-revolution
Corporate accommodation booking platform AltoVita previewed upcoming additions to its award-winning reporting dashboard at the Smart, Safe, Sustainable Summit on June 8 in London.
AltoInsights, a series of new features that help businesses better grasp data related to environmental, social and corporate governance (ESG), were unveiled at the event at the iconic Sky Garden venue, ahead of their full launch this summer.
AltoVita's reporting and analytics solution has also been enhanced with clearer visualisations, allowing users to more easily interpret complex information and identify trends, which is critical to containing costs.
Bu using a centralised booking, approval, and payment system for long-term stays, organisations can better control and visualise their spending. This leads to more insightful data, which the organisation uses to negotiate competitive prices for their accommodation, achieving significant cost savings.
Now the revitalised suite of reporting and analytics will offer a smarter way of getting data insights to manage a corporate accommodation programme more effectively, and follows extensive customer research.
AltoVita listened to its customers, with the most complex problems associated with managing corporate accommodation including:
Time-consuming manual reporting and data analysis
Companies unable to easily report on the sustainability of global mobility and travel programmes set out in ESG initiatives
Lack of visibility of DEI spend
AltoVita has developed all-new features, which will be available to users over the coming months. They include:
Sustainability reporting: Gain access to comprehensive data on total spending on sustainable providers, the total number of bookings on sustainable properties and the percentage of bookings on sustainable properties.
DEI spend reporting: Track total spend across women-owned businesses, veteran-owned businesses, minority-owned businesses, and small businesses, ensuring transparency and accountability.
Customer satisfaction reporting: Uncover the satisfaction levels of guests with ease, displaying the percentage of happy employees and enabling you to enhance their experience.
Escalations reporting: Stay informed and in control with detailed incident reporting, including the number of incidents and the incident rate, allowing you to address concerns promptly.
Top 5 Lists: Gain valuable insights into top locations, clients, and power users, empowering travel and mobility managers to make data-driven decisions and optimise operations.
Find out more about the relaunch in the video, and sign up today to register for early access: Go to hello.altovita.com/join-the-revolution