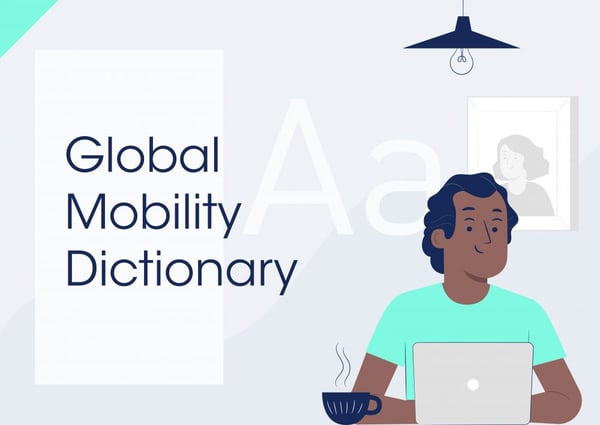 Global Mobility
The Ultimate Global Mobility Dictionary
Every industry has its own language and definitions, and global mobility is no exception. Here, we break down the meaning of the most common words of global mobility to help you navigate the various abbreviations, phrases, and unique terms.
But first – what is global mobility? It means a multinational corporation's ability to seamlessly move its workforce from one country to another. This is usually a function with a company's HR division, with objectives to grow a company's success through employee assignments in key strategic locations.
Now, let's expand our global mobility lexicon…
A term used to describe fully-furnished, lease-free accommodations that are not hotels, which can be used for both leisure and business travel, and short- and long-term stays. Alternative accommodations could include serviced apartments, private furnished homes and villas, and more. Airbnb is credited with the rise in alternative accommodations. See also: Flexible Rentals.
Terms to describe the person who is temporarily relocating to a new location through their employer.
Core/flex is a type of corporate mobility policy that combines defined "core" benefits which all relocating employees receive (such as temporary housing, tax and immigration assistance, and household goods shipment) with "flexible" options which the employee can choose from to supplement the core benefits (such as destination services).
"Corporates" refers collectively to the companies who relocate employees around the world. These can be Global 2000, multinational enterprises, small and medium-sized enterprises (SMEs), and startups.
DSPs assist assignees and their families as they acclimate in their new location and navigate the complexities involved in international assignments. DSPs can deliver a range of services based on a professional's preferences and interests, such as area tours, home-finding assistance, school searches, foreign language training, and spousal assistance. DSPs are used around the world but have more responsibility for the relocation process within Europe and Asia.
A moral obligation to act in the best interest of individuals and others. In the global mobility world, the duty of care is a responsibility to the safety and security of assignees and employers. This includes physical safety and wellbeing, and information security and data protection. For instance, a hospitality operator can ensure duty of care through stringent cleaning practices, passing health inspections, and keeping security systems up-to-date. An RMC can ensure duty of care by working with hospitality operators who are duty of care-compliant. In order for a hospitality operator to be onboarded to AltoVita's platform, they must pass a rigorous three-tier quality control process, which is another example of duty of care.
The employee experience (often abbreviated as EX) is the journey each team member makes with their company throughout their tenure, starting with every interaction from interviewing and onboarding through to the day-to-day of their work. Everything that the employee learns, does, sees, and feels contributes to their employee experience. Global mobility managers and relocation companies aim to create a positive, personal employee experience through how their relocation programs are set up and executed. In order for a company to attract and retain top talent, they should focus on the employee experience just as much as the customer experience.
Flexible rentals include any type of housing accommodation (apartment, home, extended stay hotels) which accepts reservations and does not require a lease. These accommodations can support short-term rentals with a minimum of 2 days stay, up to monthly stays. Typically, these rentals are equipped with home-like amenities like fully stocked kitchens and greater space.
A fully managed move gives a company complete control of a policy budget. They will use the allocated funds to provide an employee with total support during the move and will cover the costs of all necessary vendors that have been preselected by the company. See also: Relocation Package.
Hospitality operators refers to the individuals, owners, or third-party property management companies who operate flexible rentals. They are responsible for the management and operational performance of the accommodations.
When booking flexible rentals, Corporates and RMCs can utilise a number of different booking methods. Most booking methods still rely on a legacy, inefficient "bid system" process to source housing. This means that when a request is made, a representative from the sourcing tool company will email a request to book to the property. The highly manual process can take 24-72 hours to complete, and in the meantime another consumer or client could have booked the property, starting the process all over again. The consumer is required to make a selection based on a number of PDFs received (or sometimes an excel sheet) with limited property and amenity details.
AltoVita and online travel agents (OTAs) on the other hand use cloud-based technology and global distribution systems (GDSs) to offer access to instant, real-time live rates and availability, significantly reducing the time required to source policy-compliant corporate housing.
Under a lump sum relocation plan, the relocating employee receives a single payout of a pre-approved amount that is designed to cover the costs of relocation. The allowance is given to the employee to use at his or her own discretion but is typically used to cover the costs of temporary housing, tax & immigration, closing costs of the current home, lease agreement early termination fees, and the move itself.
A lump sum contract provides both the employer and employee with a flexible relocation strategy, but too much flexibility can pose some duty of care-related risks. To curb this risk, more companies are moving toward a managed lump sum (as known as core/flex) approach.
A managed lump sum benefit allows a company to provide employees with a list of relocation options to choose from. This means that an employee will receive a payout for relocation purposes, but the company defines the specific benefits and services. For example, global mobility specialists will supply a list of pre-approved vendors that must be used. Managed lump sum plans offer a number of benefits, including potential cost savings, streamlined administrative processes, and a more positive employee experience through customisation and flexibility of choice.
These companies provide administrative and logistical support to Corporates and mobility professionals to manage a relocation. These professionals can handle everything from visa and immigration services, home sale assistance, packing and moving belongings, relocation expense tracking, and rental or temporary housing assistance.
When a company moves or offers an employee long-term employment in a location that's more than 50 miles from their current work location, then the employee may qualify for a relocation package. This package typically covers a person's moving and other work-related expenses (within reason).
A well-developed relocation package is intended to offer the recipient peace of mind and it's also used as an incentive to make the move or job offer more enticing. It also reflects positively on the company's reputation for attracting top talent. Curious what makes up a good relocation package?
Similar to hotels, serviced apartments offer fully-furnished, lease-free accommodations for short- or long-term stays. Both offer housekeeping, various amenities, and taxes and utilities included in the rate. However, the similarities end there.
Serviced apartments are traditionally larger, and offer more home-like amenities such as in-room washer/dryer and a laundry hamper. Every serviced apartment will have private cooking facilities, either a kitchenette or a full-sized kitchen. Serviced apartments are located within residential buildings, which could also include an on-site pool, restaurant, gym, and other facilities available to use as any resident would. Often, a serviced apartment is cheaper than a hotel when staying for an extended period of time.
The work from anywhere model is an employment scheme in which employees have far more freedom in where they work. They may combine their home and the office, working a few days each week at the office and a few days at home. Or, they may opt for the "digital nomad" life: working remotely from various countries and locales.
It is this last choice that has garnered the most attention since the pandemic began. Learn about the benefits of WFA to employers and employees, and how employers can use technology like AltoVita to easily adopt WFA policies while remaining compliant to duty of care.