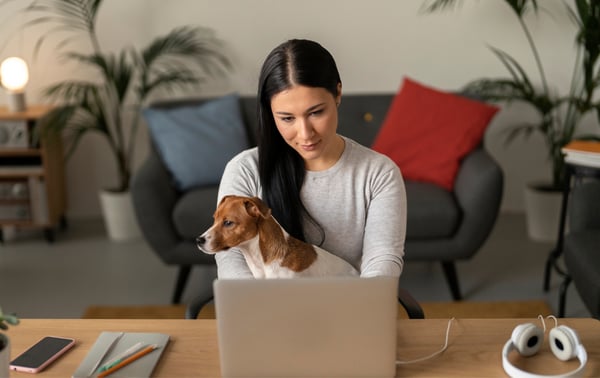 Global Mobility
5 Pet-Friendly Corporate Housing Platforms: Top Choices & Tips
Navigating corporate housing can be challenging, especially when you have furry friends. Luckily, there are pet-friendly corporate housing platforms that accommodate both you and your pets seamlessly. This guide delves into the best corporate apartment options, focusing on amenities, policies, and specific features beneficial for business travellers with pets.
TL;DR: Best Pet-Friendly Corporate Housing Platforms
Benefits of Pet-Friendly Corporate Accommodation
Choosing pet-friendly corporate housing offers myriad advantages. These benefits enhance the travel employee's stay and ensure their furry companions feel at home. Let's delve into how these accommodations can redefine corporate travel and relocations for both parties.
Reduced Stress for Employees: Employees who travel with their pets experience reduced anxiety and stress. Being in a new location or amidst tight work schedules can be daunting, but the comfort of having one's pet nearby can be immensely therapeutic and calming.
Financial Savings: Opting for pet-friendly corporate accommodations often eliminates the need for expensive pet boarding or pet-sitting services, which saves money and keeps pets close by.
Seamless Transition: Transitioning to a new city or country can be smoother with a pet by your side. Their presence can make unfamiliar surroundings feel more like home, easing the settling-in process for many travelers.
Comprehensive Amenities: Pet-friendly

corporate housing companies

understand pets' needs. From pet walking services to specialized amenities like water bowls or play areas, these accommodations keep the comfort of the pet guests in mind.
Better Work-Life Balance: For many, pets are a part of their family. Having them close in pet-friendly corporate apartments fosters a better work-life balance, allowing employees to relax and recharge effectively after work hours.
Enhanced Safety and Security: Employees can focus better on their work without worrying about their pets' well-being, knowing they are safe in a secure environment.
Boosted Morale and Productivity: The emotional and psychological boost pets provide is well-documented. Employees staying with their pets exhibit higher morale, leading to increased productivity.
Social Opportunities: Pets can be great icebreakers! Whether meeting fellow pet owners in the building or nearby parks, pets can help employees build connections in new locations.
Adherence to Lifestyle: For those who have a routine around their pets—like morning walks or playtime—pet-friendly

business travel accommodation

ensure that travellers can maintain these routines and a consistent lifestyle.
Pet-friendly corporate accommodation is more than just a convenience—it's a holistic approach to corporate travel. By catering to the needs of both employees and their pets, these accommodations ensure a harmonious, productive, and enjoyable stay.
The benefits are undeniable, whether it's the emotional support pets provide or the specialised amenities tailored for them. Embracing pet friendly rentals can genuinely redefine the corporate travel and relocation experience.
When choosing a pet-friendly corporate apartment, some amenities can significantly enhance the traveler's and their pet's experience. Here is an example of some premier amenities to keep an eye out for:
Pet Walking Service: Especially beneficial for business travelers with packed schedules, a pet walking service ensures the pet gets daily exercise.
On-site Pet Parks: A dedicated space for pets to play and socialize can be invaluable.
Pet Bowls and Beds: The little touches matter. Properties that provide a water bowl or pet bed show a high level of consideration for pet guests.
Nearby Vet Services: In case of emergencies or regular check-ups, having vet services nearby can be a boon.
Pet-Friendly Policies: Beyond just allowing pets, check if there are any weight or breed restrictions and if the property offers flexibility in these areas.
In-room Pet Amenities: Scratch posts for cats, toys, and even treat baskets would make any pet's stay enjoyable.
Easy Outdoor Access: If traveling with dogs, properties with easy outdoor access or near parks can be especially beneficial for those daily walks.
Top 5 Pet-Friendly Corporate Housing Platforms
1. AltoVita Corporate Housing
AltoVita is a trailblazer in the corporate housing industry. With its cutting-edge technology platform, the AltoVita platform simplifies the entire corporate travel and housing process, making it as stress-free as possible. Their services are well-suited for corporate travel, extended stays, and relocations.
AltoVita seamlessly blends luxury, comfort, and convenience. The company's ethos is centered around creating a home away from home experience, providing corporate travelers and relocated employees with a comfortable, productive, and enriching living environment.
AltoVita's award-winning technology creates a cloud-based bridge between the highly fragmented property distribution system and Global 2000 companies, SMEs, and business travellers, reducing the legacy 48- to 72-hour corporate housing bidding process to a few minutes. The fully customisable platform provides instant access to a diverse network of one million-plus housing options worldwide, with the ability to sort by desired amenities, pet friendliness, sustainability scores, and more.
AltoVita properties are handpicked based on stringent quality and service parameters and are available in multiple locations worldwide, catering to a diverse range of corporate needs and preferences. With a focuses on personalisation, AltoVita offers many additional services to ensure a stress-free living experience.
Pet-Friendly Amenities
Among people relocating with their pets, 60% said their priority is finding accommodation that is a good fit for their pets. AltoVita has relocated dogs, cats, fish, ferrets, birds, rabbits, lizards, and snakes. So, when AltoVita experienced a 50% sugar in pet-related requests, not just for one pet but multiple pets, the team got to work on advanced pet-friendly filters.
A global portfolio of fully furnished, ready-to-live properties.
A comprehensive vetting process for all accommodation partners.
24/7 personalised concierge service for each resident.
Safety and well-being promised at every property.

2. National Corporate Housing
National Corporate Housing is a privately held corporation headquartered in Denver, Colorado. Founded in 1999 by Tom Atchison, whose professional experience spans the hotel, real estate, insurance housing, and temporary housing industries, National Corporate Housing provides temporary housing throughout the United States, Canada, Asia Pacific, Europe, and the Gulf region. National provides a Single Source Solution® for temporary living, including furnished apartments, international serviced apartments, rental assistance services, destination services, and insurance housing.
Pet-Friendly Amenities
Four search filters include "cat friendly," "dog friendly," "pets considered," and "no pets."
Enter the breed and weight of pets right in the booking flow to confirm a match.
3. Blueground
Blueground is an innovative corporate housing company dedicated to offering beautifully furnished and fully equipped apartments in some of the most sought-after locations around the globe. Their service caters to business travellers, relocated employees, and anyone needing high-quality, hassle-free accommodation for a month, a year, or even longer. Blueground stands out for its commitment to convenience, quality, and service, providing residents with a seamless living experience from arrival.
Pet-Friendly Amenities
Filter by pet-friendly apartments
Add pets directly to the booking flow.
"Keep in mind" tips about apartment size and location.
Guest app 24/7 support if issues arise
Search by location to prioritize apartments near parks.
4. Zeus Living
Zeus Living provides fully equipped homes for short-term and long-term stays, offering a more personal and homely alternative to traditional corporate housing options in several U.S. cities. The startup launched in 2015 intending to make long-term rentals feel less standardised and more like homes for business travel management. The company rents individual apartments or houses from their owners, who are individuals rather than corporations, an approach that integrates travelers more into the local community.
Pet-Friendly Amenities
Search pet-friendly apartments
See specific details on what pets are allowed in the Amenities section on the search
A one-time, non-refundable fee covers property pet fees and other operational costs
Extra support is available via Zeus Livings' guest services
5. VIP Corporate Housing
VIP Corporate Housing is a premier provider of fully furnished and serviced corporate housing across the United States. Established over two decades ago, VIP Corporate Housing offers a blend of comfort, convenience, and luxury through its diverse range of temporary housing solutions with locations in U.S. states. Renowned for its customer-centric approach, VIP Corporate Housing works closely with clients to understand their unique requirements and provide housing solutions that align perfectly with their needs.
Pet-Friendly Amenities
The majority of listings are pet-friendly
It is easy to contact guest services to confirm pets' space and ask questions.
Tips for Booking Pet-Friendly Corporate Accommodation:
Business travellers looking to share their corporate stay with their pets have several factors to consider to ensure a smooth and comfortable experience. Here are some tips to navigate the process:
Research Ahead: Not all corporate housing providers that label themselves as 'pet-friendly' have the same policies. Reading reviews on G2 or Capterra is crucial to understanding previous guests' experiences with their pets.
Check for Additional Fees: Some accommodations may charge extra for pet guests as a one-time fee or a daily surcharge. It's essential to factor these into your budget.
Understand the Pet Policy: While some apartments might be pet-friendly, they may restrict the number of pets, size, or breed. Always check these details before booking.
Documentation: Typically, pet-friendly corporate housing providers might require updated vaccination records, identification tags, and sometimes even a recent photograph of your pet. Ensure you have all necessary documents handy.
Inquire About Amenities: If amenities like pet walking services or on-site pet parks are crucial, ask about them or search for them beforehand.
Location Matters: Proximity to parks, pet stores, or vet clinics can be a boon, especially for extended stays. Look into the location's conveniences before finalizing.
Commonly Restricted Dog Breeds
Apartment buildings and homeowners often restrict specific dog breeds due to perceptions about their temperament, potential threat, or size. These restrictions are discriminatory, and individual dogs might be very gentle or well-trained. Yet, many establishments set these guidelines for insurance reasons or past incidents.
Short-term and extended-stay rent providers commonly restrict the following breeds:
Pit Bull Terriers
Rottweilers
Doberman Pinschers
German Shepherds
Huskies
Alaskan Malamutes
Wolf-hybrids
Mastiffs
Chow Chows
Great Danes
Boxers
Staffordshire Terriers
If you own one of the breeds listed above, you must check with the individual property or corporate housing provider about their breed policies. Many accommodations require additional documentation or specific training certifications for such breeds.
Key Takeaways
Pet-friendly Accommodations are Growing in Demand: As more people value the companionship of their pets, the corporate housing industry is evolving to meet this need.
Amenities Matter: Beyond being pet-friendly, accommodations now offer specialized amenities like pet walking services, pet parks, and in-room pet amenities.
Financial and Emotional Benefits: Traveling with pets saves money by avoiding pet boarding costs, enhances mental well-being, reduces stress, and even boosts work productivity.
Do Your Homework: From checking policies to understanding additional fees, due diligence is vital when booking a pet-friendly corporate housing unit.
Breed Restrictions Exist: Certain breeds often face restrictions in housing units. Always check in advance and understand the reasons behind such limitations.
FAQs
Q: Why are some dog breeds commonly restricted in an apartment or corporate housing?
A: Some dog breeds are perceived to have a more aggressive temperament or pose a potential threat. These restrictions, often generalised, can also be for insurance reasons or based on past incidents.
Q: What are some top pet-friendly corporate housing platforms?
A: Most corporate housing platforms, including AltoVita, National Corporate Housing, Blu Corporate Housing, AHI Corporate Housing, and Corporate Housing Store, will have some information and search capabilities around pet friendliness.
Q: What documentation is typically required when staying in pet-friendly corporate accommodations?
A: Most accommodations request updated vaccination records, identification tags, and sometimes a recent photograph of the family pet.
Q: Are there additional fees associated with staying in a pet-friendly corporate apartment?
A: Some accommodations and apartments may charge extra pet fees as a one-time or daily surcharge. Always factor these into your budget.
Q: Can pets help with social opportunities when moving to a new place?
A: Absolutely! Pets, especially dogs, can be great icebreakers, facilitating meetings with fellow pet owners or neighbors in parks or the building.