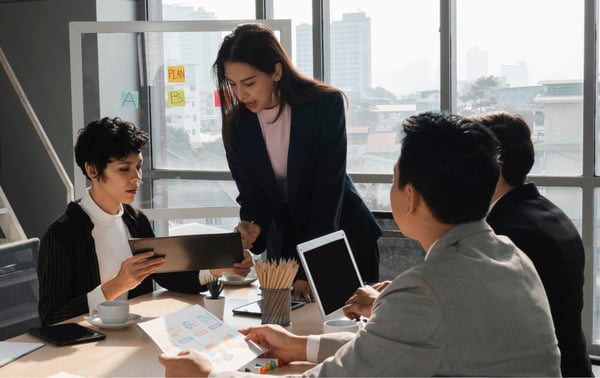 Global Mobility
10 Best Corporate Housing Companies for 2023
As the corporate travel demographic evolves, with millennials asserting their presence, we're witnessing an exciting shift towards unique, local experiences. Corporate housing providers are rising to the challenge, diversifying their offerings and infusing their services with the spice of variety and flexibility.
In the following post, we'll embark on an enlightening expedition through the top 10 corporate housing companies leading the charge in 2023, blending comfort, convenience, and character to redefine the corporate stay experience.
TL;DR List of Corporate Housing Companies
What is Corporate Housing?
Corporate housing units are fully furnished apartments with all the amenities necessary for comfortable living, including a fully equipped kitchen, Wi-Fi, cleaning services, and often a fitness center, pool, or other luxury amenities.
They are typically located in urban areas close to business districts, offering convenient access to work locations and city amenities or just outside the city center in trendier neighborhoods where guests can integrate into local life.
The tenants of corporate housing are as diverse as the business world itself. They include traveling workers on temporary assignments, employees temporarily relocating to a new city, trainees participating in corporate training programs, and even displaced families due to insurance cases. The flexible nature of corporate housing makes it suitable for a wide range of situations and client needs.
Modern corporate housing goes beyond offering a larger space than a hotel room; it's about superior service and furnishings. Concierge offerings might include 24/7 customer service or a property manager available via text, high-speed internet, modern appliances, and access to recreational amenities like gyms, pools, and outdoor spaces.
Corporate housing companies either invest in rental property ownership or provide a system through which businesses can access a certain standard of housing for their executives and employees. Companies can trust corporate housing companies to invest or list properties suited for the target market rather than a traditional rental. Technology has revolutionized the corporate housing market, with companies now marketing their managed properties and building technology platforms that achieve an RFP process and booking faster and easier than ever before.
Top Features to Look For in a Corporate Housing Solution
Searching for the perfect corporate housing provider can feel like a daunting journey; however, a few crucial features form the foundation of a top-tier corporate housing solution. Let's uncover what turns a corporate housing solution from a simple accommodation option into a trusted partner for business trips and relocations from New York to California.
Location
Arguably, location is the most crucial factor when selecting corporate housing. The proximity of the accommodation to the office or main business activities can significantly impact the productivity and satisfaction of the employee. The ideal corporate housing provider should offer properties in convenient locations that align with their business goals and enable them to integrate into locals' lives and neighborhoods when desired.
It's also crucial that the corporate housing solution be offered in as many countries and cities as possible to make renting easy no matter where it's needed. For example, AltoVita extended its accommodation network from 1 million units to 7 million in 35,000 locations globally. With that scope of reach, a company can guarantee that AltoVita has a trusted home waiting for its employees—no matter how unique.
Amenities
The quality and variety of amenities provided by furnished housing can turn a mere lodging place into a comfortable living space. Many corporate housing providers offer fully furnished accommodations with kitchen equipment, laundry facilities, high-speed internet, and sometimes gyms and pools.
Pricing
Transparent and competitive pricing is a must when considering different corporate housing options. The cost should be justifiable, reflecting the quality of the property, its location, and the services provided. Additionally, all costs should be upfront with no hidden fees, providing companies with predictability in their budgeting process.
Flexibility
The nature of corporate assignments can be unpredictable, with changes often required at short notice. As such, corporate housing companies that offer flexible leasing options — from short-term to short-term rentals to long-term leases, with easy alteration terms — are desirable. This flexibility allows companies to adapt their housing plans to their changing business needs.
Customer Service
Last but certainly not least, excellent customer service is fundamental for a seamless corporate housing experience. The provider should be prompt and responsive to any requests or issues, provide regular cleaning services, and offer additional services such as assistance with local registrations or 24/7 support.
While optional, some corporate housing companies will go beyond the necessities to provide a concierge service that gets employees into their groove and feeling settled as quickly as possible.

Top 10 Corporate Housing Companies
Technology is evolving to make corporate housing more accessible and equitable. Innovators like AltoVita are turning a week-long process into a transaction that takes minutes with on-demand inventory and real-time booking.
AltoVita stands out as a trailblazer in the corporate housing industry. With their cutting-edge technology platform, they've simplified the whole corporate travel and housing process, making it as stress-free as possible. Their services are well-suited to travel, and relocation managers seek quality, consistency, and ease of use.
AltoVita seamlessly blends luxury, comfort, and convenience. The company's ethos is centered around creating a home away from home experience, providing corporate travelers and relocated employees with a comfortable, productive, and enriching living environment. It does so with the power of technology: AltoVita's award-winning technology creates a cloud-based bridge between the highly fragmented property distribution system and Global 2000 companies, SMEs, and business travelers, reducing the legacy 48- to 72-hour corporate housing bidding process to a few minutes. The fully customizable platform provides instant access to a diverse network of one million-plus housing options worldwide, with the ability to sort by desired amenities, pet friendliness, sustainability scores, and more.
AltoVita properties are handpicked based on stringent quality and service parameters and are available in multiple locations worldwide, catering to a diverse range of corporate needs and preferences. With focus on personalization, AltoVita offers many additional services to ensure a stress-free living experience.
Top Features:
A global portfolio of fully furnished, ready-to-live properties.
AltoVita's extensive network spans 35,000 locations worldwide, providing corporate travelers with 7+ million housing options that cater to their unique needs. Whether relocating for a short-term project or a long-term assignment, AltoVita ensures that you find a home that fits your requirements, no matter where your work takes you.
A comprehensive vetting process for all accommodation partners.
Every property listed on AltoVita is meticulously vetted and inspected by their team of experts. This rigorous quality assurance process ensures that all listed properties meet AltoVita's high comfort, cleanliness, and convenience standards, offering a consistent living experience across all locations.
Instant booking and consumer-first booking experience.
More than 90% of the units are instantly bookable, offering convenience and flexibility, enabling corporate customers to find accommodation that suits their preferences and needs quickly.
24/7 personalized concierge service for each resident.
Understanding that every tenant has unique needs, AltoVita offers various personalized services. From setting up your home before you arrive to stocking up your pantry with your favorite groceries, AltoVita's range of add-on services makes employees' move-in as smooth as possible.
AltoVita's customer service team is available round-the-clock to assist with any queries or concerns you may have during your stay. Their dedicated support ensures a hassle-free living experience, from the booking process to your eventual check-out.
Safety and well-being promised at every property.
AltoVita places a high emphasis on the overall well-being of its tenants. Travelers can review the range of safety and security measures in each destination and select business accommodation options confidently, ensuring safety, quality, and security. The properties feature fitness and wellness amenities, and the company also offers a selection of wellness services such as personal training, yoga classes, and nutrition consultation to ensure a healthy and balanced lifestyle.
Live Stats Dashboard and Reporting
The AltoVita platform makes reporting on business needs accessible, allowing maximum visibility and data analysis of your corporate accommodation activity and spend. AltoVita makes reporting accessible and actionable.

Pricing Plans
AltaVita offers customized pricing plans tailored to your needs.

Zeus Living provides fully equipped homes for short-term and long-term stays, offering a more personal and homely alternative to traditional corporate housing options in several U.S. cities. The startup launched in 2015 intending to make long-term rentals feel less standardized and more like homes for business travel management. The company rents individual apartments or houses from their owners, who are individuals rather than corporations, an approach that integrates travelers more into the local community.
Top Features:
Modern home styled for a younger demographic
Prime locations in city center
Cleaning services included
Pricing Options
Understanding the varying requirements of corporate travelers, Zeus offers flexible lease terms with options for short-term and long-term stays. They also provide simple, transparent pricing with no hidden costs, making booking straightforward.
Blueground is an innovative corporate housing company dedicated to offering beautifully furnished and fully equipped apartments in some of the most sought-after locations around the globe. Their service caters to business travelers, relocated employees, and anyone in need of high-quality, hassle-free accommodation for a month, a year, or even longer. Blueground stands out for its commitment to convenience, quality, and service, providing residents with a seamless living experience from arrival.
Top Features:
High-quality furnishings
Turnkey living
Guest app
24/7 support
Pricing Options
Blueground offers flexible lease terms starting from one month, making it an excellent option for those in need of temporary accommodation.
National Corporate Housing Inc. is a privately held corporation headquartered in Denver, Colorado. Founded in 1999 by Tom Atchison, whose professional experience spans the hotel, real estate, insurance housing, and temporary housing industries, National Corporate Housing provides temporary housing throughout the United States, Canada, Asia Pacific, Europe, and the Gulf region. National provides a Single Source Solution® for temporary living, including furnished apartments, international serviced apartments, rental assistance services, destination services, and insurance housing.
Top Features:
Customized, flexible solutions
High-quality properties
Personalized, high-touch service with a housing coordinator
Proprietary technology to streamline the booking and management process
VIP Corporate Housing is a premier provider of fully furnished and serviced corporate housing across the United States. Established over two decades ago, VIP Corporate Housing offers a blend of comfort, convenience, and luxury through its diverse range of temporary housing solutions with locations in U.S. states. Renowned for its customer-centric approach, VIP Corporate Housing works closely with clients to understand their unique requirements and provide housing solutions that align perfectly with their needs.
Top Features:
A comprehensive selection of housing options, including luxury apartments, condos, and single-family homes.
Premium locations across the United States
Local recommendations for all properties
Pricing Options
VIP Corporate Housing offers flexible packages tailored to clients' specific money requirements, including flexible lease terms and the option to add additional services such as housekeeping and local gym memberships.
FOX Corporate Housing is a full-service, nationwide corporate housing provider specializing in short-term, fully furnished accommodations. They cater to a broad clientele, including corporate businesses, government agencies, military personnel, medical institutions, insurance companies, and individual travelers. With a solid commitment to high-quality service, FOX Corporate Housing provides housing solutions that perfectly balance luxury, comfort, and practicality.
Top Features:
A wide array of property types, including apartments, townhomes, condominiums, and single-family homes.
Properties in all major cities across the United States
Stylishly furnished residences with thoughtful decor
Pricing Options
FOX Corporate Housing provides all-inclusive rates that cover rent, utilities, cable, Wi-Fi, and all other living essentials.
CWS Corporate Housing is a recognized leader in the corporate housing industry, providing short-term housing solutions for businesses and individuals. They offer fully furnished apartments across the United States, focusing on comfort, convenience, and a homely atmosphere that makes their clients' stay enjoyable.
Top Features:
Customizable packages that enable clients to choose the services and amenities they want.
Exceptional customer service available 24/7
Community amenities are available, such as fitness centers and swimming pools.
Pricing Options
With CWS Corporate Housing, clients receive all-inclusive pricing, which covers the cost of rent, utilities, cable, internet, furniture, housewares, and appliances.
8. ShortTermHousing.com
ShortTermHousing.com is a leading provider of temporary housing solutions across the United States and Canada. Catering to individual and corporate clients, the company provides high-quality, fully furnished apartments for 30 days or longer stays. With an extensive network of locations, ShortTermHousing.com is committed to providing a comfortable "home away from home" experience that perfectly balances comfort, convenience, and cost.
Top Features:
A broad selection of housing options in both urban centers and suburban neighborhoods.
Customized housing solutions tailored to each client's unique needs and preferences.
They have dedicated customer service around the clock.
Access to on-site amenities like fitness centers, swimming pools, business centers, and outdoor recreational areas.
Pricing Options
ShortTermHousing.com offers flexible lease terms starting from 30 days and extending as needed, ensuring guests can secure accommodation that aligns with the length of their assignments or relocations.
Ukio's mission is to empower individuals to live where they want when they want. Since its founding in 2020, it's turned the traditional real estate model upside down by providing fully furnished and artfully designed apartments for stays starting at one month. Ukio removes the hassle surrounding finding a rental with no long-term contracts, security deposits, or broker fees and provides all furniture, making every apartment ready to use from the minute you walk in the front door.
It gives the choice and flexibility to enable people to live where they want, when they want, for as simple as making a reservation on its website. Backed by Europe's best Venture Capital firms, Ukio raised €27M ($28M) in Series A funding which will help propel our growth in the coming year.
Top Features
Design-first accommodations that are custom-built for Ukio clients
Local neighborhoods with apartments outside the most commercial zones
Personal concierge to organize city stay and membership to selected gyms, clubs, and subscriptions
Pricing Plans
Companies can work directly with Ukio to set up pricing plans from 31 days to two years.
Navan is a modern corporate travel and expense solution that allows users to easily book, view, and manage business travel and expenses. This all-in-one enterprise tech solution uses the cloud, mobile, and AI to balance business needs with today's modern standards. Navan offers corporate housing options, including extended-stay hotels, apartment-style accommodations, and corporate housing-designed properties.
Top Features
Easily book and manage trips for guests and even plan group travel and offsites for up to 50 employees.
Gain real-time visibility of bookings and spend with customizable dashboards.
Track and reduce carbon emissions with robust sustainability tools.
Pricing Plan
Companies sign up with Navan via a SaaS payment method for all their housing needs.
Choose the Best Corporate Housing Solution For Your Employees
Choosing the right corporate housing solution can significantly affect your business, shaping employee satisfaction, safety, productivity, and morale. Gone are the days of a relocation manager in Arizona calling landlords in Texas to find a property with the proper benefits available for an extended business trip.
The most crucial factor today is the level of technology the corporate housing solution employs.
All stakeholders, from travel and relocation managers to employees, expect to be able to search, book, pay, and maintain some program management directly through an online portal. Most important: Modern and accessible, the ability to manage reservations, payments, and services online is a necessity, not a luxury.
A sophisticated, real-time booking platform provider can significantly streamline the reservation process, reducing administrative tasks and allowing for instant confirmation of bookings.
This feature benefits travel and relocation managers as they juggle multiple bookings, timelines, and employee needs. The ability to view available accommodations, make bookings, and track status updates in real-time is an immense advantage.
Beyond booking, these platforms can offer built-in visibility features, providing managers with a dashboard view of all current and upcoming stays to understand occupancy rates and quickly address issues that arise during an employee's stay.
Modern solutions can include integrated invoicing, enabling seamless financial tracking and reducing paperwork. Some platforms may also offer data analytics and reporting, helping businesses to understand and optimize their corporate housing investments.
Incorporating these digital tools into the selection criteria can significantly enhance the experience for the management team, on-the-ground contact, and employees, making the process more efficient, transparent, and user-friendly in any country. The use of technology in this way reflects a corporate housing provider's commitment to modern, customer-focused service. It should be crucial when selecting the best fit for your business.
Outside of the actual technology powering the platform, travel, and relocation managers should look for the following components:
A breadth of housing options, including apartments, houses, and extended-stay hotel rooms
A safety rating and quality vetting process
Ability to filter searches based on travelers' needs, whether that's pet-friendly, handicap-accessible, or near schools
Range of budgets for all travelers
The business's reputation.
Corporate housing is more than just a place for your employees to sleep. It's a space where they'll relax, recharge, and spend much of their time. Therefore, investing in a corporate housing solution that offers quality, comfort, and convenience will reflect positively on your employees' well-being and, ultimately, their performance and productivity.
FAQs
What is corporate housing?
Corporate housing refers to the provision by property owners of temporary, fully furnished apartments for employees or business travelers who require extended stays for professional reasons.
How big is the corporate housing industry?
The corporate housing industry is a multi-billion dollar sector that continues to grow, driven by a growing global mobility service and the evolving needs of businesses.
Who are national corporate housing competitors?
Top national corporate housing competitors include AltoVita, Blueground, National Corporate Housing, and Travelers Haven.
What specialized services do these companies offer?
These companies offer specialized services and furnished rentals, including fully furnished apartments, flexible lease terms, comprehensive customer service, and concierge services like cleaning, repairs, and even local recommendations.
What are the best corporate housing websites?
The best corporate housing websites are those of AltoVita, Blueground, National Corporate Housing, and others featured on this list. They provide detailed information about their services, pricing, and amenities.