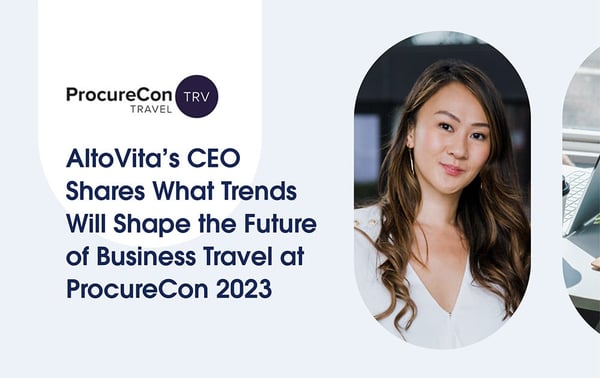 Travel
AltoVita's CEO Shares What Trends Will Shape the Future of Business Travel at ProcureCon 2023
AltoVita CEO and Co-Founder Vivi Cahyadi Himmel took the stage at ProcureCon Travel 2023 last week in Palm Springs, California. Alongside some of the biggest names in travel procurement, Vivi delivered an engaging presentation that grounded the tumultuous industry trends of recent years into actionable insights for travel and procurement managers.
ProcureCon Travel is the leading travel procurement conference designed to help travel-sourcing executives better manage their corporate housing program and connect with their industry peers.
Vivi started by providing a high-level overview of the financial market landscape, outlining how the rise of mergers and acquisitions, IPOs, SPACS, and venture capital has created an unprecedented change in the travel industry.
Did you know that $3.7 trillion changed hands in M&A tractions in 2022 alone? This is just one of the data points that Vivi brought to the audience's attention to show how successful M&As have the power to set trends and become the norm across the industry. She also highlighted Priceline's acquisition of Active Hotels and Bookings and how it gave birth to Booking.com — creating roughly $88 billion in value. Vivi also noted the rapid rise of innovative corporate travel manegement newcomers like Navan and TravelPerk, who have quickly hit sky-high valuations with their modern approach to travel and expense management.
Speaking of payments, the merging of travel and fintech to own the traveler's entire journey — from booking to paying and managing the expense process — brings additional complexity to the market.
Distilling these seismic shifts into actionable insights is where Vivi shined. Speaking directly to travel and procurement managers, Vivi discussed what these market conditions and trends translate to, imploring travel managers to realign their travel programs to mitigate risks and capture opportunities arising from the dynamic financial market.
Driving home the point on the rapid acceleration of technology and its impact on procurement, Vivi then introduced Altoid, a chatbot designed by AltoVita and powered by ChatGPT to help articulate how travel managers can realign their travel programs in order to mitigate risks and capture opportunities.Prompted by Vivi, Altoid shared insights on how travel buyers can navigate these winds, including the following suggestions:
Vivi also asked Altoid for advice on how to evaluate their financial stability of their vendors, and it suggested to take the following steps:
Review vendor's financial statements
Check the vendor's credit ratings
Consider the vendor's market share and competitive position
Ensure your vendor has a broad customer base
Look at the vendor's debt levels and debt-to-equity ratio
Consider broader industry trends and how they may affect the vendor's financial stability
Lastly, Altoid also gave the audience some insights on what impact could M&A activities have on their vendor's technology stack:
"M&A can have a significant impact on the technology stack of travel vendors. When two companies merge or one company acquires another, they often have different technology systems and platforms in place.One possible effect is the integration of different systems. For example, if a travel vendor acquires another company that has a different booking system, the two systems may need to be integrated to enable a seamless booking experience.When two companies merge, they may have duplicate systems for functions like finance, human resources, and customer relationship management. Companies must carefully plan and execute the integration of different systems and platforms to ensure that the merged company can operate efficiently and provide a seamless experience for customers."
Altoid wasn't the only guest to join Vivi on stage. Jonathan Weibrecht, a partner at AGC Partners with 15 years of experience in investment banking and specializing in travel and hospitality technology, shared insights into how the hospitality tech landscape has evolved and touched on M&A milestones in recent years.
The travel business accommodation is rapidly evolving, driven by an acceleration in tech innovation and unprecedented financial activity, including IPOs, M&As, and venture funding. AltoVita is part of that growth. Vivi concluded the talk with her vision for the organization's future: To be the largest and most connected ecosystem in corporate accommodation and a strategic pillar in reporting net zero carbon emissions.
Watch the presentation here:
Learn more about how AltoVita is transforming the future of corporate accommodation today