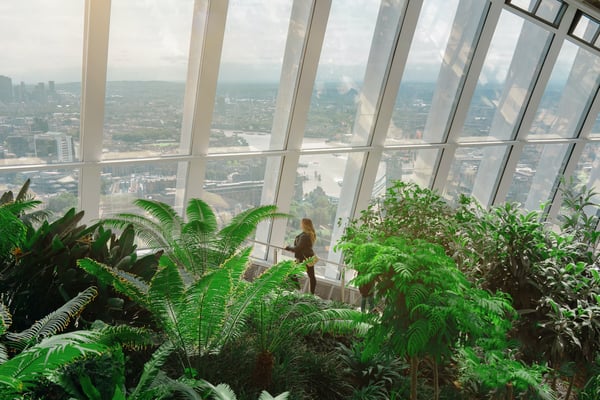 Smart, Safe, Sustainable Summit
5 Reasons Why You Should Attend the AltoVita Smart, Safe, Sustainable Summit
Our industry leading event, the AltoVita Smart, Safe, Sustainable Summit, is fast approaching. Below we outline some of the key reasons detailing why the one-day event should not be missed.
The View From the Top
Heading into summer, you won't want to miss a full day at one of London's best venues, the Sky Garden. There are many reasons why it's voted one of the best London attractions by TripAdvisor, but the views must be one of its biggest pulls. On Thursday June 8, we're taking over the entire attraction, and the 34th and 35th floors offer some of best views of the capital's skyline. This inspiring vantage point goes hand in hand with the program we've put together...
Packed Full of Content
We've carefully curated the content on the day, to bring you as many insights and experiences as possible within the confines of about nine hours.
Why Smart? Because there's pressure to contain costs, and the summit explores a range of ways to control expenses.
Why Safe? Of course duty of care is a priority, but there's extra focus as more employees seek out new accommodation types. Companies need to offer a range of properties, as workers need choice. Our summit highlights how this is possible.
Why Sustainable? We know businesses are doubling down on their carbon reduction goals, so again the summit will explore best practices, from booking to reporting.
Global mobility and business travel are in focus, as we explore technology and data intelligence trends, but there's so much more. Hear first-hand from multinational food and drink Nestlé how they carry out relocations within the organization; hear how modern businesses are harnessing the valuable talent that displaced people can offer; get the latest updates on safety and security updates from expert panelliests; and listen to the investor's viewpoint around cutting edge technology is today so critical to the real estate and extended stay accommodation sectors.
Exclusive Product Launch
Delegates at the Smart, Safe, Sustainable Summit gain exclusive access to the preview launch of new features coming soon from AltoVita. Fully launching in the summer, we'll use the event to share more on this, and why the new product matters to your business.
Networking
You've seen the agenda and the fantastic line-up of speakers, who are generously sharing their time to talk. But don't forget our summit offers incredible networking opportunities, including the two-hour drinks reception. Here are just a few of the organisations you can mingle with:
Binance
BAE Systems
Cartus
CIBT
Corporate Traveller
Deloitte
FCM Travel
Festive Road
Fidelity International
Flight Centre Travel Group
Fragomen
Independent Hotel Show
KPMG
Mercer
Sabre
Travel Counsellors
WeWork
Over to You!
While the agenda features panels, presentations, keynotes and fireside chats, we've decided to also add an interactive element. We're including an "Un-Panel" where the audience get to have their say, and ask any questions. This kind of participation is at the core of what AltoVita does when developing our platform, so we see no reason why it shouldn't be a part of our live events too. We want to hear your incredible stories.
Spaces are limited for AltoVita's Safe, Smart Sustainable Summit at the Sky Garden. Click here now to register for your complimentary ticket.