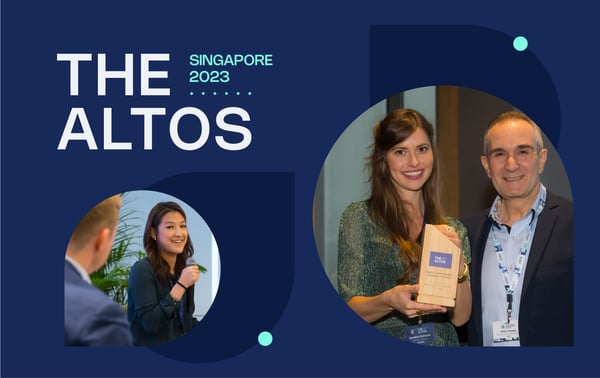 Events
The Altos
Meet the Winners of The Altos Singapore 2023 Awards!
Congratulations to the winners of The Altos Singapore 2023 Awards! This event took place at Swissôtel The Stamford Singapore on September 6, and honoured hospitality operators of corporate accommodation.
The ceremony topped off an afternoon of thought leadership and industry expertise, across panel debates that took the pulse of the corporate accommodation landscape in the Asia Pacific region.
AltoVita was thrilled to have had the chance to bring this celebration of innovation to the vibrant Asia Pacific region for the very first time, after three successful editions in London, and to connect with fellow industry professionals to celebrate their remarkable accomplishments.
Meet the Winners!
Best Sustainability Initiative
Treetops Executive Residence
Excellence in Safety & Security
Most Innovative Use of Technology
Pan Pacific Serviced Suites Orchard, Singapore
Best Hospitality Operator (highly commend)
Onyx Hospitality - Shama Serviced Apartments Hong Kong
Best Hospitality Operator
Best Interior Design
Dao by Dorsett AMTD Singapore
Rising Star
The Rising Star category, which acknowledges individuals who have made significant contributions to the sector's growth and development and who have demonstrated their legacy and durability of their achievements, goes to Ang Ding Jie, Assistant Director of Sales at Frasers Hospitality.
Treetops Executive Residences won the "Best Sustainability Initiative" award for its pioneering efforts in creating an eco-luxurious haven in the heart of the city, featuring lush greenery, organic-based toiletries, energy-efficient systems, and a Platinum BCA status, which collectively contribute to a holistic and environmentally conscious guest experience like no other.
Astra Apartments won the "Excellence in Safety & Security" award for its unwavering commitment to ensuring guest safety through a multi-tiered security approach, personalised meet and greet, comprehensive apartment orientation, and 24/7 emergency support, setting a remarkable standard for safety in the extended-stay corporate accommodation industry.
Pan Pacific won the "Most Innovative Use of Technology" award for its seamless integration of sustainability-focused amenities, such as filtered water faucets and PressReader digital publications, alongside state-of-the-art wellness facilities and eco-friendly sky gardens, showcasing a harmonious blend of technology, sustainability, and luxury in their serviced suites.
Ascott won the "Best Hospitality Operator" award for its visionary transformation of the Ascott brand into a flex-hybrid accommodation concept, showcasing unparalleled adaptability and commitment to exceeding customer expectations, while achieving remarkable growth and expanding its global footprint, setting a new standard of excellence in the lodging industry.
Shama was highly commended for the "Hospitality Operator Award" due to its unwavering commitment to delivering a unique lifestyle experience through convenience, fostering a sense of community, and offering personalised services, making Shama serviced apartments the preferred and exceptional choice for local entrepreneurs and international corporations relocating their employees to Hong Kong, setting a remarkable standard in the hospitality industry.
Dao by Dorsett AMTD Singapore was awarded the "Best Interior Design Award" for its meticulous and elegant integration of urban and nature-inspired elements, delivering a sophisticated and unique ambiance throughout the property. From the stylish rooms and suites, smart glass partitions for space optimization, to the carefully designed common areas and facilities, Dao embodies an exceptional interior design concept that sets it apart in the world of hospitality.
DJ Ang was named "Rising Star" award for his remarkable achievements and contributions to the hospitality industry. With a consistent track record of being recognised as the Top Salesperson Globally in Frasers Hospitality Group and receiving multiple Star Awards for Excellent Service, DJ showcases an extraordinary ability to excel in his role and deliver exceptional results. His dedication, academic excellence, and commitment to the industry, as evidenced by his academic achievements and the professional paper he authored, further exemplify his potential as a rising star in the field. Additionally, the glowing recommendations from industry leaders attest to his outstanding leadership and customer-centric approach, making him a true standout in the hospitality and business development sectors.