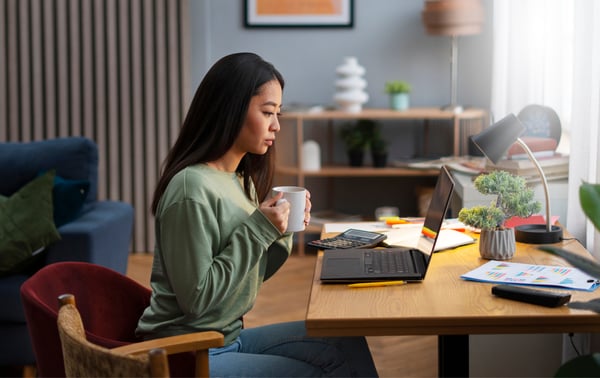 Global Mobility
Corporate Housing vs Airbnb: Pros & Cons for Business Stays
Business travel has evolved beyond mere hotel rooms and traditional stays. The quest for the ideal accommodation intensifies as a diverse set of professionals crisscross the globe to meet peers, close deals, and obtain new knowledge.
Enter the two predominant options for booking accommodations on a business trip: Professional corporate housing platforms, the go-to for discerning business travelers, and Airbnb, a consumer darling mistaken as a reliable resource for ambitious businesspeople.
While Airbnb attempts to provide localized experiences for short-term business trips, corporate housing offers more comprehensive solutions for everything from brief business stays to extended relocations. Each boasts its own set of merits, but only one can meet the demands of the modern business world.
Let's unpack this.
Key Differences Between Corporate Housing and Airbnb
Cost Comparison
Visibility is essential when looking at costs for business accommodations.
Corporate housing, designed for business travelers, aims for clear and straightforward pricing. While nightly rates for corporate housing might seem higher than some Airbnb options at first glance, they offer more for the price, and all the taxes and fees are included to avoid any surprises down the road.
On the other hand, the price for an Airbnb can vary a lot based on factors like location, demand, and the host's preference. Sometimes, the listed price can seem like a bargain, but after adding service, cleaning fees, and local taxes, the final cost can be much higher than initially expected.
Corporate housing is a more transparent and predictable choice, especially for professionals and businesses that value clarity in cost and services.
Nightly Rates
Corporate Housing: Tend to be higher but offer comprehensive services tailored for business travelers.
Airbnb: Vary significantly based on location, demand, and host preferences.
Taxes and Fees:
Corporate Housing: Transparent and outlined upfront, with no surprise costs.
Airbnb: Often added at the end of the booking process, making the final price considerably higher than the initially listed rate.
Long-term Discounts:
Corporate Housing: Commonly offered, especially for those planning extended stays or relocations.
Airbnb: Available from some hosts but lacks consistency.

Different Accommodation Types
Corporate housing offers a range of fully furnished spaces tailored for business travelers that ensure consistent quality and professionalism. What that home looks like depends on the travelers' need and could be everything from a modern apartment in downtown San Francisco for a single executive on a long business trip to a suburban home on the outskirts of a business district catering to relocating families.
Serviced, Fully Furnished Apartments
Professionalised Private Homes
Single-Family Homes/Villas
Co-Living Spaces
Extended Stay Hotel Rooms
Airbnb listings offer even more diversity with accommodations in every landscape imaginable in all different shapes and sizes, from a single bedroom in someone's home to an exotic treehouse to giant estates. While this provides more options, the quality and professionalism can vary dramatically based on the host.
Amenities and Services
Corporate housing tends to have a distinct edge over Airbnb when evaluating amenities and services. It offers standardized amenities that ensure a seamless blend of comfort and functionality. High-speed Wi-Fi is a given, and guests can count on dedicated workspaces, regular housekeeping, and even fitness centers.
In contrast, Airbnb listings operate on a more individualistic model. While some hosts strive to provide top-tier amenities, the offerings can vary. Features standard in corporate housing, such as concierge services or dedicated workspaces, become luxuries on Airbnb, available only at select properties and often contingent on the host's discretion.
While Airbnb provides unique experiences, corporate housing emerges as the more reliable choice for the business traveler seeking consistent, top-tier amenities and services.
Duration of Stay
Every traveler and trip is different and will heavily inform the specific needs that a living space must fulfill. Corporate housing companies are specifically designed and prepared to assist guests while providing a home-like environment that's on the same level or superior to any hotel room. The difference between a home rental platform and a professional corporate housing company is that employees staff the latter, versed in tenant-landlord law and utterly dedicated to serving a specific segment of the traveling market.
Now, Airbnb offers an exciting way to explore different cities and incredible access to rent everything from an affordable room to a one-of-a-kind house. But, given that the owner has complete control of their unit, it's best to rely on renting via Airbnb during short-term, personal trips without high stakes. It's great for vacation rentals or a cheap room listed by a third-party agent with multiple units in a building. Still, it does not offer the level of service and attention that corporate housing companies do.
The only time it might make sense to leverage Airbnb corporate housing is if the traveler has no clarity on the length of the trip or timelines. Most corporate housing platforms recommend booking a few weeks in advance, so booking through the Airbnb site might be an alternative for last-minute or impromptu stays.
Target Audience
Corporate housing is curated explicitly for professionals and corporations. How corporate housing works is that global mobility managers and business travel managers, rather than individual travelers, evaluate quality and service to find a conducive environment tailored to the unique needs of business travelers. With amenities and setups designed to facilitate productivity and comfort, corporate housing has firmly established itself as the premier choice for the corporate world.
Initially emerging as a vacation rental platform, Airbnb's primary appeal was to individuals and families seeking diverse experiences for leisure or shorter stays.
Pros and Cons of Your Accommodation Options
Corporate Housing
Pros:
Tailored for business travelers with amenities like dedicated workspaces.
Predictable costs, often inclusive of utilities and services.
Suitable for longer stays with flexible lease options.
Consistent quality backed by corporate housing platforms.
Equipped with amenities that cater to business professionals, such as high-speed Wi-Fi, workspaces, and more.
Strategically located near business districts or city centers.
Providers often offer dedicated customer service, ensuring issues are resolved promptly.
Constantly introducing new services like community clubs or partnerships to improve guests' stays.
Cons:
Higher initial costs with nightly rates that seem higher compared to Airbnb options
It may be less available in remote locations.
Generally limited to standard living spaces without unique properties.
fewer unique or quirky options companies
In high-demand areas or peak seasons,

finding corporate housing

might be challenging.

Airbnb
Pros:
A diverse range of properties, from basic rooms to unique stays.
Many hosts offer unique insights or tips, allowing travelers to experience a location like a local.
Suitable for shorter stays or vacations.
Cons:
Inconsistent standards and quality varies significantly from one listing to another.
Additional costs like cleaning fees, service fees, or even local taxes can increase the final booking price.
While some listings cater to professionals, Airbnb primarily targets leisure travelers.
Due to the wide variety, travelers must invest more time researching and reading reviews to find a suitable place. Quality and professionalism vary based on the host.
Costs can be unpredictable, with fluctuating nightly rates and fees. Additional expenses like cleaning fees, service fees, or even local taxes can increase the final booking price.
While some listings cater to professionals, Airbnb primarily targets leisure travelers. They might not be working spaces, strong Wi-Fi, or other requirements for a property workspace or extended stay.
Why Corporate Housing is the Optimal Choice for Work Professionals
A consistent, professional, and seamless accommodation experience is paramount in business. Corporate housing delivers precisely on these fronts, especially from industry leaders like AltoVita. Travelers who opt for corporate housing can expect a standard of quality and service tailored for professionals. Every aspect, from amenities to the overall experience, is designed with the business traveler in mind. This dedication ensures that wherever they are, professionals have everything at their fingertips to make their stay productive and comfortable.
On the other side of the spectrum, while boasting many options, Airbnb presents a more variable experience. The platform caters to a broad audience, from leisure vacationers to business professionals. This extensive scope can sometimes lead to varied standards in terms of accommodation quality, cost, and provided amenities. While diversity can be a boon for those seeking unique stays, professionals must often sift through listings more meticulously to ensure their chosen accommodation meets their standards.
Considering the two options, the decision becomes clear: corporate housing is optimal for professionals prioritizing reliability and a seamless, tailored experience.
In the world of business, we often commend innovative risks. But when it comes to your accommodation needs, why gamble? Secure your seamless stay with AltoVita, where business meets luxury.
Explore corporate housing in major business centers: